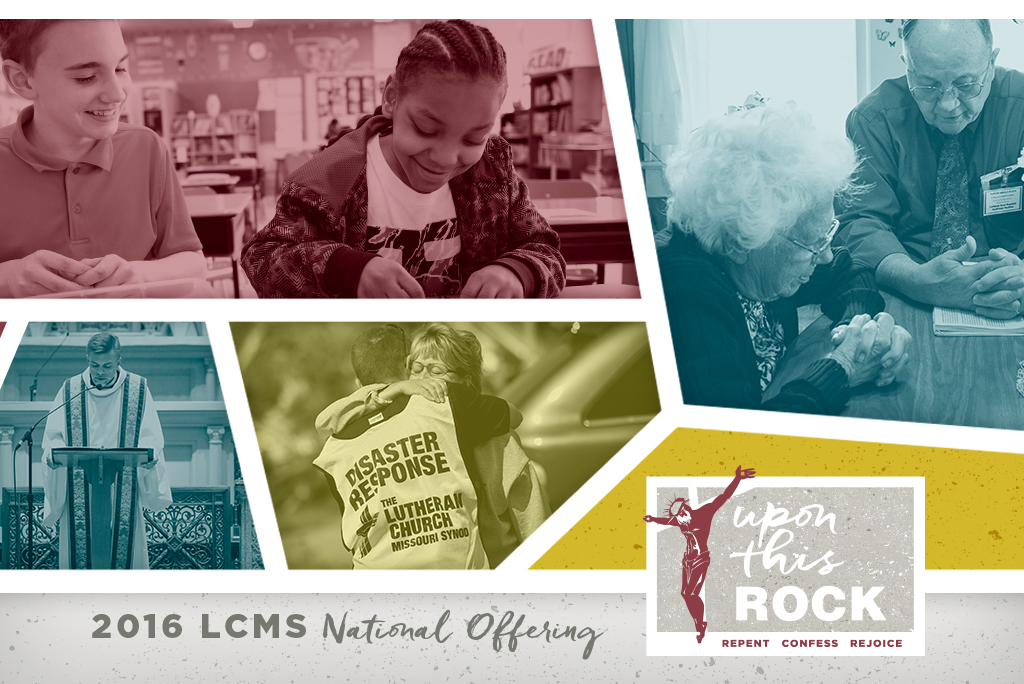 By Megan K. Mertz
Through the close of the 66th Regular Convention of The Lutheran Church—Missouri Synod, held July 9-14 in Milwaukee, 2,533 congregations, individuals and groups walked together to supply more than $315,000 in Gospel-centered, mission-focused resources through the 2016 National Offering, under the theme "Upon This Rock."
Congregations gathered contributions for the National Offering before the convention and sent them with their delegates. Of the total amount received through July 14, $92,124.09 was given as offerings during the July 9 opening service. The offering took four Synod staff members nearly three hours to open, count, record and securely deposit.
Contributions to the 2016 National Offering will support specific national and international mission programs and projects related to the church body's threefold emphasis of Witness, Mercy, Life Together:
Witness — planting new congregations in the United States, equipping LCMS missionaries worldwide with evangelism and teaching resources, and more.
Mercy — protecting life from conception to natural death, caring for disadvantaged children, improving living conditions among the poor, and more.
Life Together — preparing future pastors studying at both LCMS seminaries, revitalizing struggling U.S. congregations, and more.
"This National Offering is yet one more wonderful opportunity to personally and collectively confess the Good News of Jesus here in the United States and around the world," said Mark Hofman, executive director of LCMS Mission Advancement. "Every dollar returned to the Lord through the National Offering will go to support vital mission projects as well as the formation of future LCMS pastors through the Joint Seminary Fund. In these gifts, God's people are generously and boldly confessing to others that Jesus is the Christ, the Son of the living God!"
The "biggest surprise," according to Hofman, was a gift of $5,000 from the Evangelical Lutheran Church of Brazil, an LCMS partner church, to support a mission project in Africa.
"I certainly wasn't expecting to see a contribution from a partner church carried by hand to Milwaukee," he said. "It was so humbling to see this unique example of a partnership alongside the LCMS to reach people in Africa with the Gospel of our Lord, Jesus."
For progress reports or to make a gift, visit lcms.org/national-offering. Congregations and individuals may continue to offer support via the National Offering through early 2019.
Megan K. Mertz (megan.mertz@lcms.org) is a staff writer and managing editor of Lutherans Engage the World with LCMS Communications.
Posted July 28, 2016