The Rev. Dr. Walter C. Rubke "made the theological, academic and spiritual formation of pastors and laity his life's vocation," according to the Rev. Dr. Robert Newton, president of the LCMS California-Nevada-Hawaii (CNH) District. During his long career, Rubke served in many roles in the district and Synod, most notably as president of Concordia Lutheran College in Austin, Texas, (now Concordia University Texas) from 1964-1969.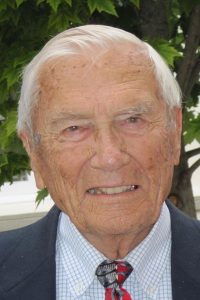 Rubke, who was 92, died peacefully July 7 at his home in Santa Rosa, Calif. A memorial service is set for 11 a.m., Aug. 9 at St. Luke Lutheran Church in Santa Rosa.
"The congregations and pastors of the CNH District rejoice over the reception of our brother Walter Rubke into the Church Triumphant," Newton wrote in an email to Reporter. "At the same time, we grieve his departure from us, greatly missing his ministry among us and the incredible contributions he's made to the Gospel's ministry in the district."
Early in his career, Rubke served as pastor at Grace Lutheran Church in Grass Valley, Calif., and two mission congregations in Chicago Park and Auburn, Calif. (1949-1951). From 1951 to 1964, he served at California Concordia College, an LCMS college in Oakland, Calif., that closed in the early 1970s.
Following his years at the Concordia college in Texas, Rubke was vice-president for student affairs at Valparaiso University in Valparaiso, Ind. (1969-1975) and then served three congregations in California: First Lutheran Church, Yuba City (1975-1980); Peace Lutheran Church, Mill Valley (1981-1986); and Grace Lutheran Church, Modesto (1986-1987).
Rubke was a 1948 graduate of Concordia Seminary, St. Louis, and he later earned a doctorate in educational psychology from the University of California, Berkeley.
He is survived by his wife, Louise, and her daughter, Jennifer Van Stelle, and by his three daughters and their spouses: Linda and Chuck Kennell, Susan Rubke, and Jane and Zane Numazu. He also was blessed with seven grandchildren, eight great-grandchildren and many nephews and nieces. He was preceded in death by his first wife, Gudrun, who died in 1996.
Gifts in Rubke's memory  may be sent to the LCMS California-Nevada-Hawaii District (2772 Constitution Dr., Suite A, Livermore, CA, 94551). These gifts will benefit students pursuing careers in full-time church work at schools in the Concordia University System or at LCMS seminaries. Please make checks payable to the CNH District and include on the memo line "Rubke Memorial Fund."
Posted Aug. 5, 2016 / Updated Aug. 8, 2016