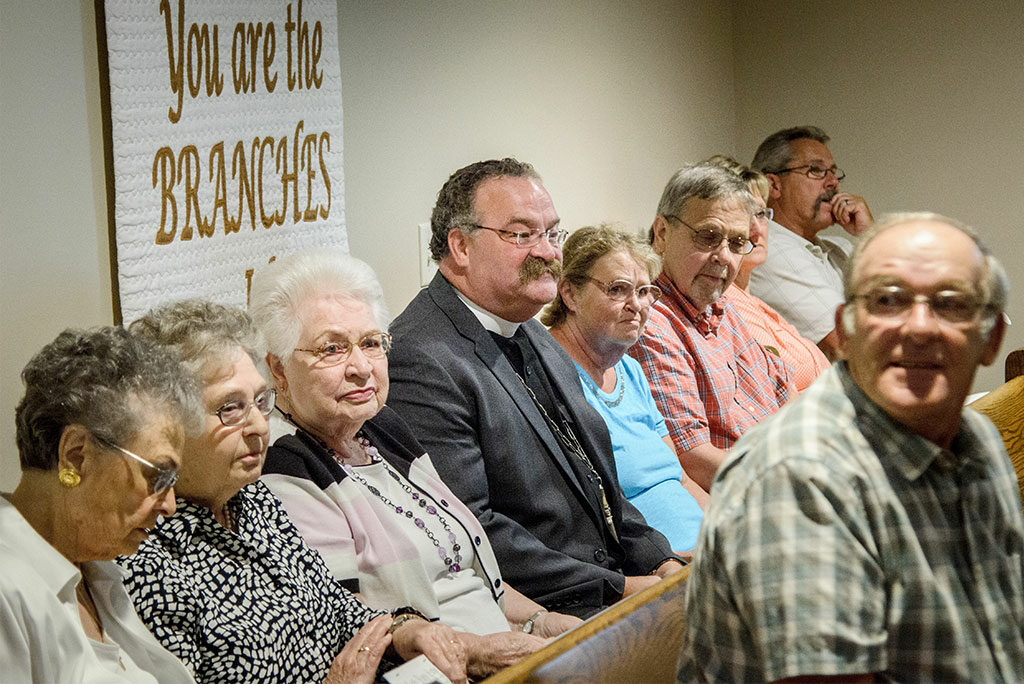 By Roger Drinnon
More than two years after dual EF-4 tornadoes decimated the rural community of Pilger, Neb., despair turned to joy as St. John's Lutheran Church dedicated its rebuilt sanctuary and also held a belated celebration of its centennial with back-to-back services Aug. 28.
"It's the end of a long run," said the Rev. Terry Makelin, pastor of St. John's. "To God be the glory — He has blessed us so tremendously in this. Our faith is strengthened in so many different ways that never would have happened if not for [the tornadoes]."
"It was pretty shocking when we lost the church," said David Claus, the congregation's vice-chairman and an elder at St. John's. "But now that we've got our new building, it's really an uplifting experience."
Due to the rebuilding efforts after the twin tornadoes struck the area June 16, 2014, St. John's, founded in 1915, had to delay celebrating its 100th anniversary in 2015, so the afternoon service this year celebrated the church's 101st anniversary.
'All things work together for good'
LCMS President Rev. Dr. Matthew C. Harrison preached during the anniversary service. His sermon echoed Rom. 8:28-30 and "The Formula of Concord," Article XI, as he explained the nature of life's calamities and sufferings in that these predetermined events "shape us more in the image of Christ" and "all things work together for good."
"It's such a wonderful thing as president of the Synod to see the fruits of what faithful people are willing to give to make a big difference in people's lives," said Harrison. "This community in Pilger was turned upside down and inside out, and [now we] have great joy seeing a new church rebuilt, dedicated and people receiving Christ's gifts. [Recent disaster victims] will have the experience, like so many do, that this is the worst and most tumultuous event next to the death of loved ones," he continued. "And yet [eventually], as they're aided and as they help others who are in need, many of them will look back and see this was one of the greatest moments of their life and how Christ was involved in all of it, making sure that they were provided for."
Generous donors and Orphan Grain Train
Thanks to the generosity of donors across the LCMS — whom the Synod relies on as de facto disaster responders — LCMS Disaster Response, in coordination with the Nebraska District, was able to provide more than $111,000 in grants for St. John's and other area LCMS churches like Zion, Hampton, and St. Paul in Wisner, Neb., that were affected by the tornadoes. These grants included $58,550 for Orphan Grain Train (OGT), an LCMS Recognized Service Organization, to provide a mobile church unit as an immediate place to worship in Pilger until the permanent church could be rebuilt.
"At times of disasters, victims feel helpless, alone and without resources," said Grant Schmidt, OGT vice-president of operations. "We just simply praise God for the incredible hearts of so many people that donated supplies and money to OGT in order for us to be able to help the church and the community the way we did."
Schmidt said other grant funds were used in many ways to help the church and the Pilger community, including providing much-needed gift cards for victims to purchase necessities. OGT also provided bottled water and delivered secure storage units, so families could store salvaged possessions.
'God is with you'
"When we were allowed to come here about 48 hours after the tornadoes struck, it was a much different scene than what we see today," said LCMS Disaster Response Manager Rev. Michael Meyer. "The church was reduced to a concrete slab, and we knew it was going to be a long response [and recovery]. Yet today, the mood seems joyous, recognizing and celebrating the good gifts of our Lord Jesus Christ — He has been with them this entire time and will continue to be with them in His Word and Sacraments."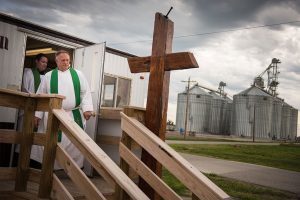 "To see through that struggle of what they [the congregation] were going to do and when they were going to do it, now to a point where they can finally see the culmination of all that," said LCMS Nebraska District President Rev. Richard Snow. "Their ministry is not just to the town but also to the surrounding area that very much needs to hear the Word of God and to be served with His love."
Makelin offered some encouragement for others enduring the aftermath of disasters, such as the flood victims in Baton Rouge, La., and wildfire victims in California.
"God is with you at each and every moment," he said. "While we can't see the end result of His work through this, know that He will make all this for good."
"Much of what God is doing is often hidden from what we can see," echoed Snow. "Yet the endurance that the Spirit gives us, as we walk through those long struggles, is a part of how our faith really stretches and grows, but it's also a great opportunity where our faith shows."
For more information, read these related stories: "A year later, tornado-struck congregation helps others" and "Nebraska church 'gone' after dual tornadoes."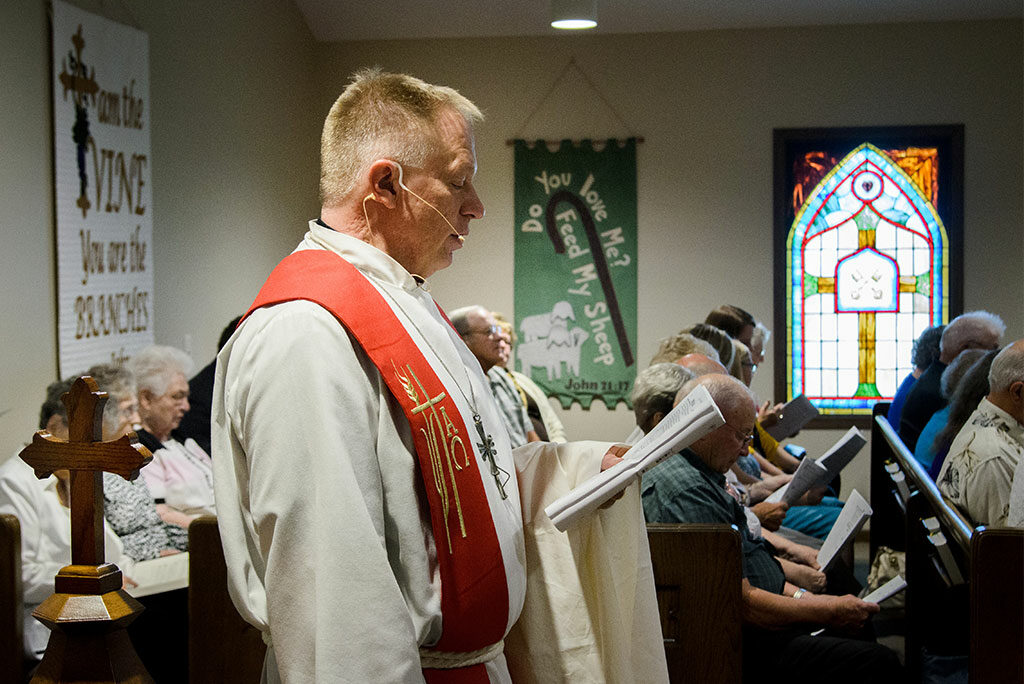 Roger Drinnon (roger.drinnon@lcms.org) is director of Editorial Services and Media Relations for LCMS Communications.
Posted September 26, 2016