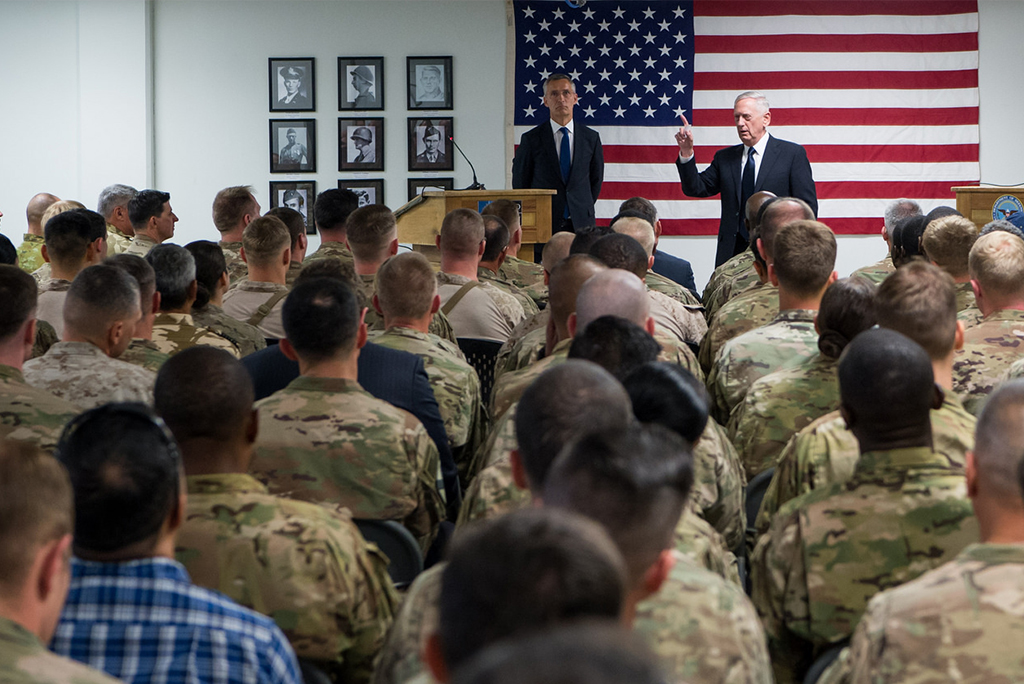 By Roger Drinnon (roger.drinnon@lcms.org)
The Synod's Ministry to the Armed Forces (MAF), part of the LCMS Office of International Mission, continues to advocate for the rights of military members to live out their faith in their vocation, especially as the nation approaches three decades of constant armed conflict around the globe.
Last year, the Synod sent a request to then-Secretary of Defense Ashton Carter to ensure specific protections for chaplains, service members, medical personnel, Department of Defense (DoD) civilians and other DoD-affiliated employees. The request came in response to the DoD's mandated LGBT Pride Month and its revised policies for transgender service members, which, among other things, advocates in-service gender transitions while serving in the military.
The Synod's request called for specific protections for expressing personal religious beliefs to be codified in DoD and service-specific guidance, as service members continued experiencing restrictions on living out their faith in their military vocations.
DoD officials responded with assurances that religious freedom is protected in the military despite recent policy changes. However, the Defense Department's response went on to say:
"We continue to make every effort to ensure that the DoD is a model of equal opportunity for all and to remove all barriers to service to allow qualified personnel to compete for the opportunity to serve. Military chaplains in particular, upon commissioning, agree to serve in a pluralistic environment and are expected to treat everyone with dignity and respect, irrespective of differences in religious belief."
More recently, President Trump announced a ban on transgender people serving in the military, reversing the policy of former President Barack Obama. In an Aug. 29 statement, Defense Secretary Jim Mattis said that the DoD will delay carrying out President Trump's military transgender service repeal pending consultation with the Department of Homeland Security and some defense experts.
President Trump outlined the policy in an Aug. 25 memorandum titled "Military Service by Transgender Individuals." The memo directs the DoD to develop a study and implementation plan that will "contain the steps that will promote military readiness, lethality and unit cohesion, with due regard for budgetary constraints and consistent with applicable law," the defense secretary said.
"The soon-arriving senior civilian leadership of DoD will play an important role in this effort," said Mattis. "The implementation plan will address accessions of transgender individuals and transgender individuals currently serving in the United States military."
"Our focus must always be on what is best for the military's combat effectiveness leading to victory on the battlefield. To that end, I will establish a panel of experts serving within the departments of Defense and Homeland Security to provide advice and recommendations on the implementation of the president's direction," Mattis said.
Once the panel reports its recommendations, Mattis said he will consult with the secretary of Homeland Security before providing advice to the president concerning implementation of his policy direction. It remains unclear why the Secretary of Defense is consulting the non-DoD federal agency regarding military personnel policy.
"In the interim, current policy with respect to currently serving members will remain in place," the defense secretary said. "I expect to issue interim guidance to the force concerning the president's direction, including any necessary interim adjustments to procedures, to ensure the continued combat readiness of the force until our final policy on this subject is issued," he said.
Last year, the Synod in convention adopted Resolution 2-04, which reaffirms LCMS military chaplains' rights of free exercise of religion in the face of LGBT inclusion in the armed forces, and Resolution 14-01 to encourage intentional leadership in matters of religious freedom.
Said Chaplain (U.S. Navy Capt. Ret.) Craig Muehler, MAF director: "We need to address how recent DoD policy changes continue to impact the rights of military personnel to live consistently with their faith while in uniform — that faith doesn't suddenly disappear when they put the uniform on."
As an outspoken advocate for chaplains and the men and women they minister to in America's armed forces, Muehler recently was named president of the Chaplain Alliance for Religious Liberty. MAF leaders partner with other military religious freedom advocates, such as the Chaplain Alliance, to ensure chaplains can defend and provide for the freedom of religion and conscience that the Constitution guarantees all chaplains and those whom they serve in our nation's military.
"I am deeply honored by the trust of the Chaplain Alliance for Religious Liberty's members to allow me to serve as president of this much-needed organization that partners with the LCMS and other advocates not only to protect all military chaplains but also all members of our military, so they have the opportunity to exercise their God-given rights of liberty of conscience and free exercise of religion," said Muehler.
Muehler continued: "No American, especially those who wear the uniform, should be denied their religious freedom or be forced to go against their conscience. The men and women in uniform serving on the front lines to defend our nation should not be penalized for exercising the same freedoms they fight to protect."
Read more:
Religious liberty in secularized military
LCMS awaits DoD response on religious freedom
Roger Drinnon is director of Editorial and Media Relations for LCMS Communications.
Posted Oct. 9, 2017