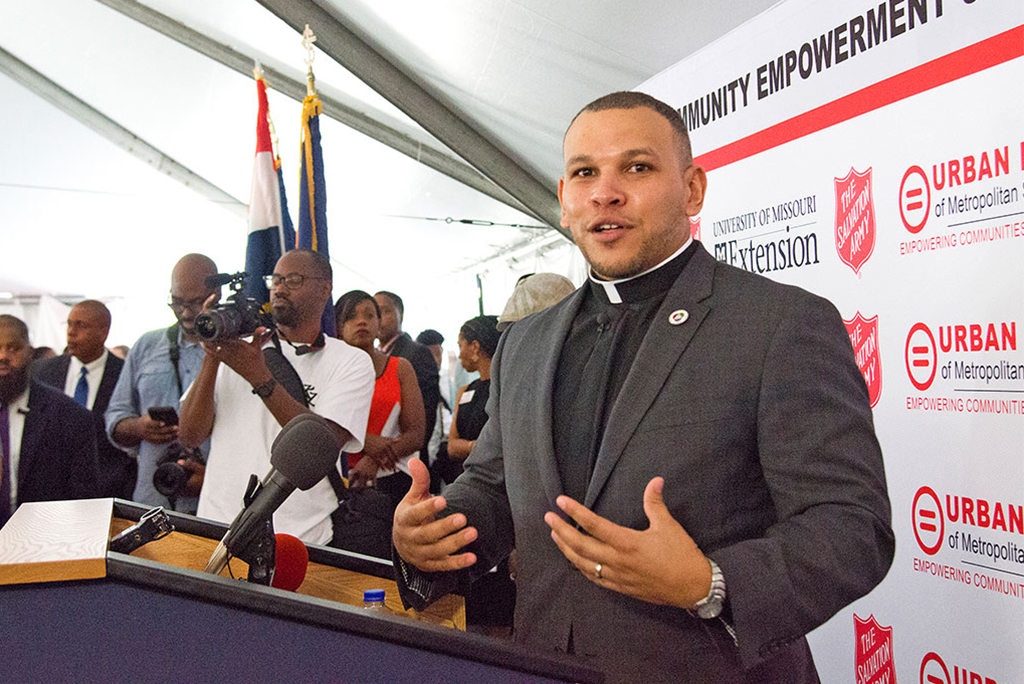 By Paula Schlueter Ross (paula.ross@lcms.org)
FERGUSON, Mo. — Shoulder to shoulder under a huge tent, sitting on folding chairs and standing five deep in spots, some 400 people witnessed a symbolic — and even "historic" — event here July 26: the grand opening of the Ferguson Community Empowerment Center, a resource for hope and healing nearly three years after the violent protests that sparked a fresh look at racism nationwide.
The new, two-story facility — debt-free, thanks to corporate donations — stands on the grounds of the burned-out QuikTrip gas station that served as "ground zero" for authorities responding to weeks of unrest following the police shooting death of teenager Michael Brown Jr. on Aug. 9, 2014.
The center houses the work of four St. Louis-area partners determined to restore this beleaguered community: the Urban League of Metropolitan St. Louis Inc., The Salvation Army, the University of Missouri Extension and the Lutheran Hope Center—Ferguson. Together they will offer tutoring, counseling, job training/placement and help with food, clothing and housing.
Based there will be the Rev. Micah Glenn, a Mission Field: USA national missionary and director of the Lutheran Hope Center. With a common motto — "Sharing Hope. Sharing Jesus." — Glenn and Hope Center volunteers will offer the love of Jesus along with literacy education, mentoring and other assistance.
Its "Readers to Leaders" program is expected to begin by early September with up to 30 students from kindergarten to third grade, and volunteers are needed.
As he mingled with the crowd before the two-hour program and ribbon-cutting ceremony, the tattooed Glenn, who grew up in Ferguson, said he "could have very easily been Mike Brown" when he was young, "just trying to find my way in life, struggling just to stay on the straight and narrow path."
He credits "a lot of people really behind me, pushing me forward, supporting me, lifting me up, reminding me that I was precious and loved" — the same message he wants to share with the young people of Ferguson, something he considers a "really incredible" opportunity.
"I'm very humbled today, and I'm filled with so much joy and compassion and love," he added. "It's really a great moment."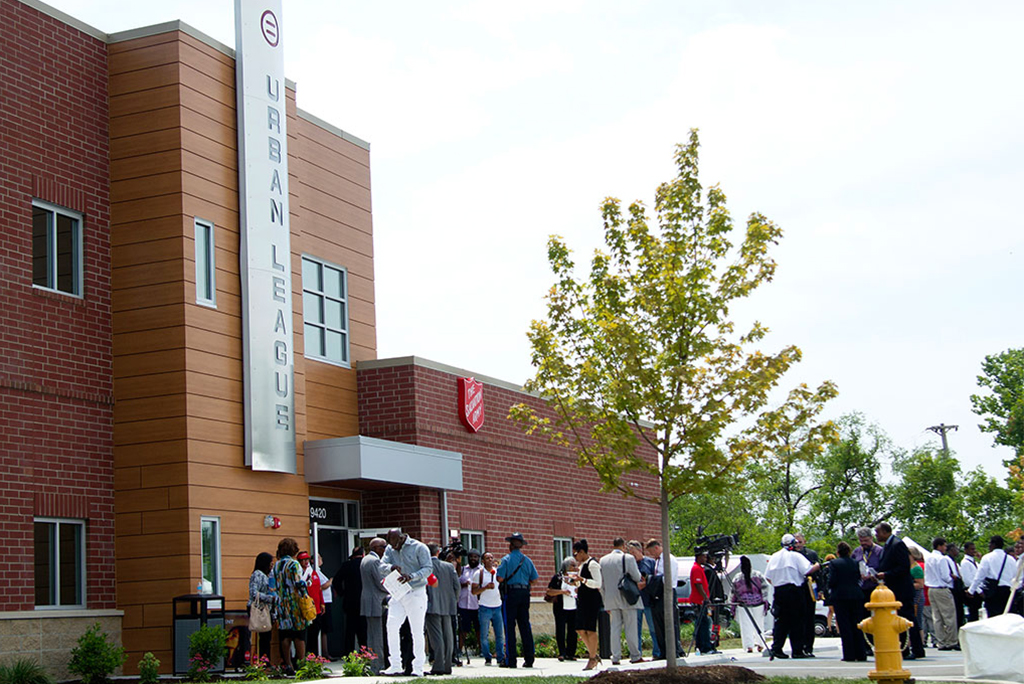 Turning tragedy into triumph
Glenn was among the two dozen or so grand-opening speakers representing Empowerment Center partners, local governments and corporate sponsors. Their comments included these:
"May we fight with only love," wearing uniforms of "holiness and mercy" (Lt. Col. Lonneal Richardson, Northern Divisional commander of The Salvation Army).
The center aims to "turn tragedy into triumph" and "transform Ferguson's future in a positive and powerful way" (Tony Grandison Jr., representing U.S. Congressman Lacy Clay).
"Justice, equality, opportunity, empowerment" (Wesley Bell, Ferguson city councilman, describing what the center represents).
"This is a powerful first step to address the challenges" (Marc H. Morial, president and CEO of the National Urban League).
"When we empower others … we open doors for all people to thrive" (George Brooks, president of U.S. Operations for United Parcel Service).
"This facility is everything that we hoped it would be" (Michael P. McMillan, president and CEO of the St. Louis Urban League, noting that 75 percent of the project's construction companies are African-American-owned).
'A lot of people need help'
Kameron Fernandes, an 18-year-old from Ferguson, served as a volunteer at the grand opening. He has completed the Urban League's "Save Our Sons" program — which helps young African-American men land jobs with livable wages and will be based at the Empowerment Center — and said such help is needed "to keep my people off the streets" because "a lot of us are not making it every day."
Fernandes, who wants to see his peers succeed and plans to make use of the programs offered at the center, believes his fellow North County, St. Louis, residents also will take advantage of — and appreciate — the help because it's "close to home" and "easy to access."
Paula Collins, a Ferguson resident for 15 years, said the riots and vandalism that destroyed parts of her city three years ago could have happened anywhere.
Collins called the Empowerment Center's mission of restoration "a fabulous thing" and believes its programs will have "a positive effect on the community."
She said she is "really glad to see us, as a community, moving forward," and she wants Ferguson "to regain the respect that it used to have, the sense of community that it used to have, and unity."
Sixth-grader Damonte Williams, 11, put it this way: "This community needs stuff like this because a lot of people need help and it's hard out here for people."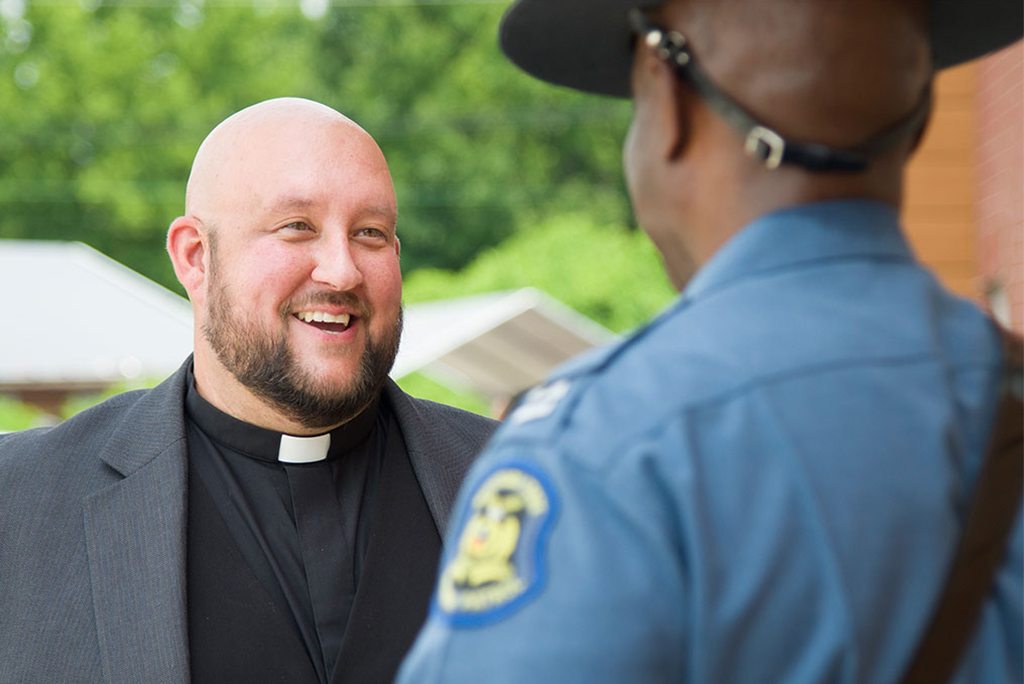 'Evidence' of God's plan
Instead of a "dream come true," seeing the Empowerment Center completed is more like "prayers coming true," observed the Rev. Nate Ruback, president of the Lutheran Hope Center board of directors and pastor of Grace Lutheran Chapel, located a couple of miles from Ferguson.
"In the midst of heartache and destruction, God still works out His plan. This is evidence of it," said Ruback, one of several LCMS pastors who walked the streets of Ferguson, comforting people and helping with cleanup in the days and weeks following the riots.
There are no LCMS churches in Ferguson, but five nearby Synod congregations — Grace Chapel, Chapel of the Cross, Salem, Immanuel and Blessed Savior — founded the Lutheran Hope Center, with assistance from the LCMS Office of National Mission, Missouri District and Lutheran High School North.
Some of the high school's students live in Ferguson or travel through the community to get to class, and Glenn, the Hope Center missionary, is a graduate of the school, notes Principal Tim Brackman.
Brackman said he hopes to "see our students providing tutoring services to children from the community" at the center and possibly doing "volunteer service in the area." Lutheran North also could provide space for large meetings and activities, he said.
He described the center as "a unique example of how the Lutheran Church can step out into the community and provide support and offer strength.
"Rather than waiting for the community and its people to come to us, we are reaching out — not only opening the church doors, but going out through them to where the need is."
Brackman added that it's "really important" for people to know that "Ferguson is a great place to live and work — unlike the picture that was painted during 2014."
Back then, when Lutheran pastors from the nearby congregations and the Synod's International Center spent time in Ferguson, talking and praying with those they met, the Rev. Dr. Roosevelt Gray Jr., director of LCMS Black Ministry, was among them.
Gray recalled assuring the residents that God — and The Lutheran Church—Missouri Synod — would not abandon them.
Now, with the Lutheran Hope Center a reality, the Synod has a permanent base for reaching out to hurting people — "to tell the Good News about Jesus" — every day, Gray noted.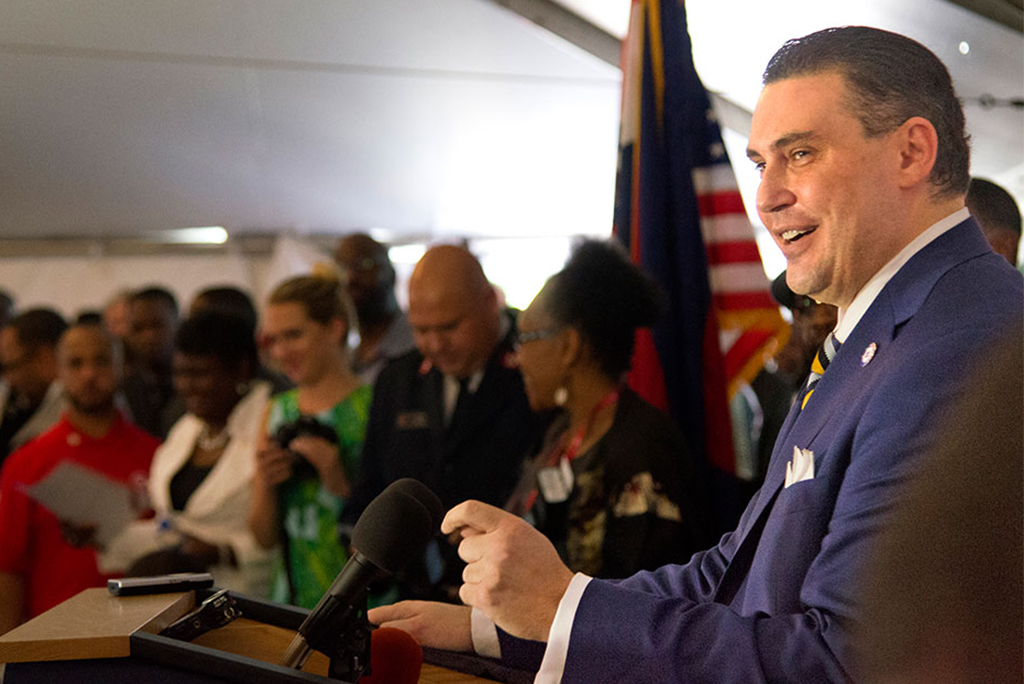 The Urban League's McMillan called the grand opening of the Empowerment Center "historic" and the Synod's involvement "a fantastic thing.
"From the very beginning, the Lutheran Church played a key role in trying to bring about healing, positive change, making a difference," McMillan told Reporter.
LCMS leaders, he said, "came to us and said, 'We want to be in your facility. We want to co-own this with you. We want to be a part of moving this community forward.' "
Lutherans are "really bridging a gap," he said, and he is "truly, truly grateful for their involvement."
'There from the beginning'
The Rev. Dr. Steven D. Schave, director of LCMS Church Planting and Urban & Inner-City Mission, acknowledges that "we were there from the beginning and now we can continue that."
What started three years ago as a "ministry of presence" — just being there, as peacemakers offering Christ's love and hope in the midst of turmoil, serving residents, business owners and police officers — is now a "flagship for us, in how we can work toward racial reconciliation, how we can be at the center of serving" in like communities nationwide, Schave says.
"All of the different pieces that had to come together for us to be in this position" — with Glenn, the only on-site pastor, serving as a liaison between residents and nearby LCMS congregations and schools — "it was obviously God's hand."
He is grateful that Lutherans have "stepped up" to make this ministry possible, he said, and noted that $70,000 from the 2016 LCMS convention's National Offering went toward the establishment of the Lutheran Hope Center.
Admitting he is a parish pastor at heart, Schave said he appreciated the chance to get out on the streets of Ferguson to comfort and pray with people "at such a pivotal time in American history."
Those experiences, along with being asked to coordinate the establishment of the Hope Center, have been "a blessing."
For a predominantly white church body like the Missouri Synod to be "at the heart of racial reconciliation in America" is nothing short of "monumental," he said, citing a Pew Research Center report on racial diversity in religious groups.
Schave recalled visiting the destroyed QuikTrip property before the Empowerment Center construction began and seeing a 2-foot tree growing out of the concrete rubble.
"If we plant this seed of mercy and love and telling the Good News of Jesus, and loving even our enemies, if we plant that seed, you can't tell me that there's any harder soil than Ferguson," he said.
"And here's what God does: He raised a tree up out of the middle of the concrete."
Schave said he was struck by the symbolism.
"It's not always comfortable, it's not always easy, the soil is tough," he said. "But we need missionaries at this time" in the U.S., the world's third-largest mission field.
"This is our time to go and do this kind of mission work in Mission Field: USA."
For more information about the Lutheran Hope Center—Ferguson (including information on volunteering and providing support), visit TheLutheranHopeCenter.org.
Posted August 2, 2017