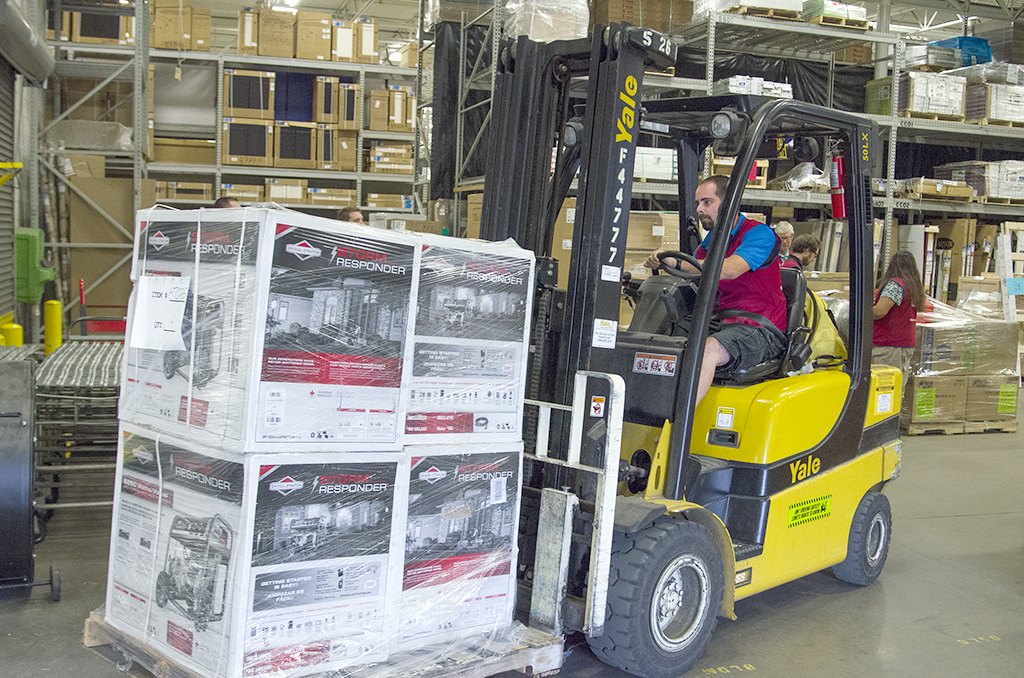 Disasters can bring out the best in people: from neighbors rescuing neighbors from flooded homes in Texas, to the generosity of men, women and children many miles away who are sending their hard-earned dollars to help hard-hit families they don't even know.
Among the Synod's network of responders offering assistance early on was LCMS Disaster Response, part of LCMS World Relief and Human Care, which provided an emergency grant of $50,000 to the Austin, Texas-based organization Upbring (formerly Lutheran Social Services of the South) on Aug. 28 — as the rain was still falling in Texas.
The funds are being distributed through Upbring's Head Start Early Education program to low-income families with hurricane- and flood-related needs: for temporary housing, personal-care items, clothing, diapers, formula, medicine and other basics.
But that's not all. LCMS Disaster Response also gave:
$100,000 on Aug. 30 to the LCMS Texas District, which is using it where it's needed most to help congregation and community members.
$150,000 total in cleanup and emergency supplies, transported from St. Louis via truck to hard-hit cities in Texas and Florida in early September. The supplies included generators, power washers, masks, gloves, eye protection, pry bars and wheelbarrows.
$15,000 in Visa and Walmart gift cards in the days after Harvey to help with immediate needs. Another batch of gift cards totaling $10,000 was distributed in Florida by LCMS Disaster Response staff following Hurricane Irma.
$7,700 on Sept. 1 to Beautiful Savior Lutheran Church, Arlington, Texas, to purchase, fill and deliver 500 "flood buckets" of cleanup supplies.
$130,000 on Sept. 11 to Salem Lutheran Church, Tomball, Texas, to purchase and outfit six disaster trailers, buy building supplies and provide full-time management and support employees for a 40,000-square-foot warehouse.
$140,000 on Sept. 11 to Trinity Klein Lutheran Church, Spring, Texas, to fund multiple, full-time positions for relief coordination.
Also providing aid is Lutheran Church Extension Fund (LCEF), which has earmarked — through its Kaleidoscope Fund — $250,000 for LCMS Disaster Response, specifically for assistance to those with Hurricane Harvey damages.
LCEF also has made available a total of $100,000 in grants to its borrowers — both ministries and rostered church workers — who have been affected by the storm.
For more information about Lutheran Church Extension Fund, call 800-843-5233 or visit lcef.org.
'Need is great' in Texas
The Rev. Steven J. Misch, Mission and Ministry facilitator in the Texas District, reports that at this writing — some two weeks after the storm — 11 pastors, 41 additional church workers and more than 700 members of LCMS congregations are dealing with "significant flooding or wind damage to their homes and congregations."
Says Misch: "The need is great."
As of Sept. 15, the district had distributed about $140,000 in hurricane relief to pastors and other church workers, congregations and their members, and residents of affected communities. But, adds Misch, "requests at this point total well over $200,000," with "many more grant applications" expected in the "days, weeks and even months ahead."
"The effort is beyond any one congregation, community, district or Synod," Misch told Reporter via email. "Apart from a unified effort, we would simply be overwhelmed (we are close to that, as it is). The power of the collective, joyful response to the Gospel in Christ will transcend
the power of any storm we may face."
Florida-Georgia 'blessed'
Although the LCMS Florida-Georgia District is still gathering assessments after Hurricane Irma blew through Gulf Coast communities Sept. 10, President Rev. Gregory S. Walton told Reporter there were "no situations that were life-threatening" and "we are, overall, very blessed."
According to Walton, three pastors in the district have "catastrophic" damages to their homes, "and we are working the [assessment] process to bring them relief and help."
The district president thanked those who have sent donations to the district for hurricane relief and said those funds and future donations would be used to help:
pastors and congregation members "so they can get up and running and be a place of mercy right there in their local community."
congregations in their efforts to provide mercy to their communities.
small congregations, particularly in the Keys, to care for volunteer teams that will be needed "for quite some time."
Posted Oct. 3, 2017