By Roger Drinnon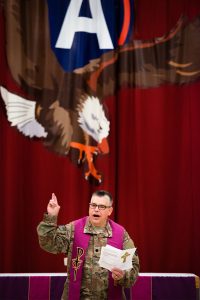 Who better to deliver the Gospel to our nation's troops on the front lines of conflict — while also caring for their families back home — than an LCMS chaplain?
The Synod's Ministry to the Armed Forces (MAF), part of the LCMS Office of International Mission, has produced a video titled "If not us, then who?" to encourage those who might be interested in this vital ministry opportunity.
The 8-minute video features LCMS military chaplains explaining the requirements, rewards and unique environment of serving as a military chaplain.

Watch the MAF video
"As our nation approaches three decades of constant armed conflict in the Middle East and elsewhere, our troops need LCMS chaplains more than ever," said Chaplain (U.S. Navy Capt. Ret.) Craig Muehler, MAF director. "Military chaplains bring mercy and compassion to our nation's military personnel, conveying a message of hope in very challenging circumstances."
From providing Word and Sacrament ministry, to suicide prevention counseling, to advising commanders on ethical issues, LCMS military chaplains deliver the Gospel to those in need and help military families cope with the overall strains of military life, noted Muehler.
For more information, visit lcms.org/ministry-to-the-armed-forces or call 888-THE LCMS (843-5267).
Roger Drinnon (roger.drinnon@lcms.org) is director of Editorial Services and Media Relations for LCMS Communications.
See related articles:
Posted April 10, 2017