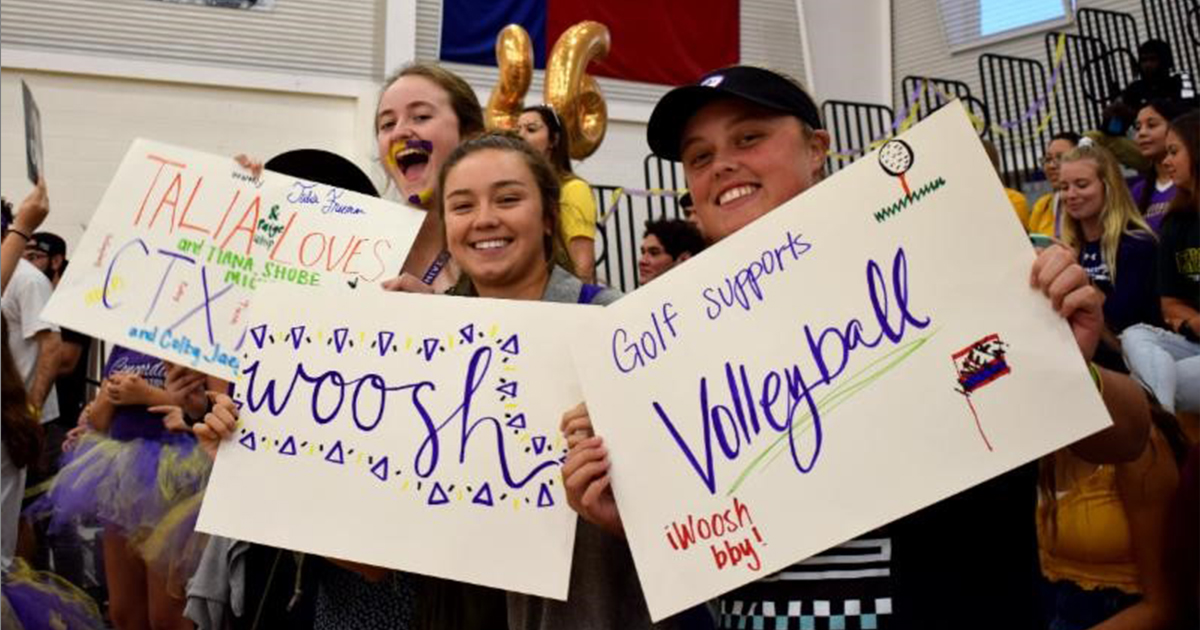 Concordia University, Texas students celebrate a winning volleyball game as part of Founders' Day festivities. (Concordia University, Texas)
Celebrating Founders' Day
In celebration of Founders' Day on Oct. 26, students and alumni at Concordia University Texas (CTX), Austin, Texas, reflected on sharing the legacy of Concordia with future generations.
Campus participants worshiped together, toured the university's nature preserve, and heard from a panel of influential CTX leaders about their experiences through the years, including Bettie Bendewald, a member of the first class of women enrolled at the university, and past CTX presidents Rev. Dr. Ray Martens and Dr. Tom Cedel.
A campus tailgate party preceded a winning volleyball game and a concert by the university's choir. A Founders' Day giving campaign can be found online at concordia.edu/give.
Top-notch programmers
For the third time in four years, a team of Concordia University Chicago (CUC), River Forest, Ill., undergraduate students finished in first place in Chicago in the IEEEXtreme 24-Hour Programming Competition.
Student teams from CUC also captured the top seven places among competitors from other universities in Chicago. The top CUC team's performance placed them 30th in the United States and 426th in the world out of 5,155 teams.
The competition, sponsored by the Institute of Electrical and Electronics Engineers (IEEE), is a global challenge where students in undergraduate, master's and doctoral programs compete over a 24-hour period to solve a set of programming problems.
Nursing program expanding
Oregon's State Board of Nursing approved expanded capacity, from 48 to 72 students to start each term, for the Accelerated Bachelor of Science in Nursing program at Concordia University, Portland, Ore.
The program fast-tracks students into the nursing profession who have completed their general education requirements and nursing prerequisites. It delivers clinically intensive nursing education in a short amount of time through a blend of online learning, practical application in a simulation lab, and in-hospital clinical rotations at top health-care facilities throughout the Portland area.
The program offers three start dates each year and is now accepting applications for the January 2019 and May 2019 starts.
Expanding campus
Concordia University, St. Paul, St Paul, Minn., has signed a purchase agreement to buy the Central Midway Building on the north side of I-94 across from Holst Hall.
The university has been leasing floors in the nine-story facility since 2015 as program growth made it necessary to expand the campus footprint. Currently, three full floors and a portion of a fourth are being used to house the Doctor of Physical Therapy and Nursing Programs, as well as the Office of Advancement, Office of Alumni Relations and a number of graduate program faculty offices.
Children's literacy festival
Concordia University Nebraska (CUNE), Seward, Neb., hosted the 23rd annual Plum Creek Children's Literacy Festival Oct. 4-6.
More than 5,000 students from Nebraska and surrounding states visited the CUNE campus for the event, which featured 17 nationally renowned children's book authors and illustrators. The events for schools included author talks, a play by Concordia's theater program, and activities such as an art session, creative-writing workshops and outdoor games.
The festival also included an adult conference with authors, illustrators and literacy experts speaking on a variety of topics. Jon Scieszka, the nation's first National Ambassador for Young People's Literature, was the conference's keynote speaker.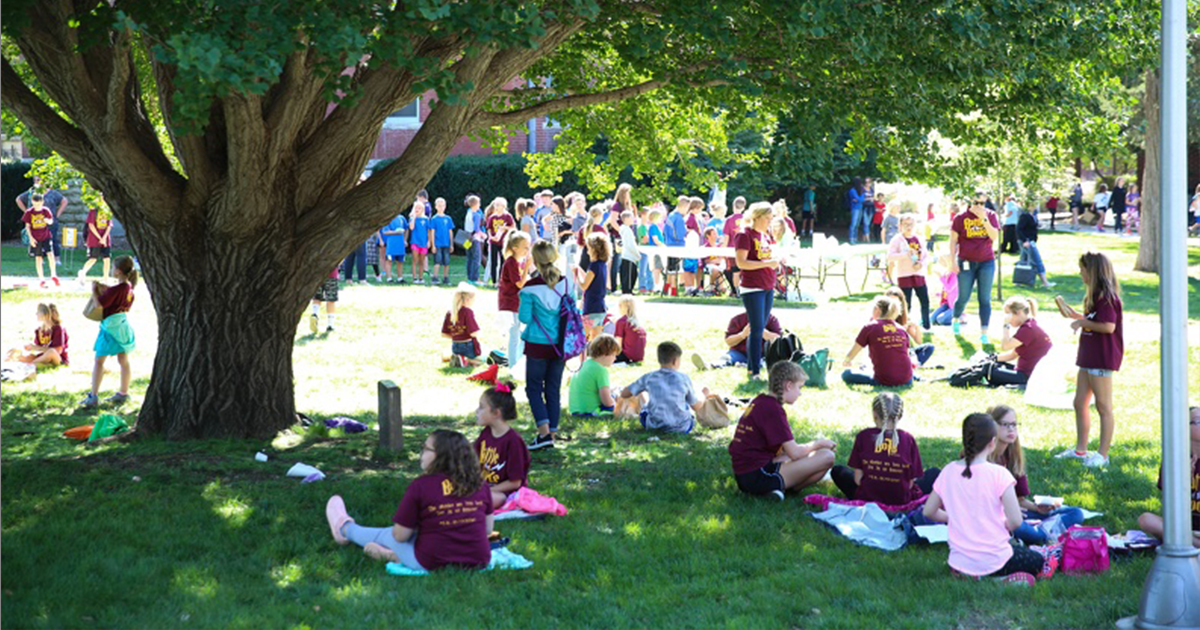 Forward in Faith
The public launch of FORWARD IN FAITH—The Campaign for Concordia took place on Oct. 21 at Concordia University, Irvine (CUI), Calif.
The evening included a tour of construction, beam-signing, dinner and a celebration program. CUI President Kurt Krueger announced a goal of $85 million for the comprehensive campaign, which runs through December 2020.
Since July 2013, over $70 million has been raised toward the goal of $85 million. Student scholarships will benefit with a $14 million investment, while $8 million will support academic programs and learning experiences outside the classroom such as mission trips, study abroad, and research projects.
The campaign is also designed to grow the university's endowment by $29 million, supporting student scholarships and academic programs in perpetuity.
Busy fall for LCMS seminaries
In September, Concordia Seminary, St. Louis, hosted its 29th Annual Theological Symposium, with a record number of participants gathering under the theme of "The Cross Alone is Our Theology!"
In October, prospective students came to campus for the three-day Contemplate visitation event, and the Laudamus choir fall tour made eight stops across Illinois, Indiana and Wisconsin.
The seminary community also kicked off a yearlong, campus-wide reading of Life Together by Dietrich Bonhoeffer, and joined the Lutheran Women's Missionary League (LWML) on Nov. 6 in dedicating new LWML offices in the lower level of Loeber Hall on the seminary campus.
Concordia Theological Seminary, Fort Wayne, Ind., wrapped up its fall conferences and campus visit opportunities with the Advent Preaching Workshop on Nov. 6.
The next major learning opportunity, the annual Symposia, begins Jan. 15. Go to video.ctsfw.edu for online access to past chapel sermons, courses and lectures (broken down by topic and event), lectionary and worship podcasts taught by seminary professors and kantors, and Symposia presentations going back to the late 1990s.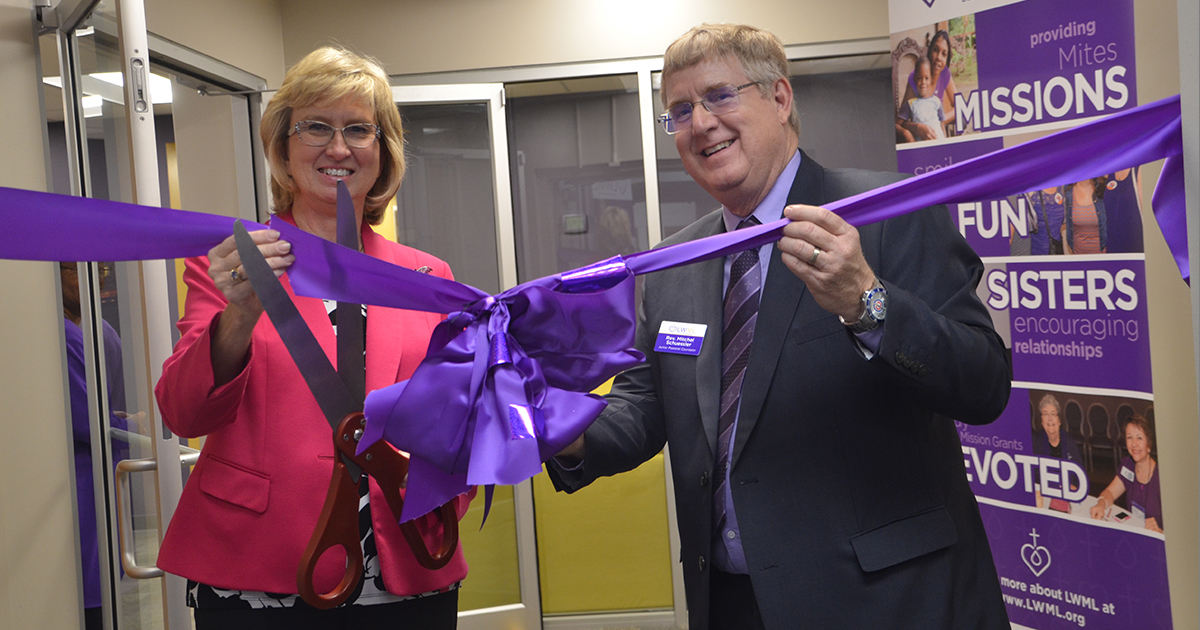 Posted Dec. 20, 2018