Top-10 teacher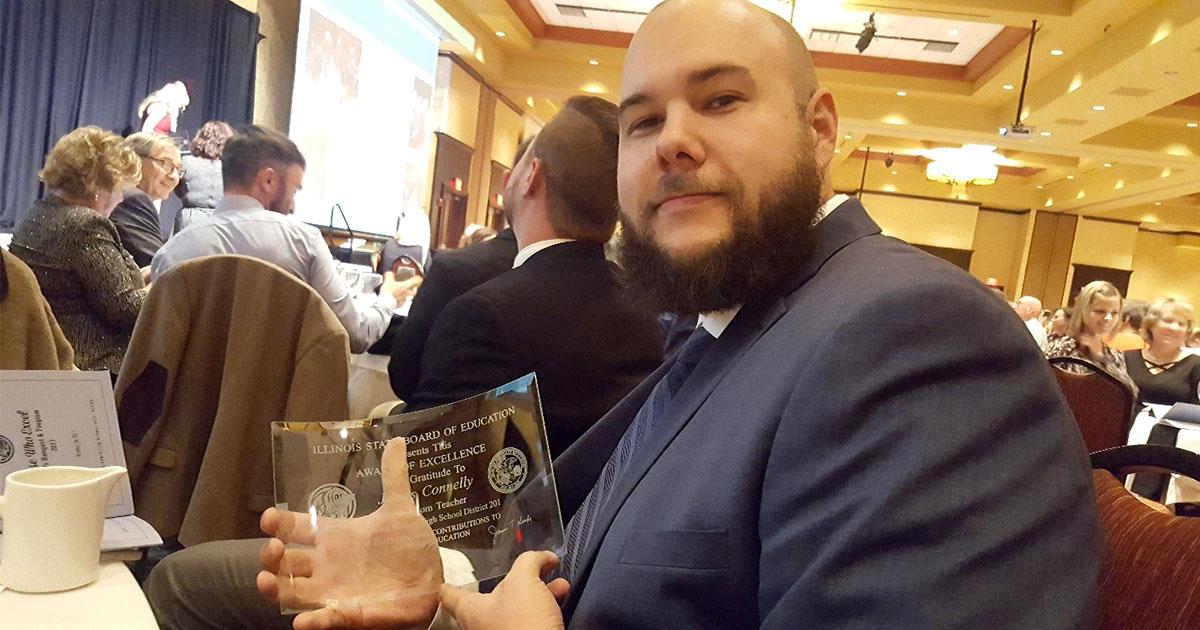 James Connelly, an industrial technology teacher at Morton West High School in Berwyn, Ill., was named as one of 10 Illinois "Teacher of the Year" finalists for 2018 in recognition of his "outstanding contributions to Illinois education."
The prestigious designation was narrowed down from 234 nominations.
Connelly, a 2017 graduate of Concordia University Chicago (CUC), River Forest, Ill., is described by CUC Professor Dr. Laura LaSalle as a "servant leader" who "mentors new teachers and helps his colleagues understand the importance of creating a student-centered learning environment" at Morton West.
Connelly also "coaches students on life skills," she said, and helps them "research careers and aspirations for life after high school."
Connelly said he was "very pleased" with his CUC education and "found it to be current, relevant and applicable to my profession." He credits "each and every professor" — all were "willing to go above and beyond — both during and after class hours."
Three-time winner
The team from Concordia University Texas, Austin, won Lutheran Church Extension Fund's (LCEF) seventh annual National Student Marketing Competition, held April 13 at Concordia University Chicago.
This was the third first-place finish for Texas in as many years. Seniors Madeline Guayante, Carlos Munoz, Ben Balen and Carrie Brown won over the judges with a confident, fact-filled presentation. Highlights of their campaign included live chats with young missionaries, a money-tracking dashboard and an advice service called "Adulting with Kevin."
Concordia College New York, Bronxville, secured second place with a campaign called "Investing Today Because Stewardship Is Ageless." Their objective was to raise awareness of LCEF, as well as increase financial literacy among Lutheran students through a combination of digital tools like smartphone apps and traditional means such as radio commercials and in-person workshops.
Soccer players storm Vegas
Six members of the women's soccer program at Concordia University, Nebraska, Seward, spent their spring break in Las Vegas doing mission work with Urban Plunge, an Omaha-based mission agency.
Beginning March 6, the students, along with volleyball coach Abby Pollart, reorganized clothing at a thrift store; packed 8,800 lunches for children; prayed with community members; worked at a soup kitchen; and prepared hygiene kits for the homeless.
"The experiences that I came home with were something I will never forget," said freshman Chelsea Bright. "I went with friends and came home with family. … My eyes were opened to how much the world needs our help, not only in Vegas but also in our backyards where people are struggling each day."
Posted May 21, 2018