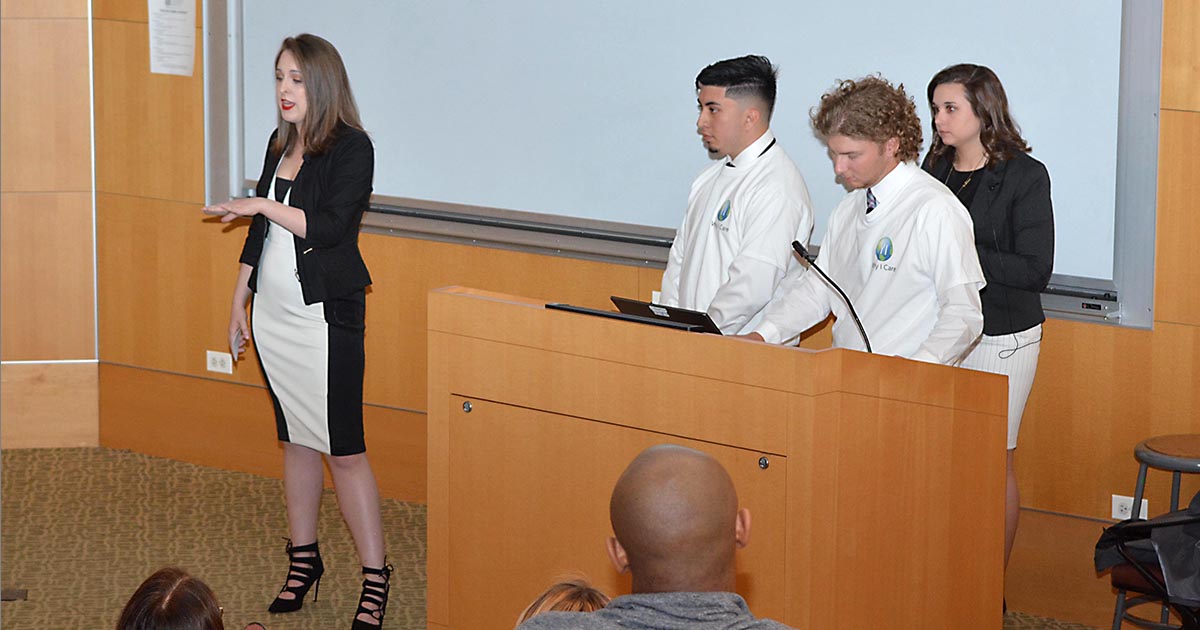 The team from Concordia University Texas, Austin, won Lutheran Church Extension Fund's (LCEF) seventh annual National Student Marketing Competition, held April 13 at Concordia University Chicago, River Forest, Ill.
Seniors Madeline Guayante, Carlos Munoz, Ben Balen and Carrie Brown won over the judges with a confident, fluid, fact-filled presentation.
Highlights of their campaign included live chats with young missionaries, a money-tracking dashboard and an advice service called "Adulting with Kevin."
This is the third first-place finish for Texas in as many years. Munoz also was a member of last year's team.
Two months before competition day, LCEF issued a marketing assignment to six Concordia University System schools.
Besides those in Austin and River Forest, competitors included teams from Concordia College New York, Bronxville; Concordia University Portland; Concordia University, St. Paul, Minn.; and Concordia University, Nebraska, Seward.
The assignment asked the teams to create a marketing campaign that would persuade young investors to re-invest in LCEF when they aged out of their Young Investors StewardAccount® at 19. Each team had 20 minutes to present and 10 minutes to answer questions from the judges.
Concordia–New York secured second place with a campaign called "Investing Today Because Stewardship Is Ageless."
Their objective was to raise awareness of LCEF, as well as increase financial literacy, among Lutheran students through a combination of digital tools like smartphone apps and traditional means such as radio commercials and in-person workshops.
Jerry Carrino, assistant professor and adviser to the New York team, confessed the assignment wasn't as straightforward as it seemed.
"It wasn't until we started digging in that we realized that this was going to be more complicated than expected," Carrino said.
New York also won the Spirit Award — given to the team who shows the most sportsmanship throughout the competition and on social media — and held the unique distinction of being the most ethnically diverse team, with representatives from Sweden (Kristel Kalm); Albania (Antoneta Skyu); India (Bianca Mark); and California (Jenny Martin).
During the award ceremony, Concordia New York President Rev. Dr. John Nunes surprised the students with a visit.
Third place went to Concordia, St. Paul. Unique to their campaign was a focus on "gamifying" an LCEF smartphone app.
Gamification is the practice of applying game-playing techniques (scoring points and competing with others) to non-game contexts. The idea is to encourage engagement with the product and peers.
This year's event included another distinction: its location on Concordia–Chicago's 40-acre suburban campus 10 miles west of downtown. Previous LCEF marketing competitions were held at the LCMS International Center in St. Louis.
Concordia–Chicago team member Malachi Allgood, a senior, said, "I was thrilled when I heard that they were bringing it to Chicago. This is a lot of fun to have all the schools come to our place." Allgood also was on last year's team.
Throughout the day of the competition, Elisabeth Dellegrazie, an assistant professor at the host school, invited her business and marketing classes to watch the competition. Dr. Claudia Santin, dean of the College of Business, attended as well.
"I'm so pleased with this partnership," Santin said. "It is phenomenal."
About the role he played as team adviser for Chicago, Russell Zage said, "I just let them lead. This was their project and their presentation. This was all them."
Zage is assistant professor of business administration at the university.
This year's judges included Lori Hackett, associate director of public affairs at Lutheran Hour Ministries; Jeff Maltz, LCEF's district vice-president of Kansas and Oklahoma; Robyn Streck, LCEF's customer relations director; and Paul Wills, vice-president of marketing for the Michigan Church Extension Fund.
Posted April 20, 2018