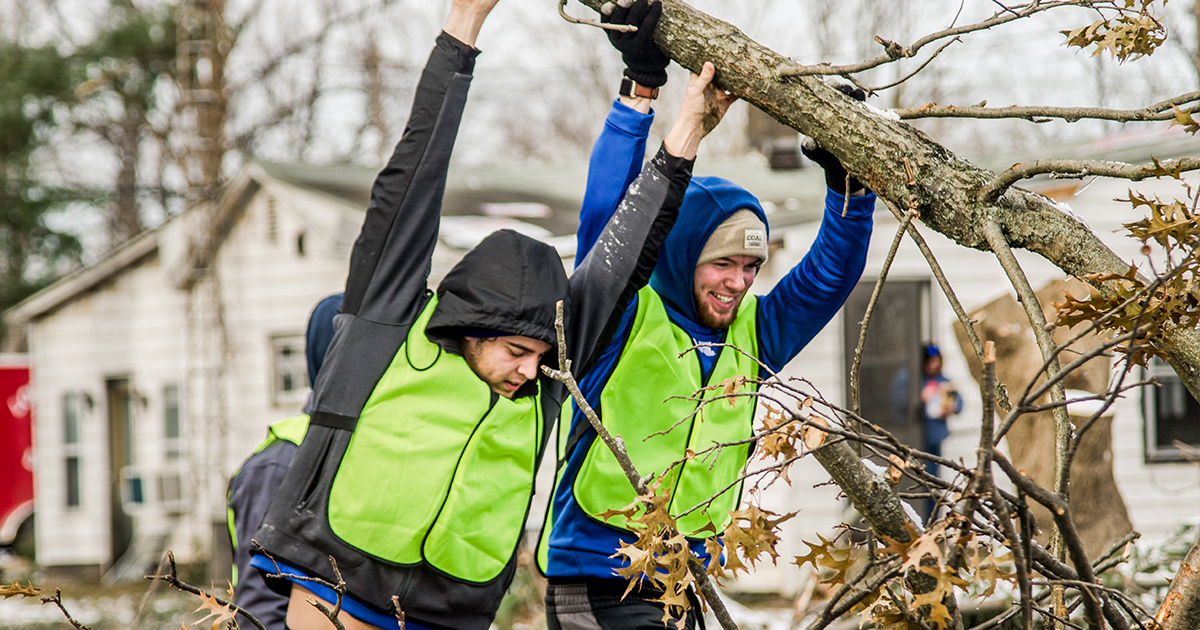 By Frank Kohn
Tiffany Wells of Taylorville, Ill., was overwhelmed by what she was witnessing in her backyard on Dec. 8, a week after a tornado destroyed her home and left a mess of broken trees and debris.
Volunteers from LCMS Lutheran Early Response Teams (LERT) and Lutheran Church Charities (LCC) were on hand to help clean up. As the chainsaws were cutting through trees and the workers were carrying them to the curbside, Wells marveled at their generosity.
"I can't express how grateful I am — everybody coming together like this," Wells said. "It just blows my mind how everybody is being so great. I can't thank everybody enough, and I can't say it enough. … I hope they all know how grateful we are."
After an extended pause, she added, "God is good."
On the first of December, 30 tornadoes hit central Illinois, the largest one-day December outbreak in the state since 1957. (Peak months for tornadoes in much of the Midwest are April and June, according to the National Weather Service.)
One of those tornadoes — an EF-3 with winds over 155 mph — plowed through Taylorville after 5 p.m. It was a half-mile wide and stayed on the ground for about 11 miles.
The Illinois Emergency Management Agency assessed the damage in Taylorville — 25 miles southeast of Springfield with a population of about 11,000 — at 506 buildings impacted, 66 with major damage and 34 destroyed, and 406 others in habitable condition. Thirty-three people were injured, one critically.
Stephen Born, disaster response regional coordinator for the LCMS Central Illinois District, arrived with LERT assessment teams at the Emergency Operations Center in Taylorville at 6 a.m. on Dec. 8 to get LERT teams sanctioned to work in the damaged areas.
They visited Trinity Lutheran Church in Taylorville to set up where the volunteers would meet and later walked the streets, talking with those impacted before putting together work orders.
Like Tiffany Wells, Born was also grateful for the turnout. A total of 207 volunteers and several LCC comfort dogs arrived on Saturday morning to help.
"We're cleaning backyards … removing soiled or damaged furniture to the curbside, praying with people," Born said, "and as we're working, we're sending LERT members to neighbors' homes on the site to see if they, too, need help. As cars drive by we wave them down, asking if they need help. And we also have people talking to and comforting the people.
"We have people from Wisconsin, Indiana, Iowa, St. Louis, Chicago and from all over the state of Illinois," Born continued. "We've never had a turnout like this before. We do all the training, and you have an idea you think it's going to work, and wow … this is working. It's the Body of Christ; it's amazing."
'Like a freight train'
On Dec. 11, Born reported that the work orders created for 30 residences had been completed.
On the work day, Wells found out that her house could not be repaired. The night of the tornado, she was home with her two daughters and a friend when they heard a second warning siren, which Wells knew signaled the need to head for the basement.
"It was terrifying," Wells said of the tornado. "It sounded like a freight train — the scariest noises I've ever heard — and the children were devastated. We just grabbed the kids and hovered over them.
"We saw the main beam break right in front of us, and it hit the water heater and flooded our basement. We also had to beat our way through the doors to get out and were trapped in our yard for about two hours because of all the downed trees."
The family is currently staying with Wells' aunt and uncle in nearby Palmer. She plans to have a modular unit placed on the property soon, another reason she was thankful for the efforts of the LERT volunteers.
One of those volunteers was Joetta Morgan, a member of Friendship Lutheran Church of Joy in Champaign, Ill. She's been a LERT member for two years and had already served in five disaster-response efforts, one of those being in Houston following Hurricane Harvey in 2017.
"I love to help people, and I love that we're a Christian-based organization so that we can show compassion, listen and share the love of Jesus," Morgan said.
As of Saturday morning, the Rev. Rodney Blomquist, pastor of Trinity, counted about a dozen Trinity members affected by the tornado, including three who lost their homes.
According to a LCMS Central Illinois District report on the work day, the deployment was the "second largest disaster relief operation to date. This is just another great example of how important … [LERT] is and shows the need to be trained beforehand. Most importantly, it shows how Christ can work in each of us and use us outside the walls of the church."
For more information on LCMS World Relief and Human Care Disaster Response, including training to help those impacted, visit lcms.org/disaster-response.
Frank Kohn (frank.kohn@lcms.org) is a designer, writer, copy editor and photographer with LCMS Communications.
Posted Dec. 13, 2018