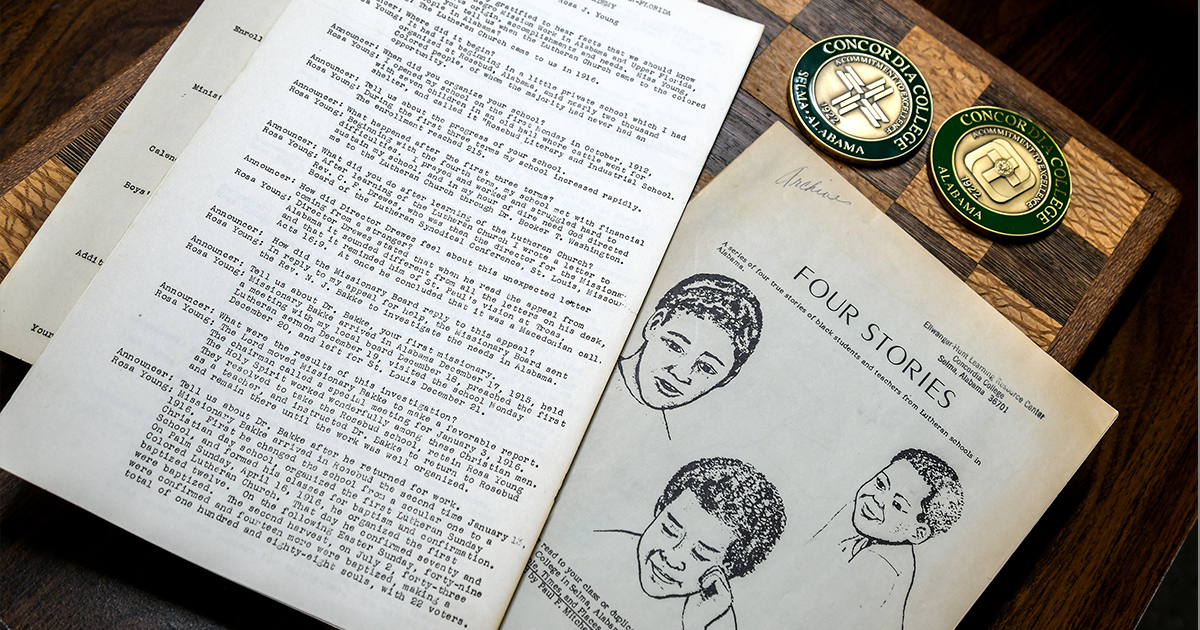 Documents and artifacts from Concordia College Alabama, Selma — a Concordia University System school that closed in April — are now housed and available for research at Concordia Historical Institute (CHI) in St. Louis.
Among the items are several boxes of student records and correspondence from Immanuel Lutheran College in Greensboro, N.C. — many from the early 20th century — that Concordia–Selma received when Immanuel closed in 1961.
In addition to paper documents, CHI retrieved artifacts from the Selma campus including the academic mace, trophies won by the women's basketball team, and a hand-carved chess set and timer that were used regularly by students at the Learning Resource Center.
Founded in 1922 to train teachers for the elementary schools started by legendary missionary educator Dr. Rosa Young, the former Alabama Junior Academy ultimately became a four-year college that prepared many of the African-American pastors and teachers who have served The Lutheran Church—Missouri Synod.
(Read a related story, "Concordia College Alabama closes: 'Nevertheless,' Dr. Rosa J. Young's legacy continues.")
The documents and artifacts retrieved and cataloged by CHI chronicle the college's ministry, especially over the last 50 years.
CHI Executive Director Daniel Harmelink encourages "students of history to use these touchstones of God's grace now at CHI in proclaiming the legacy of Concordia College Alabama."
He added that "our continued use of these historic documents and artifacts in telling the story of Concordia College will do much to ensure the precious legacy of Rosa Young — and those who followed her — who sacrificed so much to bring the Gospel and the gift of education to the residents of Selma and beyond."
Concordia Historical Institute, the official Department of Archives and History for The Lutheran Church—Missouri Synod, is located on the campus of Concordia Seminary, St. Louis.
For more information, visit CHI's website or search its catalog database.
Posted Dec. 13, 2018