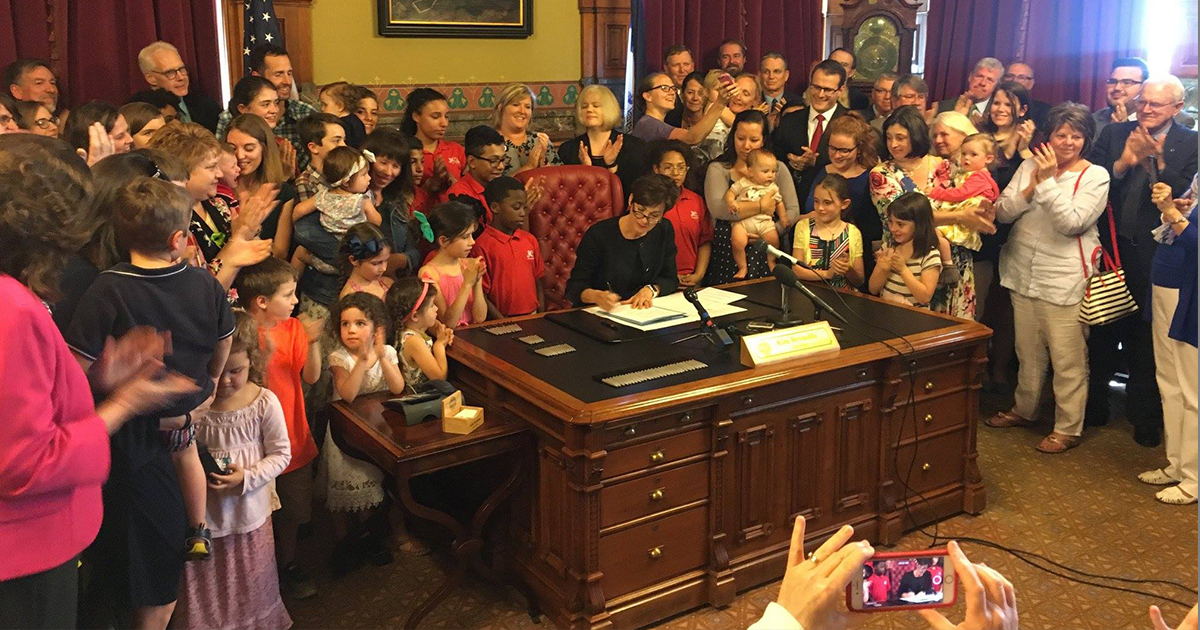 By Jonathan G. Lange
On May 4, Iowa Governor Kim Reynolds signed the Iowa fetal heartbeat bill. Previously in Iowa, most abortions were permitted up to 20 weeks of pregnancy. Now, with some exceptions, they will be prohibited once a heartbeat is detectable by ultrasound, usually around six weeks of pregnancy.
As she signed the bill, Reynolds was flanked by supporters of the legislation, including Kim Laube, director of Life Ministries at Iowa's Lutheran Family Service (LFS), a Recognized Service Organization of The Lutheran Church—Missouri Synod.
LFS was one of the founding members of Iowa's Coalition of Pro-Life Leaders, a group that proved immensely important to the passage of the bill.
Laube said, "Working in unity with other pro-life groups has been a blessing to the state and allowed important, life-saving work to be accomplished."
District Life Coordinators (DLCs) of the LCMS Iowa West and Iowa East Districts (the Rev. Nathan Sherrill and the Rev. Alex Post, respectively) also played a role.
The DLC program was initiated by Dr. Maggie Karner during her last days as director of LCMS Life Ministry. Karner died Sept. 25, 2015, of a brain tumor.
Working together with district presidents across the LCMS, DLCs help to focus and coordinate efforts to protect lives from conception to natural death.
In Iowa, that meant encouraging congregations to pray for and reach out to their legislators. It also meant helping identify Lutheran members of the state legislature.
"We began work at LFS in 2016," said Laube, "to bring together the LCMS caucus to let them know they are supported by their church, uplift them in prayer and encourage their focus on life issues concerning to the church, such as abortion and physician-assisted suicide."
In all, they found that seven senators and two state representatives are members of LCMS congregations in Iowa.
Iowa's two districts coordinated efforts to hold a statewide "Kingdom of the Left Sunday" to catechize their members on the gift of godly rulers and the Christian's duty to pray for and encourage them.
Both Iowa District West President Rev. Steve Turner and Iowa District East President Rev. Brian Saunders modeled this work by personally traveling to Des Moines, the state capital, to bring legislators God's Word and pray with them.
Saunders said the legislators "did seem very grateful for the catechesis and the partnership."
LFS Executive Director Rev. Max Phillips said, "This Iowa success has many players, all directed by God's hand. This really has been a multi-year effort and one that we have built farther each session and in the summer recess."
After all the prayers, support and planning, the legislators themselves are the only ones who can cast the votes and participate in floor debate.
Through numerous legislative battles over several years, the following LCMS legislators have played a role in supporting legislation that respects the sanctity of life: Sen. Roby Smith of Trinity, Davenport; Sen. Mark Segebart of Trinity, Manilla; Sen. Tim Kraayenbrink of St. Paul, Fort Dodge; Sen. Jerry Behm of Trinity, Boone; Sen. Julian Garrett of Mount Calvary, Indianola; Sen. Annette Sweeney of St. Paul, Buckeye; and Rep. Dan Huseman of St. Paul, Aurelia.
In addition, Sen. Jason Schultz of Immanuel, Schleswig, and Rep. Mary Ann Hanusa of St. Paul, Council Bluffs, took leadership roles in their respective chambers to help shepherd the fetal heartbeat bill to the governor's desk.
Taking a break from planting beans to reflect on what it meant to see clergy from all over the state spend time at the Capitol, Senator Schultz commented, "Spiritual leaders who say 'it is your godly vocation to work on passing these laws' make a world of difference."
Legislators were also strengthened by notes of encouragement and visits to the Capitol. Laube said, "We felt it was necessary to establish something visible so we could come together at the rallies and recognize our LCMS pastors … congregation members … and … caucus. Green ribbons, a symbol for life … along with the 'precious feet' pins [were] given to all who attended the events at the Capitol."
Schultz was grateful to see Christian citizens, particularly members of the LCMS, come out to support the bill.
"The courage that it gave those who didn't run on this issue," he said, "was instrumental in the passage of the bill. In the last couple of years, there is an entirely new environment at the state capital, and legislators are emboldened."
Pro-abortion groups have already filed suit to prevent the heartbeat bill from going into effect on July 1.
Anticipating this, Governor Reynolds has pledged, "I am not going to back down from who I am or what I believe in."
She has accepted the offer of the Thomas More Society to defend the law at no cost to Iowa's taxpayers.
In another LCMS angle on this story, Martin Cannon — a member of St. Paul Lutheran in Council Bluffs and one of the most prominent civil rights lawyers in the country — works for the Thomas More Society and has successfully defended over 40 cases revolving around abortion laws. Cannon likely will be involved in defending the Iowa fetal heartbeat bill.
Reflecting on the work of the Iowa Legislature, LCMS President Rev. Dr. Matthew C. Harrison said, "This is a monumentally important piece of legislation for Iowa and for the protection of the unborn child. I especially thank our wonderful LCMS folks who serve in the Iowa House and Senate for their work to pass this legislation and Gov. Reynolds for signing it into law. The world will be changed by all the precious lives that have been saved by their efforts. To God be the glory!"
The Rev. Jonathan G. Lange is pastor of Our Saviour Lutheran Church, Evanston, Wyo., and St. Paul Lutheran Church, Kemmerer, Wyo.
Posted May 23, 2018