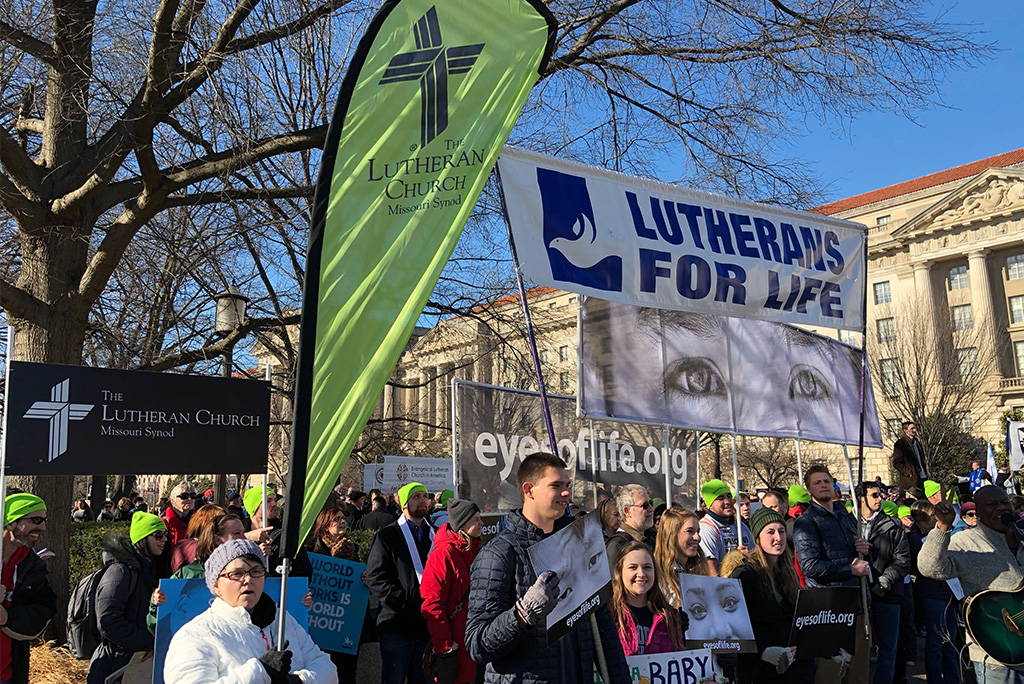 By Kevin Armbrust
"God loves life," observed Daniel Fickenscher, a second-year seminarian at Concordia Theological Seminary, Fort Wayne, Ind. "Therefore, it is the will of God that we defend life."
Throughout the country, Lutherans are joining in various marches and walks for life. The theme for this year's marches is "Love Saves Lives."
Members of Lutheran Church—Missouri Synod congregations took part in area and national marches to stand for life and to remind the government of its role to protect life.
"We are to be people who celebrate life on God's terms for all. Proclaiming the sanctity of life is part of our witness of the Gospel," said the Rev. Dr. Gregory Seltz, executive director of the Lutheran Center for Religious Liberty in Washington, D.C. "The Church must humbly, yet confidently proclaim the truths, the wonders of the God of grace, truth and life for all. One way to do that is to march."
Chicago march
The temperatures remained below freezing on Jan. 14 as over 6,000 people gathered for the 2018 March for Life Chicago, setting a record for the largest pro-life gathering in the Midwest, according to the event's website.
"Love Saves Lives" was a recurring theme in the pre-march speeches by U.S. congressmen, state legislators, clergy, an owner of the Chicago Bears and pro-life advocates, and on the signs carried by marchers.
"I was overwhelmed by the numbers, the youth and the diversity of the pro-life presence," said Abram Egger, a student at Concordia University Chicago in River Forest, Ill. "What we saw was an enormously diverse, strikingly youthful and incredibly large group of marchers chanting slogans as innocent as 'We love babies.' "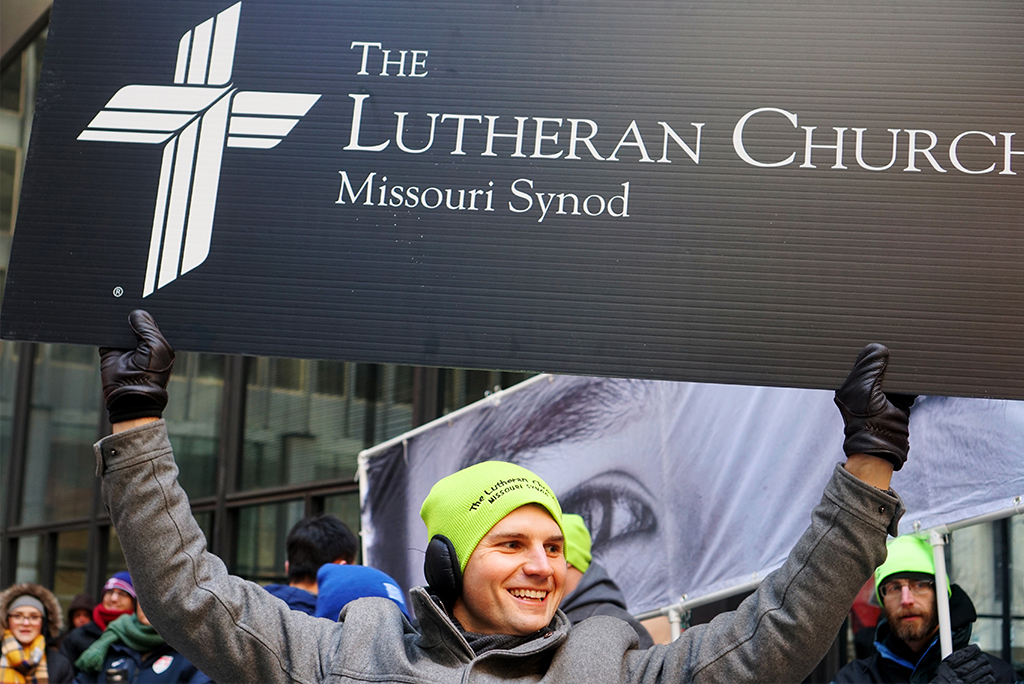 A high school band played music. Middle-school students ran around chanting pro-life messages. Marchers — including a number of older adults — carried signs and tried to stay warm in the frigid temperatures.
The streets of downtown Chicago were filled with people of all ages and walks of life who found unity in a basic, shared joy of humanity: life.
National March for Life
Thousands upon thousands gathered Jan. 19 on the National Mall in Washington, D.C., for the rally preceding the annual March for Life. They listened to a brief concert and heard from various speakers, including politicians, celebrities and people whose lives have been changed by decisions on life issues.
President Donald J. Trump, in a live video from the Rose Garden, described the hope of life as "the true gift of this incredible movement that brings us together today. … And most importantly of all, it is the gift of life itself — that is why we march, that is why we pray, and that is why we declare that America's future will be filled with goodness, peace, joy, dignity and life for every child of God.
"Thank you to the March for Life — special, special people. And we are with you all the way. May God bless you and may God bless America. Thank you. Thank you."
Speaker of the House Paul Ryan appeared at the rally and enthusiastically expressed his delight at the numbers of youth in attendance.
"The young people here is what is so inspiring because it tells us that this is a movement that is on the rise," he said.
The pro-life movement is on the rise, Ryan added, "because truth is on our side. Life begins at conception," and "science is on our side.
"Most importantly, the pro-life movement is on the rise because we have love on our side."
And the LCMS was there in the midst of the crowd, among those gathered to rejoice and stand for life.
Clad in matching green hats, the people of the LCMS stood side by side with thousands of others, bearing witness to the God who created and sustains life.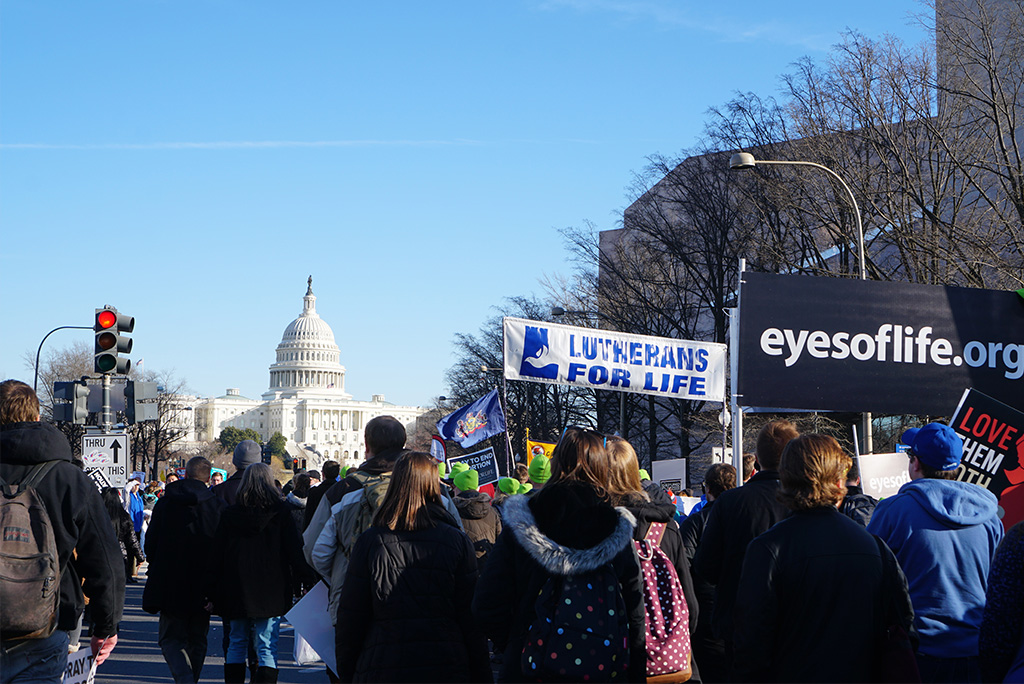 Walking together
Following the rally, the march began on Constitution Avenue, traveling from 12th Street to the United States Supreme Court.
The thousands at the rally were joined by thousands upon thousands more, mostly Roman Catholics, as the march swelled and filled the street for the largest annual pro-life event in America.
"It was a privilege to join all those marching for life in our nation's capital. You hear often that young people are increasingly pro-life, but seeing the turnout of students and young people from across the country to celebrate life was truly incredible," said Jonathan Olson, one of the students from Concordia Theological Seminary who drove to the march.
"Marching to song and drum," Olson added, "there is greater optimism than ever that the laws will once again protect innocent life in our land … as we march and sing the praises of our Lord Jesus Christ who was born of the Virgin Mary, a precious baby nurtured in her womb."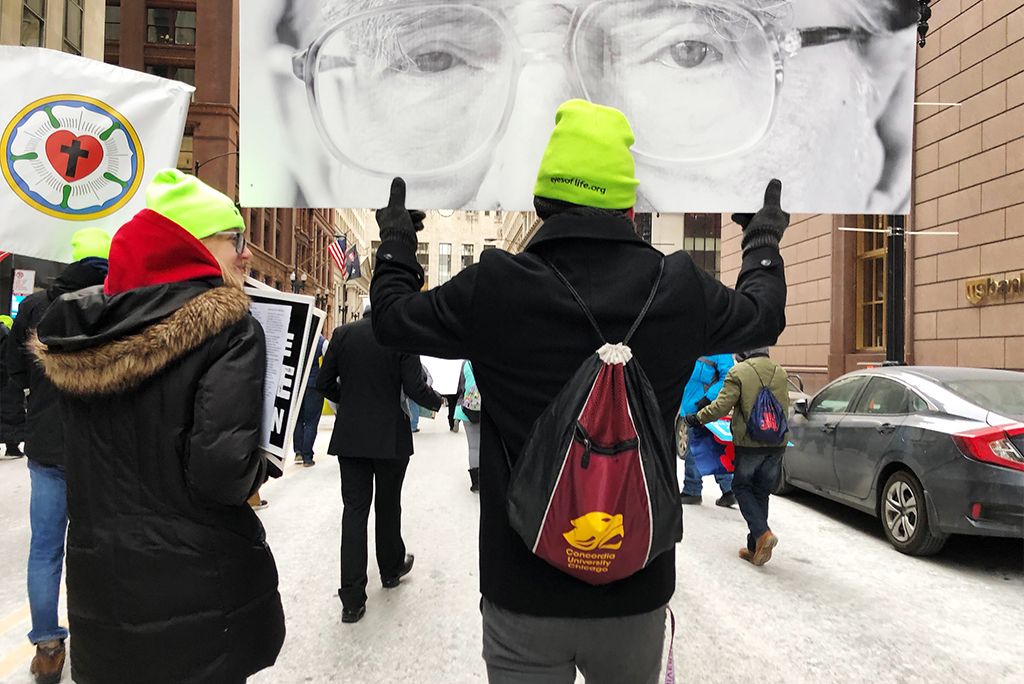 Many in the Lutheran group of marchers carried Eyes of Life* banners, but it was their singing that seemed to catch the attention of others. Lutherans sing. And so, hymns and parts of the liturgy were the noise that the LCMS made in the streets of Washington.
"Hundreds of thousands of attendees, most of them Christian and most of them young, gathered in a courageous, compassionate, joyful, hopeful atmosphere," noted the Rev. Michael Salemink, executive director of Lutherans For Life in Nevada, Iowa. "As we marked the regrettable anniversary of Roe v. Wade 45 years ago, we proclaimed to our nation and culture the sanctity and significance of every human being, regardless of age, appearance, ability or history.
"We also encouraged each other in respecting and protecting our neighbors, especially the endangered ones," he added. "The scores of Lutherans from across the country offered our distinctive voice to the life issues: human life has value because of God's grace in creating, redeeming and calling each one from the invisible miracle of conception to the moment of natural death."
Pastors and laypeople of the Synod walked and sang to bear witness to life as the gift of God to all through Christ Jesus. Many had gathered before the rally and march at Immanuel Lutheran Church in Alexandria, Va., for a Divine Service and breakfast served by Immanuel members.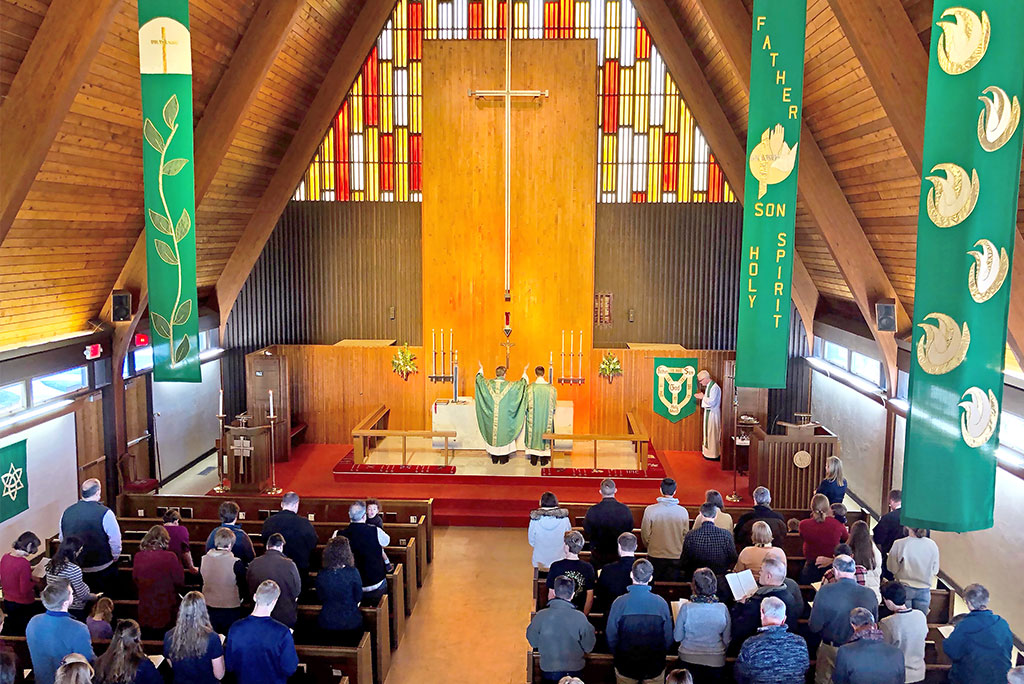 "God gave life, and if it was important for Him to give life, then it is important for me to sanctify and keep my life and the life of all people," commented Elaine Ott, a member of St. Paul Lutheran Church in California, Mo.
Ott has attended 12 life marches, and she plans to continue walking.
"Coming to the March for Life is my energizer each year," she said. "The life message, the love of Jesus, is what I get to share each and every day."
Attending her first march was Moira Kilgas, a student at Concordia University Wisconsin (CUW), Mequon.
"It was really cool to hear all the speakers," said Kilgas, who came with 30 other CUW students. "It was awesome to see everyone here from all over. It's great to see that you are not alone in your beliefs."
The LCMS was well-represented by college students from several Concordias and other universities, young adults, parents, youth, children, senior citizens and families.
The people of the Church, from all walks of life, marched to support life for all.
As the march concluded, the group of LCMS marchers, led by Salemink, stood across the street from the Supreme Court, prayed the Lord's Prayer and sang the Doxology in praise of the One who gives and sustains all life.
Love saves lives.
---
*What is 'Eyes of Life'?
Eyes of Life is a Lutheran Church—Missouri Synod campaign to affirm human life — in all its phases — from conception to natural death.
In a world bent and broken by death, the Synod continues to see with Eyes of Life.
The death and resurrection of Jesus teaches us to see as God sees. All life is created by Him. Jesus died for all. And God blesses all with His provision, teaching us to see as He sees.
Read stories about people with Eyes of Life and share your own at eyesoflife.org.
---
Dr. Kevin Armbrust (kevin.armbrust@lcms.org) is manager of Editorial Services for LCMS Communications.
Posted Jan. 24, 2018 / Updated Jan. 25, 2018