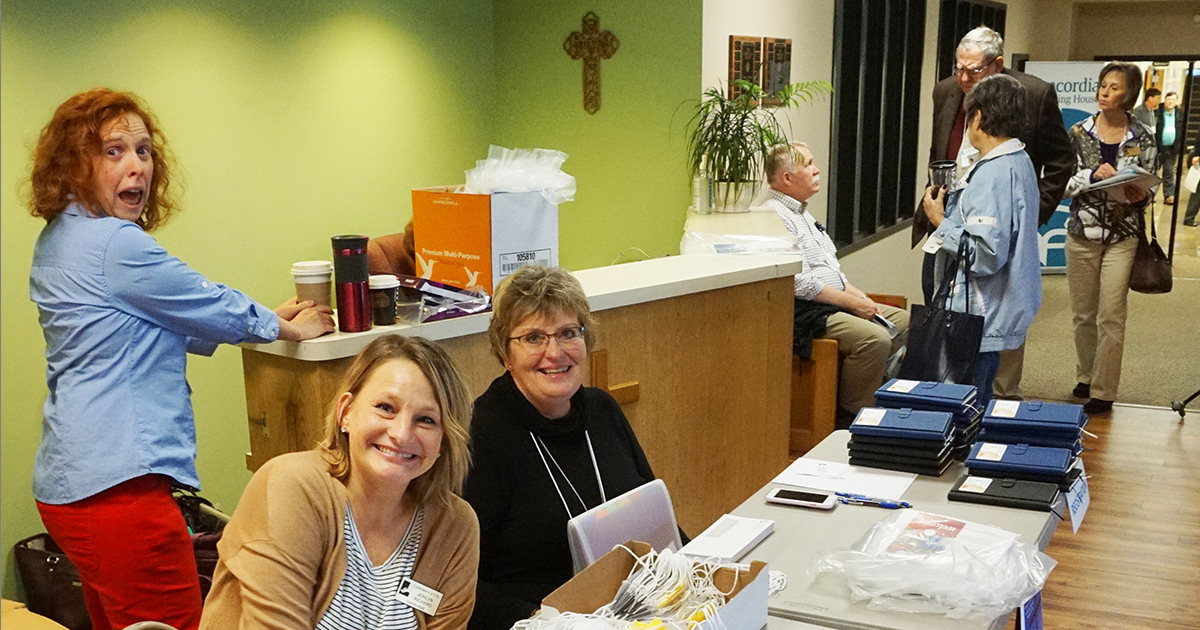 By Caitlin Magness
Lutherans For Life (LFL) celebrated its 40th anniversary as an organization at the 2018 LFL National Conference, held Oct. 12–13 at Immanuel Lutheran Church in Olivette, Mo. The conference brought in 214 attendees from 21 states and Canada.
The theme of this year's conference, "From Age to Age the Same," was a paraphrase of Is. 46:4, referring both to God's faithfulness and the value of human life. In keeping with this theme, workshop topics included a variety of issues touching on every stage of life, from abortion-pill reversal, to suicide awareness and prevention, to gender and sexuality, to hospice and end-of-life care.
The Rev. Dr. Samuel Nafzger, who served for 30 years on the LCMS Commission on Theology and Church Relations, delivered the keynote address on the history of LFL.
The plenary addresses, which focused on God's grace, His work through LFL over the years, and the need for Lutherans to stand up for life and spread Christ's love throughout the world, were delivered by the Rev. Dr. James Lamb and the Rev. Edward Fehskens III, both former executive directors of LFL, and the Rev. Dr. Dale Meyer, president of Concordia Seminary, St. Louis.
"It may not feel good to stand up alone, but you are not alone," said Lamb. "Einstein proved that light consisted of particles that behaved as a wave. Although [we are] like tiny particles on our own, together we form a wave of light, reflecting the light of Christ."
Speakers at the workshops stressed the importance of speaking the truth in love when dealing with life issues.
"It's important to remember that when we talk about life issues, we're talking about matters of the heart," said the Rev. Michael Newman, president of the LCMS Texas District. "We're talking about stories. In the face of anger and defiance and militancy, we must remember there is always a human story. We as God's people need to set the tone for the conversation about life issues."
Hilary Haak, a member of Village Lutheran Church in Ladue, Mo., and leader of the parish's Life Team, reflected on the opportunity the conference provided to connect with like-minded Lutherans.
"For 40 years, LFL has produced wonderful resources and materials on many different life issues," she said. "However, a pamphlet or book will never give you the opportunity to worship with and meet those who are also life-affirming. The opportunity to meet and worship with those people was truly uplifting and a blessing from the Lord."
The conference also provided an opportunity for attendees to connect with and learn about other Christian and pro-life groups. A variety of Christian organizations were represented at the conference, including:
Indiana Lutherans For Life, based in Valparaiso, Ind.
Concordia Publishing House, based in St. Louis.
Bethesda Lutheran Communities, based in St. Louis.
Voice of Care, a Chicago-based organization training Lutherans to minister to those with disabilities.
Made for Freedom, a St. Louis-based fashion company that works with partners around the world to fight human trafficking by providing dignified employment for marginalized and exploited women and girls. Made for Freedom also donates 20 percent of its proceeds to job-training programs for women and girls.
Our Lady's Inn, a St. Louis-based ministry providing shelter to pregnant women and their children.
An overarching theme of the conference was not letting the anti-life currents in American culture discourage one's witness to the sanctity of life.
"We are the Kingdom of God," said Fehskens. "The world won't change unless the church leads it. We're not here to just debate and argue, but to breathe the love of Christ that penetrates the darkness of people's hearts."
In the final plenary, Meyer sent attendees home with a message of hope. "It's a great time to be the church," he said. "If God had wanted us to live in the 1950s, He would have put us there. The changes that distress us are blessings in disguise, because they help us to see that faith is about not the institutional church, but Jesus Christ."
Several Concordia University System schools sent groups to the conference, and both LCMS seminaries were represented.
Instead of a national conference in 2019, LFL will hold regional conferences under the theme "Did God Really Say … ?" in Grapevine, Texas (March 29); Detroit (April, date to be determined); Aurora (Denver), Colo. (Aug. 24).; Rochester, Minn. (Sept. 14); eastern Pennsylvania (location and date to be determined); and San Francisco (Nov. 16).
For more information on the conferences and other LFL news, visit lutheransforlife.org.
Caitlin Magness (caitlinmmagness@gmail.com) is a freelance writer living in High Ridge, Mo.
Posted Nov. 1, 2018