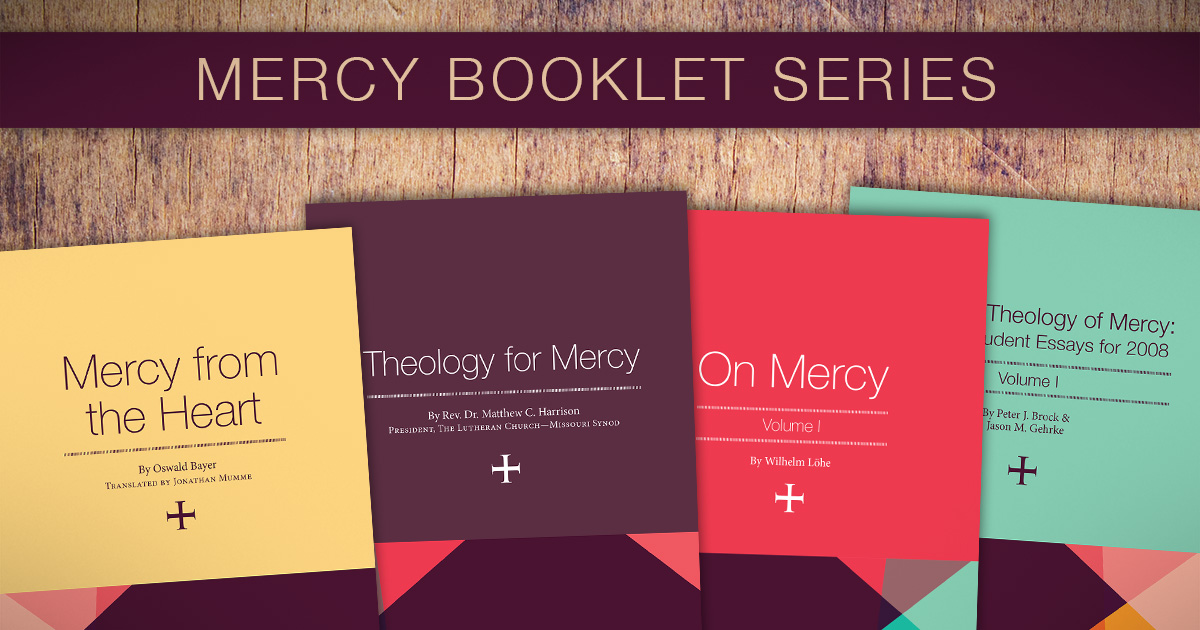 The Church is no stranger to suffering, but she also doesn't shy away from it.
In a variety of timely yet timeless essays, Lutheran theologians look at Christ's mercy and the way in which He showers healing, compassion and forgiveness on His people.
Additionally, within these essays, Christians will also be encouraged to engage in active, joyful lives of mercy in their own homes, workplaces, congregations and communities.
From LCMS President Matthew C. Harrison to the sainted Rev. Wilhelm Löhe, readers will learn about mercy's roots in the Old Testament, how to make the case for showing mercy in the world, the vocation of Christians as it pertains to showing care to the neighbor and even what it means to be a Lutheran engaging in acts of mercy in today's social ministries circles.
•  All Become One Cake: A Sermon on the Lord's Supper — by Martin Luther
• Answering the Why Question: Martin Luther on Human Suffering and God's Mercy — by John T. Pless
•  Clergy Mental Health and the Doctrine of Justification — by Robert D. Preus
•  Fight, Work, Pray! Luther on the Lord's Supper and Care for the Needy — by Martin Luther
•  Löhe on Mercy: Six Chapters for Everyone, the Seventh for the Servants of Mercy – Volume I — by Wilhelm Löhe
•  Löhe on Mercy: Six Chapters for Everyone, the Seventh for the Servants of Mercy – Volume II — by Wilhelm Löhe
•  Man of God: Take Heed unto Yourself — by Bryan Salminen and David Maier
•  Mercy and the Lutheran Congregation — by Theodore Julius Brohm; translated by Matthew C. Harrison
•  Mercy from the Heart — by Oswald Bayer; translated by Jonathan Mumme
•  Mercy in the Early Church: The Gospel of Love and Charity — by Adolf von Harnack
•  Mercy in the Old Testament — by Reed Lessing
•  On Almsgiving — by Martin Chemnitz
•  One Loving God: Two Hands – Saving and Caring — preface by Matthew C. Harrison
•  On the Duties of Ministers of the Church — by Johann Gerhard
•  Ordinance of a Common Chest — by Martin Luther
•  The Church Is a Mercy Place — by Matthew C. Harrison
•  The Church's Role of Mercy in the Community — by Matthew C. Harrison
•  Theological Reflections on Confessional Lutheran Involvement in Neighborhood Renewal: An Exercise in Two-Kingdom Theology — by Matthew C. Harrison
•  Theology for Mercy — by Matthew C. Harrison
•  The Twelve and the Seven in Acts 6 and the Needy — by Norman Nagel
•  The Vocation of Every Christian: Life in Christ as a Holy Calling — by Jacob A. O. Preus III
•  Toward a Theology of Mercy: Winning Student Essays for 2008 – Volume I — by Peter J. Brock, Jason M. Gehrke
•  Toward a Theology of Mercy: Winning Student Essays for 2008 – Volume II — by Mary Moerbe, Samuel P. Schuldheisz
•  Walther on Mercy — by C.F.W. Walther
•  What Does It Mean To Be A Lutheran in Social Ministry — by Matthew C. Harrison