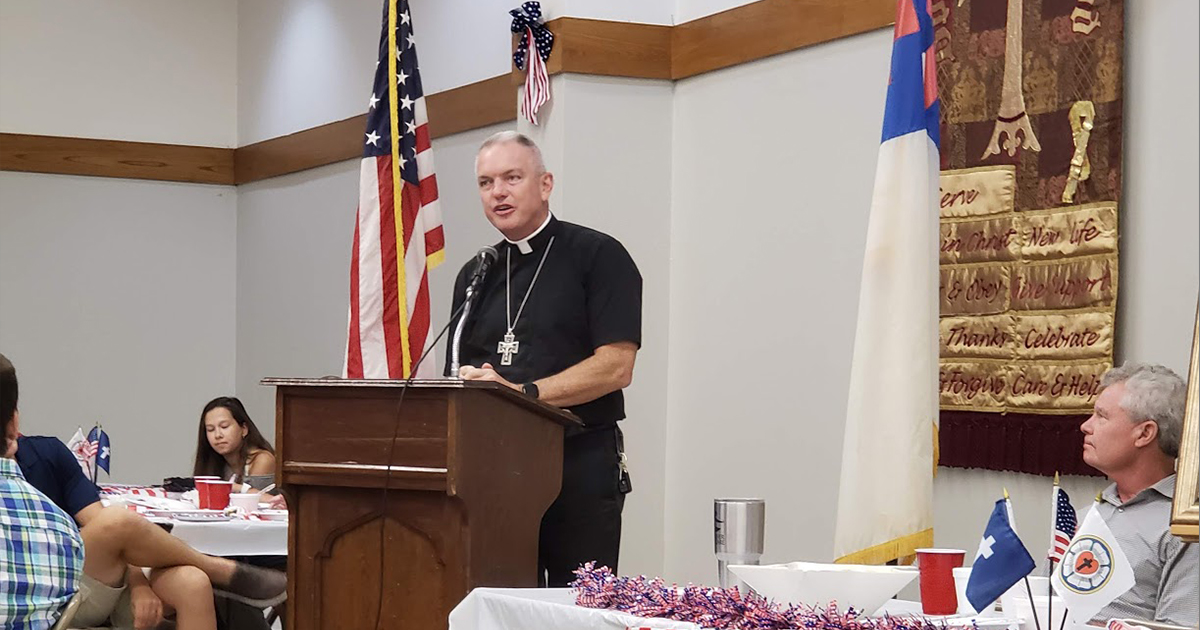 By Tony Oliphant
After serving St. Paul Lutheran Church in Austin, Texas, for 15 years, the Rev. Dr. Mark S. Nuckols — an LCMS reserve chaplain — has been called into active duty and installed as director of the Pastoral Care Advisory Team for the Army Chief of Chaplains in Washington, D.C. The installation took place on Aug. 12.
Like many LCMS chaplains, Nuckols has served as a parish pastor and provided spiritual care for soldiers when called upon to do so. He has been joyfully involved in both for most of his time in the ministry.
"About my third year into my first parish, I desired to do mission work," Nuckols explains, "but I was in a small rural parish that needed to be faithfully fed and nourished. Then I met an Army Reserve chaplain — a seminary classmate — who explained the profound mission aspect of being a military chaplain in the Army Reserve while still faithfully serving my parish."
Over the years, Nuckols has discovered that his work in the ministry has benefited from his involvement in the chaplaincy: "Being a military chaplain has profoundly shaped my parish ministry by allowing me to regularly interact and build relationships with the unchurched of our nation more than I was able to do in my little community where I pastored."
As a chaplain, Nuckols served two 12-month tours in Iraq. He continued to care for his congregation by writing pastoral letters to them, and he also spoke the Gospel to the soldiers he served alongside.
"After [I gained] their trust, they shared with me their struggles and their griefs. Some responded to the Holy Gospel we in the church have all been given, but some did not," he says.
He was not discouraged by this, however, noting that it "is not a different response than what the apostles received, who faithfully did the same before us. Biblically, it revealed to me again what we all know by faith: that we cannot by our own reason or strength believe in our Lord Jesus Christ or come to Him, but the Holy Spirit has called us."
Although this new fulltime position will require Nuckols to leave the congregation he has served for 15 years, he knows that he is not alone in his line of work.
"The LCMS and her chaplains are very well known throughout all branches of our military," he explains. "We are known for our pastoral skills, our love and compassion, our unwavering commitment to the truth of God's Word, and for our excellent leadership abilities."
Nuckols describes how these gifts are much needed in the pastoral care of those serving in the armed forces. "The military is in need of our church's laymen and laywomen who bring their faith to bear in all of their actions. The military needs our pastors as chaplains to serve these soldiers, sailors, airmen, marines and coast guardsmen of our nation with the truth we bear as His baptized children."
Nuckols is excited about the ways in which the Gospel will be shared in this new calling. "At this point in my chaplaincy career, I am very senior in rank and will be interfacing with other chaplain colonels in the active duty Army, the National Guard and the Army Reserves." This will include developing curricula for Army chaplains across the globe.
Nuckols sees this future work as a way to bring a clear and distinct proclamation of the Gospel to countless people. "It will be filled with more opportunities than I could imagine to share the Gospel of our Lord Jesus Christ and our unique understanding of the three solas of the Reformation."
The Rev. Tony Oliphant (aoliphant@redeemerlcms.com) is pastor of Redeemer Lutheran Church, Elmhurst, Ill., and a freelance writer for LCMS Communications.
Posted Sept. 25, 2018