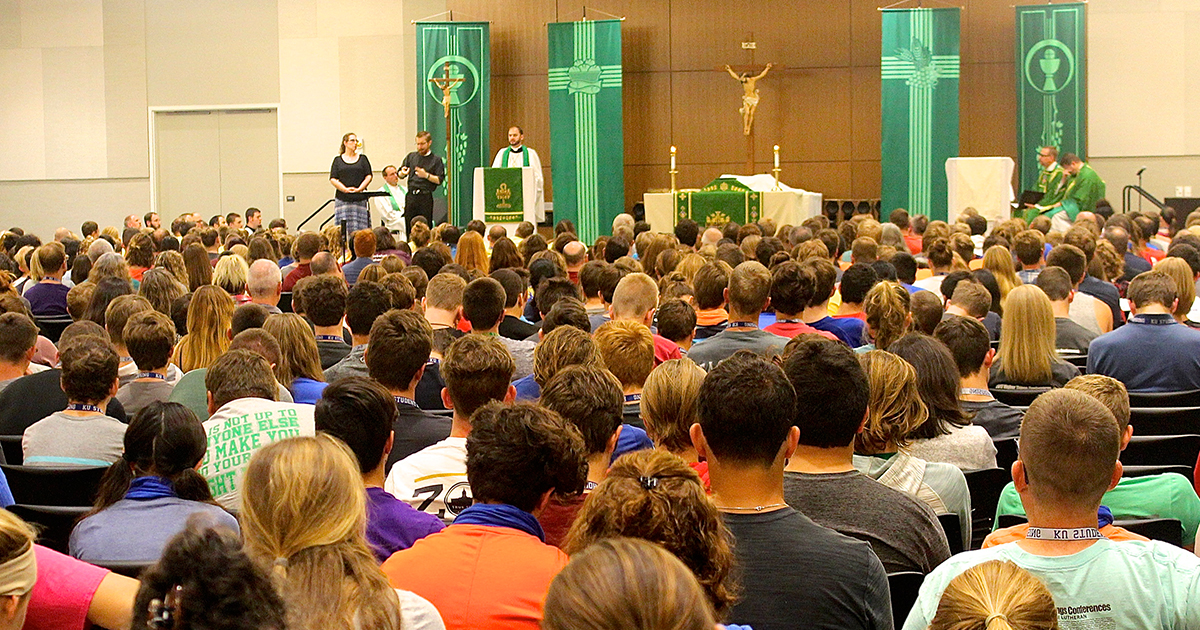 By Ann Osburn
Sanctified. Sin. Law. Gospel. The Holy Spirit. Christ making His people holy.
That's what a record-breaking, approximately 2,800 attendees heard at four Higher Things Lutheran youth conferences this summer.
Held under the theme ''Sanctified," the conferences took place:
July 3–6 at Carleton College, Northfield, Minn.
July 10–13 at Southern Illinois University, Carbondale, Ill.
July 24–27 at University of Kansas, Lawrence, Kan.
July 31–Aug. 3 at Pacific Lutheran University, Tacoma, Wash.
The 2018 conferences focused on the Ten Commandments. Previous conferences have covered all of the other chief parts of Luther's Small Catechism.
"The Old Adam … thinks he can save you, fix you, improve you — but he can't," preached the Rev. Aaron Fenker, pastor of Bethlehem and Immanuel Lutheran Churches, Bremen, Kan., at the closing Divine Service in Lawrence, Kan. "The Holy Spirit, on the other hand, enlivens and enlightens you with His gifts. … And that is the Good News, the Gospel of sanctification. He is the Holy Spirit, after all, and so He makes you holy, a Christian, a saint."
The Rev. George Borghardt, pastor at Immanuel Lutheran Church in Bossier City, La., preached at the opening Divine Service for all four conferences, emphasizing, "Sin isn't your master since that day, Good Friday. You aren't a slave to sin. Sin doesn't define who you are anymore — your Baptism does; Jesus does."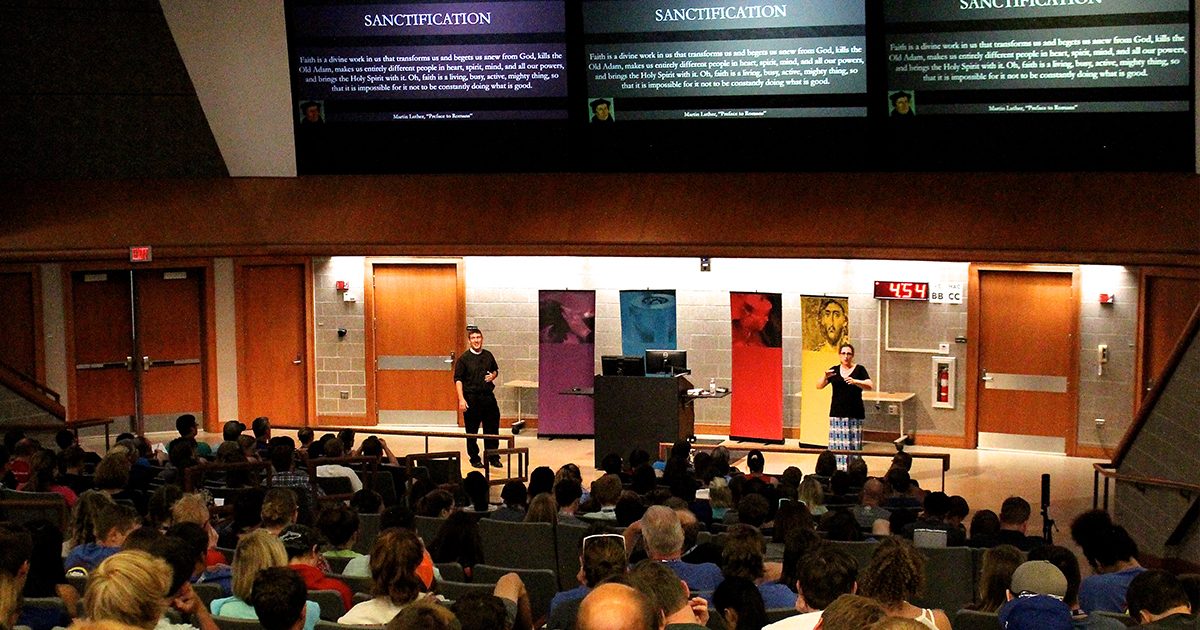 At all four conferences, attendees gathered each day for a plenary session and then chose from a variety of topics — from movies, deaf ministry and suicide, to vocation, marriage and the apocalypse — for breakout sessions.
"Any class you go to has solid doctrine, and you learn good, Lutheran theology," said Nathan Bromlow, a high school senior from Wichita, Kan.
Groups worshiped multiple times each day, gathering for Matins, Vespers, Evening Prayer, Compline and Divine Service.
"The conference is a great way to reinforce our liturgy and confessions in the youth," said Kerry Heiss, a first-time attendee and chaperone from Boise, Idaho. "It's so encouraging to see so many youth participating in the liturgy and loving it."
All four conferences were deaf-friendly, with American Sign Language interpreters translating the services, plenary sessions, conversation and more.
Attendees also enjoyed multiple hours of planned, friendship-building entertainment options each evening, including sports, inflatables, talent shows, chalk-art contests and more.
"I liked the activities because there was a little bit of something for everyone," said Lindsay Armintrout, a youth attendee from Basehor, Kan. 
Preaching at the Kansas conference, the Rev. Brad Drew, pastor at Mount Olive Lutheran Church, Metairie, La., emphasized that the word "baptism" has the word "is," not "was" in it: "Bapt-IS-m. Not Bapt-WAS-m. … You [are] holy in God's sight today, despite all of the evidence to the contrary. … So promises your Baptism, so promises Holy Absolution, so promises His body and His blood at the Holy Supper. … Sanctified. It's all Christ, all Christ. That's the promise of the Gospel."
Higher Things is a Recognized Service Organization of The Lutheran Church—Missouri Synod that holds annual youth conferences and assists parents, pastors and congregations in cultivating a distinctly Lutheran identify among their youth and young adults. For more information, visit higherthings.org.
Ann Osburn (ann@bovina.us) lives in Albuquerque, N.M., and oversees public relations for Higher Things.
Posted Sept. 25, 2018