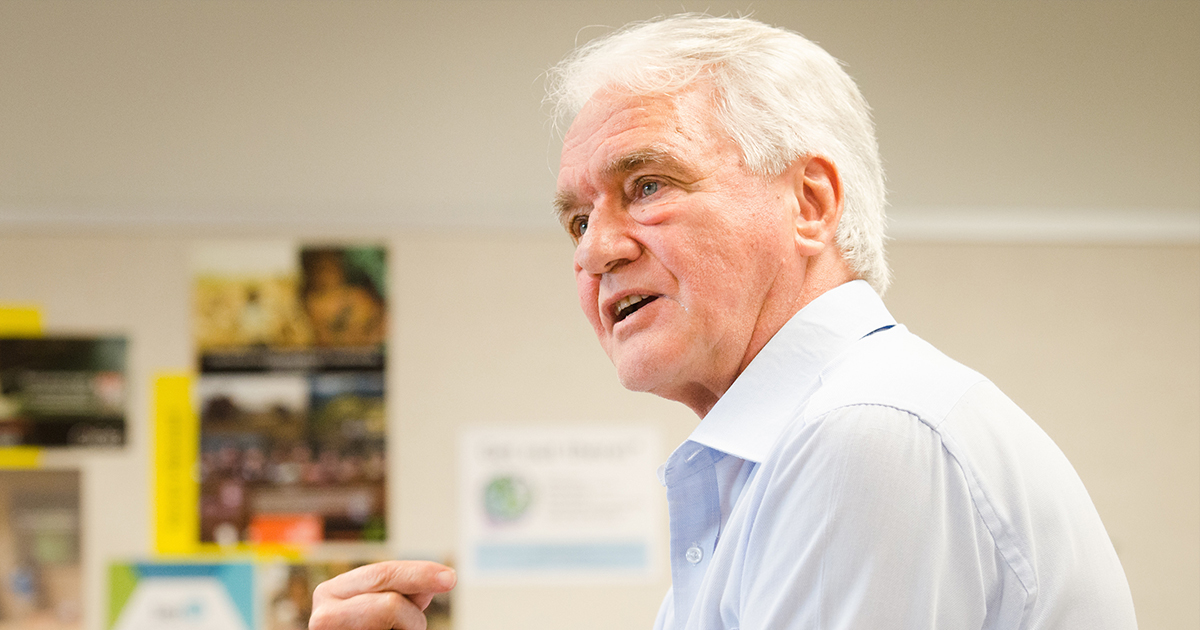 By Jayne Sheafer
The new academic year begins soon at both seminaries of The Lutheran Church—Missouri Synod. Current church workers, potential future church workers and laity will find a multitude of opportunities for education and enrichment in both St. Louis and Fort Wayne, Ind.
Concordia Seminary, St. Louis (CSL)
Fourth Annual Dr. Jack Dean Kingsbury Lecture
Sept. 18
The Death of Jesus and its Aftermath in the Gospel According to Mark
Presenter: Rev. Dr. James W. Voelz, graduate professor of Exegetical Theology, Concordia, St. Louis
Learn more here. There is no fee for the lecture, which will also be available via livestream at csl.edu/live.
29th Annual Theological Symposium
Sept. 18–19
The Cross Alone is Our Theology!
Based on the Martin Luther quote, "The cross of Christ is the only way of instruction in the Word of God, and the only true theology," the symposium will address what it means to have cross-centered theology, cross-centered pastoral care and a cross-centered life.
Cost is $140/person and includes a Tuesday evening buffet and art fair event. For information on speakers, schedule and registration, go to csl.edu/symposium.
2018 Alumni Reunion
Sept. 20–21
For graduates, spouses and widows with class years ending in "8" or "3." Cost for the reunion is $125/person for two days or $70/person for one day. A complete schedule and registration form are available at csl.edu/alumni-reunion.
Laudamus Choir Fall Tour
Oct. 12–16
Laudamus is a select choir of seminarians preparing for full-time service as LCMS pastors. Each year, the choir schedules tours to LCMS schools, universities and congregations throughout the country, singing an eclectic program representing the Church's song from many different genres. In October, they will visit congregations in Illinois, Wisconsin and Indiana. For a complete schedule, go to csl.edu/laudamus.
Fall Lay Bible Institute
Oct. 3, 10, 17, 24
The Bible, Theology and Christ-figures in Film
Presenter: Rev. David I. Lewis, assistant professor of Exegetical Theology, Concordia, St. Louis
Registration cost for the series is $30/person. More information and registration form are available at csl.edu/lbi.
Contemplate Visitation Event
Oct. 4–6
Contemplate is an event for college-age or older potential students. It provides an opportunity to learn more about life in the Concordia, St. Louis, community and the preparation that leads to service as an LCMS pastor, missionary, chaplain or deaconess. There is no registration fee. Housing and all meals during the event are provided at no cost to participants. Find out more at csl.edu/visit.
Concordia Theological Seminary, Fort Wayne, Ind. (CTSFW)
Access to Heaven on Earth in the Divine Service: The Theology of Worship in Hebrews
Sept. 10–12
Presenter: Rev. Dr. John Kleinig, professor emeritus, Australian Lutheran College
This course serves as an introduction to Kleinig's commentary on Hebrews, published by Concordia Publishing House. The course will explore the theology of worship in the book of Hebrews.
Cost is $150/person for professional church workers (1.5 Continuing Education Units awarded) and $100/person for retired pastors and laypersons. Register online.
Lutheranism & the Classics V: Arguing with the Philosophers
Sept. 27–28
This two-day event will look at how Luther and the reformers dealt with and used the ancient philosophers. 
Regular admission is $120/person. Members of the Consortium of Classical Lutheran Educators may attend for $60, university students for $45, high school students for $30 and CTSFW and CSL students for free. A complete list of speakers, schedule and registration information is available at ctsfw.edu/classics.
Christ Academy Confirmation Retreat
Sept. 28–30
Led by an ordained pastor, this weekend retreat is open to students currently receiving confirmation instruction from their pastors. Cost for the retreat is $110/person, which includes on-campus housing and meals. Register by emailing christacademy@ctsfw.edu or calling 260-452-2204.
Prayerfully Consider Campus Visit
Oct. 17–20
This is an opportunity for second-career and college students to explore and learn more about the Office of the Holy Ministry and diaconal service. There is no registration fee. On-campus housing and all meals during the event are provided at no cost to participants. Find more information at ctsfw.edu/PCV.
Christ Academy College
Oct. 25–28
For college students interested in learning more about the vocation of pastor or deaconess. Participants will attend classes, meet faculty and students, worship in Kramer Chapel and learn about the scripturally-rich theological education offered at CTSFW. There is no cost for this event, and all on-campus housing and meals will be provided. Learn more and register at ctsfw.edu/ca.
Luther Hostel
Oct. 31–Nov. 2
Suffering and the Theology of the Cross
With an emphasis on the 500th anniversary of the Heidelberg Disputation, this conference will first acknowledge human suffering, then seek to understand it through the theology of the cross. The registration cost of $200/person includes all meals. For schedule and speaker information, or to register, go to ctsfw.edu/lutherhostel.
Jayne Sheafer (sheafer88@yahoo.com), Fort Wayne, Ind., has been a writer and editor for Lutheran publications for over 30 years.
Posted Aug. 23, 2018