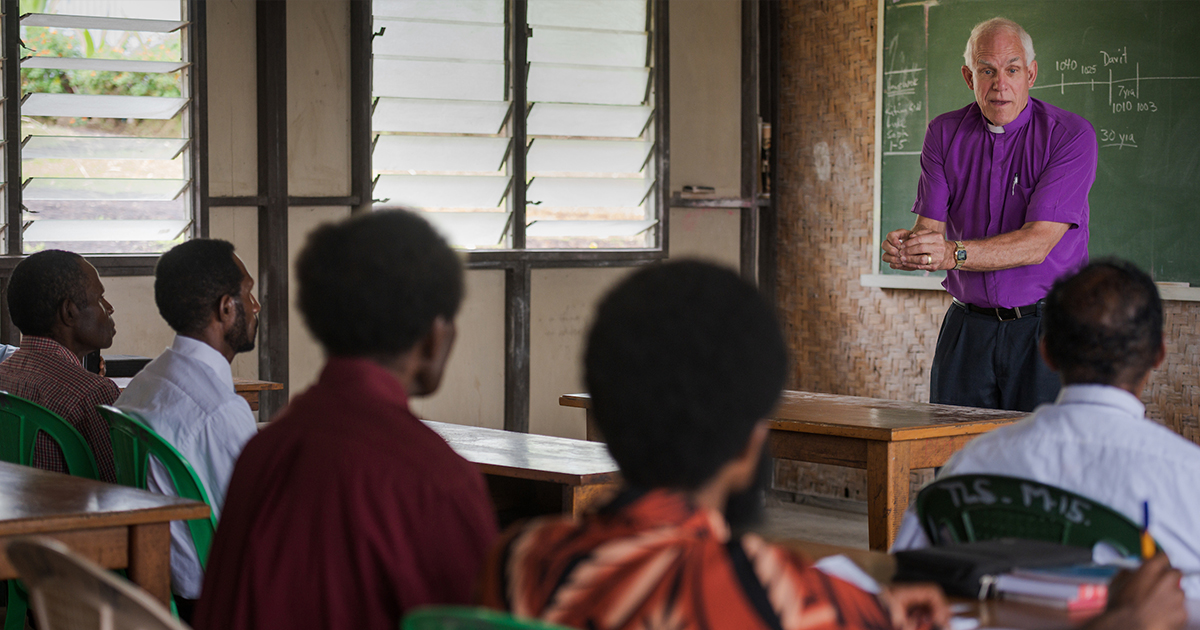 By Pamela Nielsen
At its Jan. 31–Feb. 1 meeting in St. Louis, the LCMS Board for International Mission (BIM) took a deep dive into the work of LCMS missionaries across Asia, appointed seven new missionaries and continued discussions on the status of international schools and cooperative work with partner churches, districts and mission societies.
LCMS Asia Regional Director Rev. Charles Ferry joined the BIM in a video call from the regional office in Chiayi, Taiwan, to provide a country-by-country snapshot of challenges and opportunities faced by the mission team.
Describing the region, which contains half the world's population across seven time zones from China in the north to Australia in the south, Ferry underscored the need for the Gospel in an area of great diversity of ancient cultures, languages and pagan religions. Some 18 countries are served by 34 full-time LCMS missionaries working closely with partner church bodies — many, if not all, of which were born from early LCMS mission efforts in the region.
"The number one request that we have from our partner churches in the region is theological education," said Ferry, who sees this as a significant priority in a part of the world where many governments are openly, and in many cases, increasingly intent on persecuting the church. Ferry noted that in addition to teaching the faith, the team is working "to leave behind a library of faithful Lutheran materials" in languages native across the region, for "if and when the day comes that Americans and the Western church must leave." 
Missionary appointments
During the meeting, the BIM issued appointments for seven GEO (Globally Engaged in Outreach) missionaries to serve in the Eurasia and Latin America & the Caribbean regions. GEO missionaries serve on teams with LCMS career missionaries for an initial period of 30 months of service.
Reports
"Synod financials are steadily improving, owing to ongoing effective stewardship of our program operations," said LCMS Chief Mission Officer Rev. Kevin Robson as he provided the board with updates on recent activities and initiatives elsewhere around the Synod. Included in Robson's report was news from the LCMS Offices of National Mission and Pastoral Education, as well as LCMS Communications and Mission Advancement.
Highlighting the review of the Synod's accounting department that took place last summer, Robson noted a recommendation specific to the LCMS Office of International Mission (OIM). "A chief priority," said Robson, "is the alignment of regional OIM accounting systems with that of the rest of the Synod." Doing so, he said, "will give us a more granular, timely view [of OIM finances], allowing us to make even better resource-management decisions." 
OIM Executive Director Rev. Daniel McMiller underscored the desire to turn the Synod's missionary-recruiting focus "toward both seminaries, to look at recruitment of young men right out of seminary." While both male and female missionaries are needed on the field in a variety of roles, career missionary pastors are in short supply to meet the near-constant requests for theological educators and church planters across all regions.
McMiller explained that, over the past eight to nine years, "we've worked to place experienced pastors on teams with veteran missionaries" in an effort to build stable teams who can mentor and encourage new, young missionaries. "We have good care for them now, better orientation and regular team retreats," said McMiller.
The board was introduced to OIM Associate Executive Director Christian Boehlke, who is responsible for OIM's St. Louis Operations — a team focused on care and support for missionaries beginning with recruitment through the end of their service and beyond, when they become missionary alumni.
"The vision, from the view of OIM St. Louis Operations," said Boehlke, "is to retain missionaries and increase overall on-field experience and stability." In the area of missionary care, the team is "proactively identifying areas of missionary concern and how we should approach these in challenging environments, in order to provide confidence and joy in vocation," said Boehlke, who noted an increased emphasis on missionary safety and security, with plans to bring on a director to "monitor, assess and address risks on the field."
Concluding the meeting, Robson noted: "Every member of the BIM — through diligent and thoughtful policy-development work, especially in view of the Synod's mission emphases and priorities — has been a constant source of encouragement, guidance and collaborative consultation. I'm grateful for their unwavering support of the OIM's vital work around the globe."
Posted Feb. 22, 2019