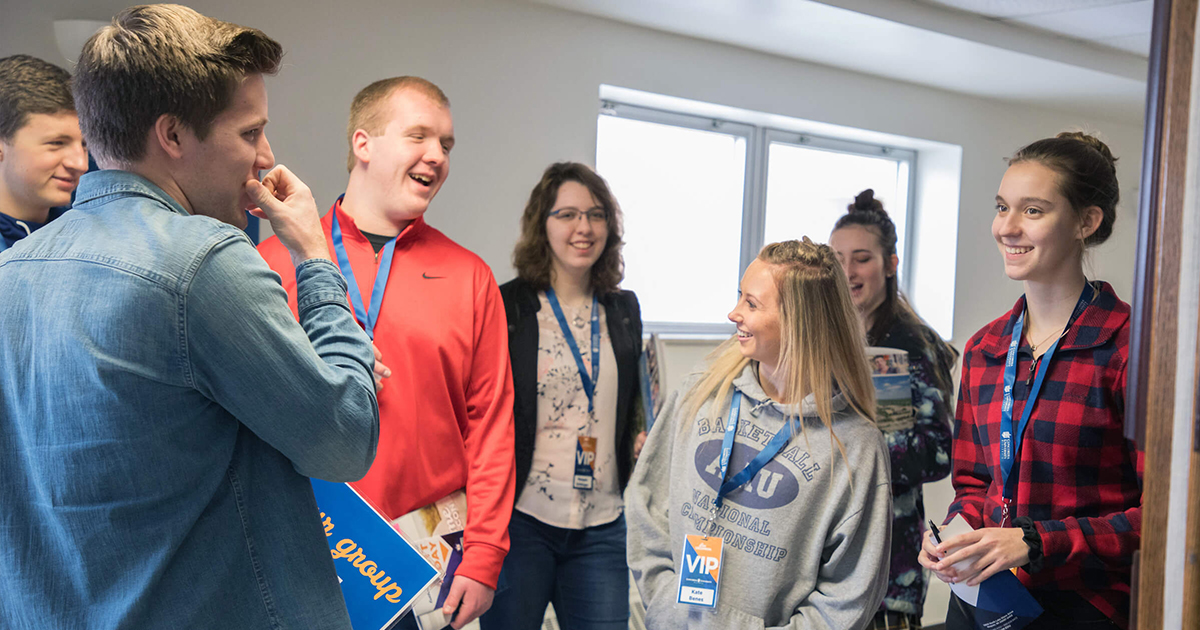 CUW visit dates
Concordia University Wisconsin, Mequon, Wis. (CUW), has announced its Admissions Visit Day schedule for the 2019–20 academic year. Fall semester Visit Days will take place on Sept. 27, Oct. 5, Oct. 18 and Nov. 2. Prospective students are invited to visit and learn more about the faculty, program offerings and faith-development opportunities available at CUW. Learn more at cuw.edu/visit.
Hispanic leaders summit
On Sept. 17, Concordia University Texas, Austin, Texas, hosted the Hispanic Association of Colleges and Universities' Emerging Leaders Summit for select students from colleges and universities across central Texas. The regional summit focused on preparing students for leadership roles and internships within high-demand fields such as science, technology, engineering, mathematics, finance, accounting, business and marketing.
Showing teacher appreciation
Educators at Holliston High School, Holliston, Mass., came back to a fully renovated teacher lounge after winning the Ultimate Teacher Lounge Makeover sponsored by Concordia University, Portland, Ore. See the reveal of the makeover in the 50-year-old high school and the teachers' reactions at cu-portland.edu/news/ultimate-teacher-lounge-makeover-winner-announced.
Building bridges
This summer marked the 15th year of the Building Cultural Bridges Camp held on the campus of Concordia University, St. Paul, Minn. The two-week camp, formerly called the Hmong Culture and Language Summer Program, was recently renamed due to the inclusion of as many as 20 different language groups. Many families have children who have grown up in the program, which began in 2004.
Dawn installed
On Aug. 25, Concordia University Chicago, River Forest, Ill., celebrated the installation of Dr. Russell P. Dawn as its 12th president. The ecclesiastical rite took place as part of the university's Service of Praise at the opening of the 156th academic year. The event was attended by more than 500 faculty, staff, students, alumni, LCMS clergy and community members. Rites of induction and installation were also conducted at the service for 15 new faculty and staff members.
Irvine program accredited
The Council for Accreditation of Counseling and Related Educational Programs (CACREP) has granted accreditation to the Master of Arts in Counseling program at Concordia University, Irvine, Calif., in partnership with the Townsend Institute. The voluntary accreditation assures that graduates have met the majority of the educational requirements for licensure or certification as a counselor in most states.
First classes held in science wing
The Dunklau Center for Science, Math and Business at Concordia University, Nebraska, Seward, Neb., was bustling Aug. 26 as the first classes were held in the building's science wing, which includes 58,000 square feet of new construction. A nearly 1,000-square-foot lab extends above the campus quad and provides space for student projects, classes, programs and meetings. The second phase of the project, including an additional 28,000 square feet of the renovated science hall that will become the business, math and computer science wing, will be completed in December.
Health sciences update
The Kreft Center is taking shape at Concordia College New York, Bronxville, N.Y., thanks to the generosity of Dr. Karl and Shirley Kreft. The Kreft Center (currently known as the Brunn-Maier Science Hall) will house a new radiologic technologies wing with a well-equipped lab, classroom and observation room. There will also be a high-fidelity patient-simulation nursing lab, nurses' locker room, new physics/biology lab and updated learning spaces.
Thunder Sports Complex complete
Thunder Sports Complex, the latest building project at Concordia University, Ann Arbor, Mich. (CUAA), is now complete. Made possible by the generous support of Kay Thunder-Haab, Concordia's competition-grade track and turf project will enhance the campus's athletic programs and serve as a resource to community groups. Learn more about CUAA's athletic offerings at cuaa.edu/athletics.
Posted Oct. 15, 2019