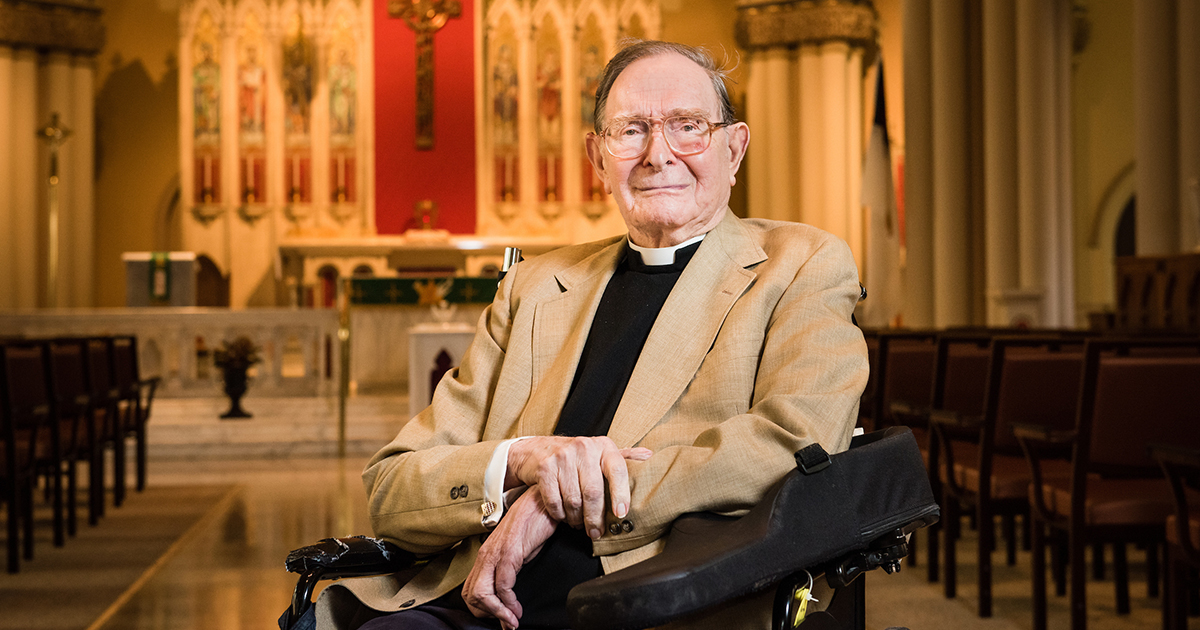 The Rev. Dr. Norman Edgar Nagel, professor emeritus at Concordia Seminary, St. Louis, died Oct. 8 in St. Louis. He was 94.
Nagel was born in China on Sept. 30, 1925, to LCMS missionaries Rev. Christian Nagel of New Zealand and Mathilda (Maroske) Nagel of Australia. When war came in 1927, Norman, his brother and parents were evacuated to Australia, where Norman's father served Lutheran congregations in Victoria and South Australia.
Nagel earned a Bachelor of Arts (1945) from the University of Adelaide, Australia, and a Master of Divinity (1953) from Concordia Seminary, St. Louis (CSL). On June 13, 1953, he married Priscilla Elizabeth ("Betsy") Newman of Fanwood, N.J.
After graduating from CSL, Nagel received a call from the Evangelical Lutheran Church of England (ELCE) to serve Luther-Tyndale Memorial Church in London. At the request of the ELCE, where he served as vice-chairman, he matriculated at Cambridge University in 1957, served as pastor of Resurrection Lutheran Church, Cambridge, and received his Ph.D. in 1962. He helped establish Westfield House, the Lutheran House of Studies in Cambridge, and became its first preceptor, serving from 1962 to 1968.
From 1968 to 1983, Nagel served as professor of theology and dean of the chapel at Valparaiso University, Valparaiso, Ind. He was a visiting professor at CSL from 1962 to 1963 and again from 1981 to 1983, when he joined the faculty. During his seminary tenure, he served as chairman of the Department of Systematic Theology from 1986 to 1992 and from 1994 to 1995. He retired in 2006 after 22 years as professor of Systematic Theology.
Nagel studied under the German Lutheran theologian Werner Elert at Erlangen University in Erlangen, Germany. This led to his first published work, the English translation of Elert's Eucharist and Church Fellowship (1966). Nagel later translated a collection of essays by Hermann Sasse which were published as We Confess Jesus Christ (1984), We Confess the Sacraments (1985), and We Confess the Church (1986).
Nagel's sermons were published in Selected Sermons of Norman Nagel (CPH, 2004) and In the Name of Jesus (Logia, 1999). His articles have appeared in Concordia Theological Monthly, Springfielder, The Cresset, Dialog, Lutheran Forum, Lutheran Quarterly, Concordia Journal, Concordia Theological Quarterly, Lutheran Theological Journal, Logia, and Gottesdienst. Two scholarly Festschrift volumes have been published in his honor: And Every Tongue Confess (1990) and Dona Donatis Gratis (2015).
Nagel wrote the introduction to Lutheran Worship (1982). He served the Synod on the Commission on Theology and Church Relations, the Doctrinal Review Committee, the Lutheran-Episcopal Dialogue, and the Lutheran-Catholic Dialogue.
CSL President Rev. Dr. Dale A. Meyer said, "The Concordia Seminary community extends to Mrs. Nagel and family our heartfelt sympathies. Baptized into Christ and His promise of resurrection, Dr. Nagel was completely a servant of his Lord. …  We look forward to being with Dr. Nagel in the church triumphant."
Nagel served as a pastor, missionary, professor, Luther scholar, churchman and theologian of the means of grace. His most enduring professional legacy is the many university students and seminarians whose lives were profoundly changed by his teaching and preaching of the Gospel of Jesus Christ, and, in turn, the lives they have shaped in their many and various vocations.  
A funeral service for Nagel will take place at 11 a.m. Tuesday, Oct. 15, in the Chapel of St. Timothy and St. Titus at CSL. Visitation is set for 3–6 p.m. Monday, Oct. 14, at Laclede Groves, 723 S. Laclede Station Road, St. Louis. Visitation will also take place before the funeral, 10–11 a.m. Oct. 15, in the CSL chapel.
Nagel is survived by his wife, Betsy; sons Richard (Norma) Nagel, Christopher (Mollie) Nagel and Matthew (Kristi) Nagel; grandchildren; and one great-grandson.
Posted Oct. 14, 2019