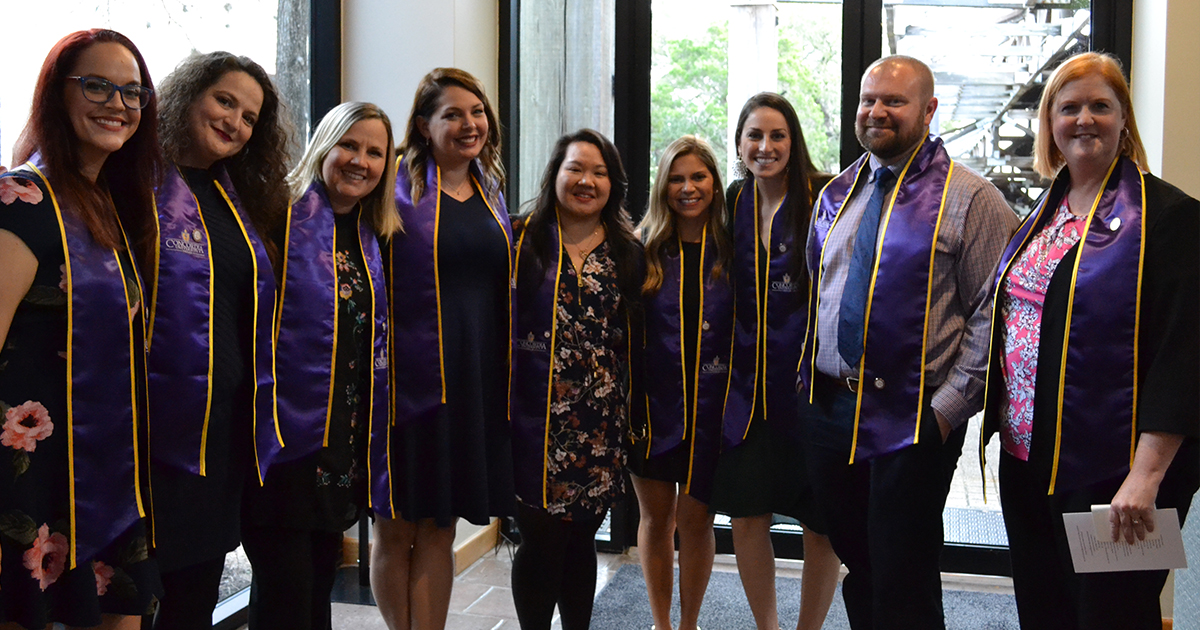 First accelerated nursing graduates
The new Accelerated Bachelor of Science in Nursing (ABSN) track at Concordia University Texas (CTX), Austin, celebrated its first graduates in December. Through a combination of clinically intensive nursing practicums and fast-paced online learning, students are prepared to serve as nurses in their communities and the world. The ABSN track at CTX offers three annual start dates and rolling admissions. The university is currently accepting applications for May and August starts.
Reformation winds
The College Band Directors National Association (CBDNA) announced late last year that the Concordia University, Ann Arbor (CUAA), Mich., wind ensemble recording of James Stephenson's "Luther in Canon" — a piece that CUAA originally commissioned for the 500th anniversary of the Reformation — has been selected for recognition at the 2019 CBDNA National Conference, set for Feb. 20–23 in Tempe, Ariz. Click here to hear a recording of the performance.
Building boosts community
The Dunklau Center for Science, Math and Business at Concordia University, Nebraska, Seward, received the Cultivate Seward County Award for Economic Impact as a New Project from the Seward County Chamber and Development Partnership on Jan. 21. The Dunklau Center, a $24.5 million project, will be entirely funded by supporters of the university. The 86,000-square-foot building, set to open late this year, includes 11 laboratory classrooms, two lecture halls, a greenhouse and multiple research labs. 
CSP launches eSports team
Concordia University, St. Paul (CSP), St. Paul, Minn., will officially launch a varsity eSports team in 2019. It will be the first university in Minnesota to do so. CSP intends to be a member of the National Association of Collegiate eSports while holding its varsity eSports student athletes to the same academic and eligibility standards as its other 16 official athletics programs. The program will have access to scholarships administered by the athletics department as well as institutional financial-aid opportunities.
Speech-language master's program
Applications are now being accepted for the new Master of Science in Speech-Language Pathology at Concordia University Wisconsin, Mequon, Wis. The two-year program is designed to prepare competent speech-language pathologists who will provide quality Christian care in a respectful, culturally sensitive, caring and knowledgeable manner. Courses for the inaugural cohort are scheduled to begin this summer. Learn more at cuw.edu/slp.
Career prep
A new Career Readiness Program offered through the Career Services office at Concordia University, Irvine, Calif., will help guide student employees to recognize, translate and articulate the career readiness competencies they develop through their campus employment experience.
Innovative assessment
Concordia College New York, Bronxville, N.Y., has begun to evaluate Chinese applicants using results from the gaokao (China's famously intensive exam for high school seniors), putting the college among the very small number of U.S. schools using this innovative approach to applicant assessment. International students represent about 12 percent of the on-campus student body at Concordia.
445 years of service
In December, Concordia Seminary, St. Louis, celebrated ordination and commissioning anniversaries of seven faculty, four emeriti faculty and two staff members. Their combined years of service total 445 years.
The new publication Concordia Pages was introduced Dec. 14. The seminary hosted its Pre-Lenten Workshop "Let My People Go!" on Jan. 25 and the Winter Lay Bible Institute "Exodus: The Greatest (OT) Story Ever Told" on Jan. 26.
Symposia in Fort Wayne
Faculty, staff, students, alumni and others gathered Jan. 15–18 on the campus of Concordia Theological Seminary, Fort Wayne, Ind., for the annual Symposia series. This year's Exegetical Symposium featured the theme "Soaring Like an Eagle: Themes in the Gospel of John." The 42nd Annual Symposium on the Lutheran Confessions centered around "The Leipzig Debate: The Meaning of Biblical Authority."
Posted Feb. 5, 2019