CUAA students investigate cold case
Students in the Justice and Public Policy Program at Concordia University Ann Arbor (CUAA), Mich., gave police a new lead in the search for a murder suspect who killed a young woman in a Michigan check-cashing store in 2013. While students' efforts did not ultimately yield any new suspects, multiple Detroit-area news outlets took an interest in the semester-long project, which wrapped up this past December. Read more about the class project at blog.cuaa.edu/cold-case.
'Military Friendly' in Wisconsin
For the second year in a row, Concordia University Wisconsin (CUW), Mequon, Wis., has earned a Military Friendly School designation, awarded by Victory Media. CUW accepts more military transcript transfer credits than any other university in the state of Wisconsin. Since the Veteran Services Department's start at CUW in 2015, more than 140 veterans have earned a degree within three years. Learn more about opportunities for veterans at cuw.edu/military.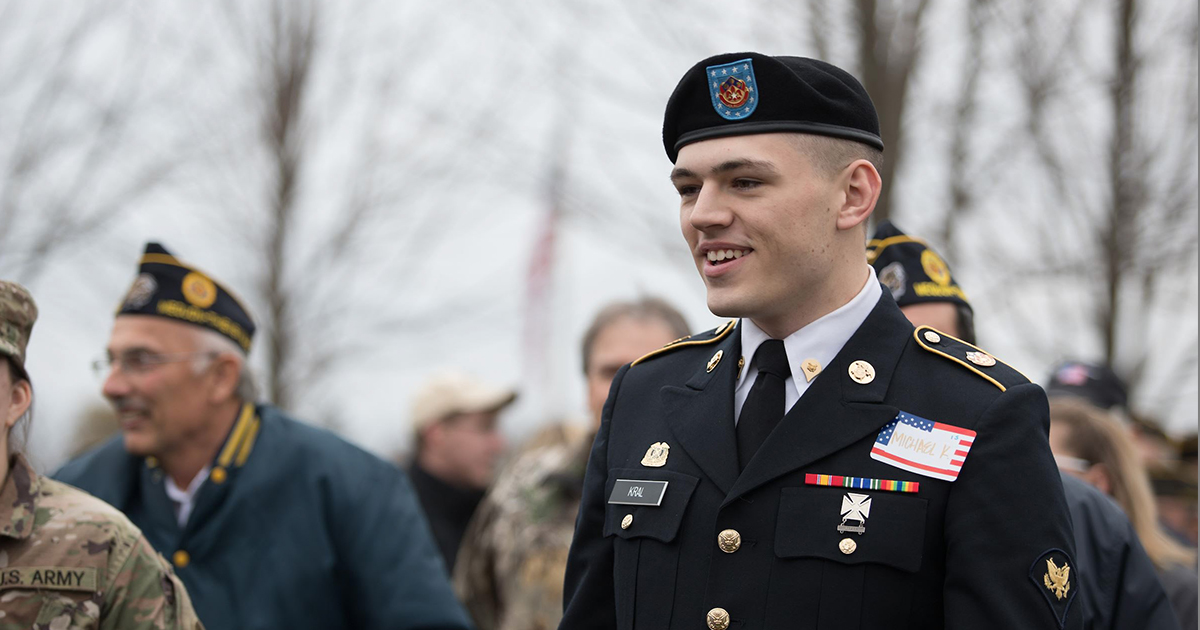 Bethesda students fight hunger
Students from Bethesda College of Applied Learning, Mequon, Wis., visited Hunger Task Force in Milwaukee to sort food that will be distributed to various sites throughout Milwaukee and Wisconsin. The students sorted 9,000 pounds of food that will be shipped to Hunger Task Force's network of food pantries, soup kitchens and homeless shelters. Bethesda College of Applied Learning, located on the campus of CUW, is a two-year postsecondary certificate program designed to meet the higher-education goals of people with intellectual and developmental disabilities.
Grant for Latina outreach
Edison International recognized the Latina Leadership Conference at Concordia University, Irvine, Calif., for its outreach to students in underserved communities with a $10,000 grant. The grant supports the free half-day conference for first-generation high school and community college girls and their parents to learn how to navigate the road to college. The university launched its inaugural Latina Leadership Conference in 2016, laying the groundwork for earning Hispanic-Serving Institution (HSI) designation. 
CUP recognized for MBA
The MBA Powerlist, published Jan. 24 by Oregon Business magazine, ranked the Master's in Business Administration (MBA) Program at Concordia University, Portland (CUP), Ore., among the top three in Oregon, based on student enrollments. Learn more at cu-portland.edu/master-business-administration-mba.
Deang speaks at CUNE
As part of observances in honor of Martin Luther King Jr. Day, Concordia University Nebraska (CUNE), Seward, Neb., welcomed the Rev. John Deang (CUNE, 2002), pastor of Hope Lutheran Church, Omaha, Neb., as he presented "MLK as the Reformer of Social Injustice in America." Deang served as the LCMS Nebraska District's missionary-at-large for African immigrants from 2006 to 2013. He assisted the bishop of the Evangelical Lutheran Church of South Sudan and Sudan in church-leadership training and oversight on church projects from 2013 to 2015.
McAthie to serve as CSP athletic director
Concordia University, St. Paul (CSP), St. Paul, Minn., has announced the promotion of Regan McAthie to serve as the next director of Athletics. McAthie, hired in 2012, has served as associate athletic director for the past four years. "What I have always loved about working at Concordia is that I have the opportunity to watch our student athletes develop and grow while being surrounded by a staff who shares my passion for influencing the lives of the young people," said McAthie.
CUC makes 'best' lists
Concordia University Chicago (CUC), River Forest, Ill., has been recognized nationally as a leader in online education, ranking in the U.S. News & World Report lists for Best Online Bachelor's Programs, Best Online MBA Programs and Best Online Graduate Education Programs. "Our numerous degree options offer a competitive advantage and prepare students to be engaged and successful leaders, whether they are traditional undergraduates or adult students coming back to college," said Dr. John Zillman, senior vice-president for Academics.
CCNY honors Nakhai
On Jan. 17, Dr. Mandana Nakhai was inaugurated into the Rev. Dr. Thomas Nelson Green Endowed Chair for the School of Humanities at Concordia College New York (CCNY), Bronxville, N.Y. The chair is the college's first, and was created in honor of former dean Rev. Dr. Thomas Nelson Green. The chair will support the study of humanities within the disparate academic disciplines. Nakhai is dean of Concordia's School of Humanities, dean of the Fellows Honors Program, and Distinguished Professor of English.
State officials visit CTX
State legislators and national higher education leaders visited Concordia University Texas (CTX), Austin, Texas, on Jan. 16 to applaud its new designation as a Hispanic-Serving Institution (HSI) by the U.S. Department of Education. HSIs are colleges and universities with Latino enrollments of 25 percent or more full-time equivalent students.
CSL 'braves the shave'
The Concordia Seminary, St. Louis (CSL), community "braved the shave" for the annual St. Baldrick's Day event on Jan. 31, raising more than $5,000 for childhood cancer research. Current CSL "Preachers" basketball players faced off against alums on Feb. 8 during the "Hoops for Hope" basketball game, supporting the Lutheran Hope Center in Ferguson, Mo.
Visit days at CTSFW
The Prayerfully Consider Visit (PCV) is a biannual event at Concordia Theological Seminary, Fort Wayne (CTSFW), Ind. This campus visit is open to college students and those considering a vocation in church work as a second career. Visitors attend free, as do their spouses, who are welcome on campus as an integral part of the decision-making process. The next PCV is March 21–23. Learn more at ctsfw.edu/PCV.
Posted March 21, 2019