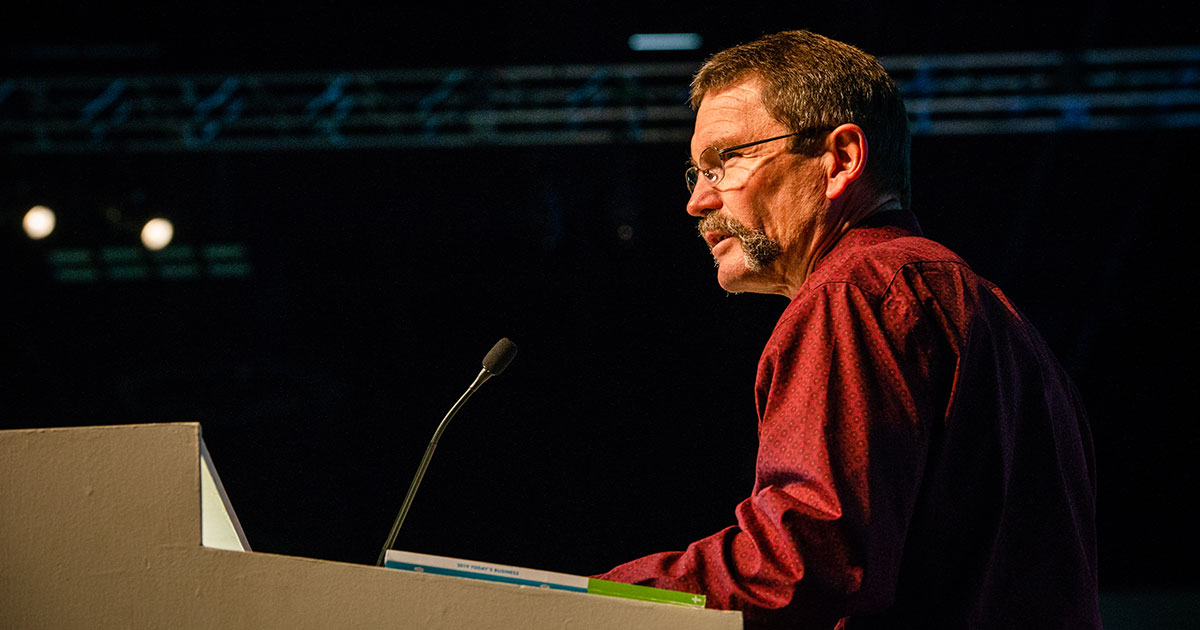 By Stacey Egger
TAMPA, Fla. — On Sunday, July 21, the opening day of business at the 67th Regular Convention of The Lutheran Church—Missouri Synod (LCMS), delegates passed two resolutions presented by Floor Committee 11 on Church and Culture, affirming the LCMS positions on life and marriage.
Beginning-of-life issues
The committee's Res. 11-01A, "To Give Guidance and Encourage Action on Beginning-of-Life Issues," passed with 97.7 percent of the vote.
Res. 11-01A presents the recommendations of a task force assembled to study issues related to procreation, fertility and care for the unborn. The resolution's recommendations include:
filling the vacant position of director of LCMS Life and Health Ministry "as soon as fiscally possible";
updating the 1981 CTCR report on human sexuality; and
requesting that the Office of National Mission "prepare educational resources on beginning-of-life issues for LCMS campus ministries and youth ministries."
Marriage
The next resolution, Res. 11-02A, "To Encourage Faithfulness Regarding Marriage," passed with 96.4 percent of the vote.
The resolution calls for the LCMS to "reaffirm its commitment to the biblical definition of marriage as the lifelong union of one man and one woman."
Among the points of this resolution were:
reaffirmation of 2016 Res. 14-02, passed at the last Synod convention, that "same-sex 'marriage' cannot be recognized as marriage according to God's institution";
reaffirmation of the teaching that "marriage is incompatible with any sort of sexual relations outside of marriage or the practice of unscriptural divorce";
thanksgiving for "those who have publicly spoken" in support of these teachings; and
resolve that the Synod will "make every effort to commend, uphold, and encourage all Christians in our midst who are seeking to live a chaste life even in the face of great sexual temptations."
Speaking with clarity
In an introductory address to the convention, Floor Committee 11 Chairman Rev. Terry Forke, president of the LCMS Montana District, said that most of the seven resolutions that the committee will present this week regard issues that have been addressed by previous conventions. However, Forke said, it is important for the LCMS to reaffirm its stance on these issues.
"As the world moves with increasing speed away from the church, it needs to hear, and we need to hear, and we need to speak with clarity the truth of God's Word and the depth of His love in Christ Jesus," Forke said.
Floor Committee 11 will come before the convention again on Tuesday morning, July 23, to propose resolutions regarding sexual orientation and gender-identity issues, racism, care for immigrant neighbors, physician-assisted suicide and the persecuted church.
Posted July 22, 2019
---
The 67th Regular Convention of The Lutheran Church—Missouri Synod met July 20–25 in Tampa, Fla., at the Tampa Convention Center under the theme "Joy:fully Lutheran." For more convention news:
Watch archives
• lcms.org/convention/livestream
Read
Listen
• kfuo.org
Receive email updates