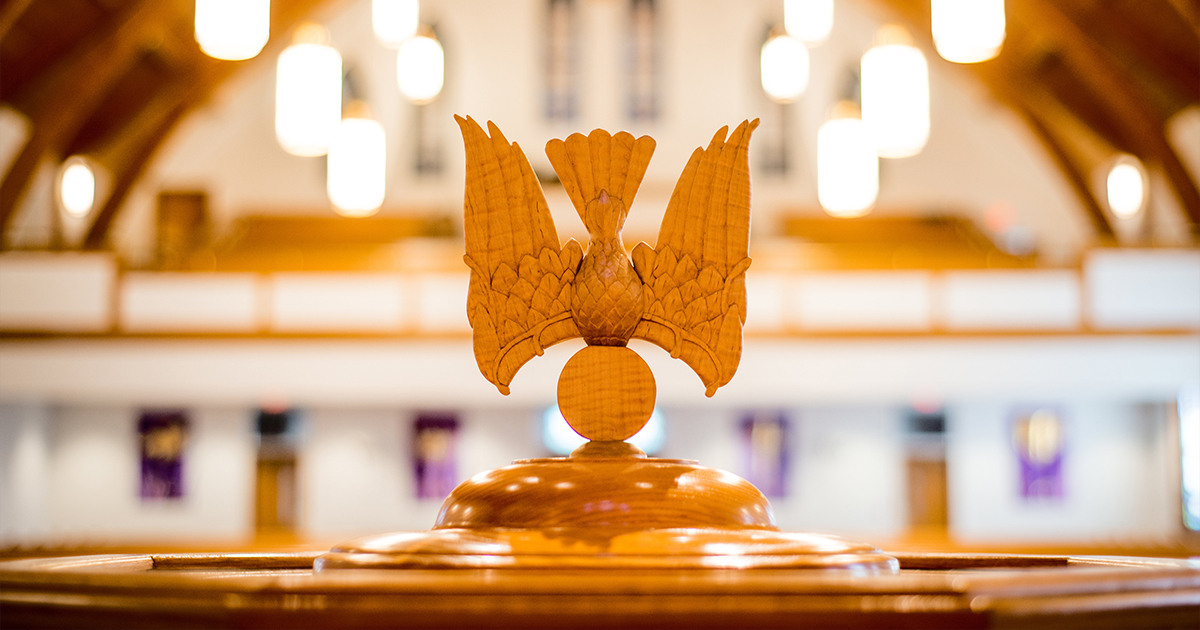 By Jayne Sheafer
"Iron sharpens iron, and one man sharpens another" (Prov. 27:17).
Both new and seasoned pastors can find themselves looking for good ways to enhance and invigorate their weekly preaching. The Rev. Stanton Temme, Trinity Lutheran Darmstadt, Evansville, Ind., says Preach the Word (PTW) from The Lutheran Church—Missouri Synod (LCMS) is a great tool to do just that.
"If you feel that your preaching has become a little stagnant and in need of some improvement, the Preach the Word modules are a great way to reinvigorate your preaching. The instructional videos are very helpful, well done and practical," says Temme. "You get to hear examples of good Lutheran preaching, which is always encouraging for your own sermons."
Temme and several colleagues chose to work through a module after their circuit meetings.
"At our circuit meetings," Temme explains, "we regularly have an exegetical study and discuss the meaning of the text, but often times we never get around to answering, 'How would I preach this?' Our afternoon module sessions have been a great complement to our morning circuit meeting."
The latest module in the PTW series is "Preaching the Baptized Life," led by the Rev. Dr. Reed Lessing, former professor of Exegetical Theology at Concordia Seminary, St. Louis, Mo., and, since 2013, senior pastor at St. Michael's Lutheran Church, Fort Wayne, Ind.
"Being baptized and the Christian life go hand in hand," says Lessing. "In this module, we will accent preaching about these baptismal motifs: identity, the forgiveness of sin, death and resurrection, new birth and the gift of the Holy Spirit" (Introduction, Preach the Word, Module 7).
The module is divided into three phases, and pastors are encouraged to work through it with two other pastors. The first phase uses video segments and written module materials to promote conversation about preaching the baptized life.
The second has pastors writing a sermon they will preach to their congregation, putting into practice what they learned in the first phase.
And finally, pastors watch one another's sermons, reflect with one another on the practice of preaching the baptized life, and consider how to continue to grow in this area.
There are six additional PTW modules available:
The Use of Story in Preaching — Rev. Dr. David Schmitt, Gregg H. Benidt Memorial Professor of Homiletics and Literature at Concordia Seminary, St. Louis, Mo.
The Use of Biblical Text in Sermon Preparation — Rev. Dr. Dean Nadasdy, president emeritus, LCMS Minnesota South District
Delivering the Gospel Live and in Person — Rev. Dr. Carl Fickenscher, professor of Pastoral Ministry and Missions at Concordia Theological Seminary, Fort Wayne, Ind.
Applying God's Word into People's Lives — Rev. Dr. Glenn Nielsen, professor of Practical Theology, Concordia Seminary, St. Louis, Mo.
The Use of Technology in Preaching — Rev. Matthew Peeples, senior pastor, Bethlehem Lutheran Church, Ridgewood, N.J.
Sacramental Preaching — Rev. David Petersen, senior pastor, Redeemer Lutheran Church, Fort Wayne, Ind.
The modules are available free of charge. All seven can be found at lcms.org/preach-the-word.
Upcoming modules are planned on missions, sermon structure, post-Christian context, catechetical preaching, and Law and Gospel.
Each module offers both written and video resources and encourages pastors to spend time together in discussion and practice.
"I went through Module 1 with two of my friends and colleagues whom I look up to as preachers," explains the Rev. Daniel Weber, senior pastor, St. Luke's Lutheran Church, Federal Way, Wash. "I wanted to be stretched and challenged to grow.
"We used online video conferencing to communicate throughout the module, connecting us from Washington, Nevada and Hawaii. It was fantastic!"
Weber continues: "We can all grow as preachers. For the sake of the people in your congregation, for the sake of the people in your community, and for the sake of your love for Christ and His Word, take the small step to invite a couple trusted colleagues to participate in one of these modules.
"Find people who preach differently than you, or in a different context, and humbly learn from them."
Jayne Sheafer (sheafer88@gmail.com) is a writer and editor in Fort Wayne, Ind.
Posted March 15, 2019