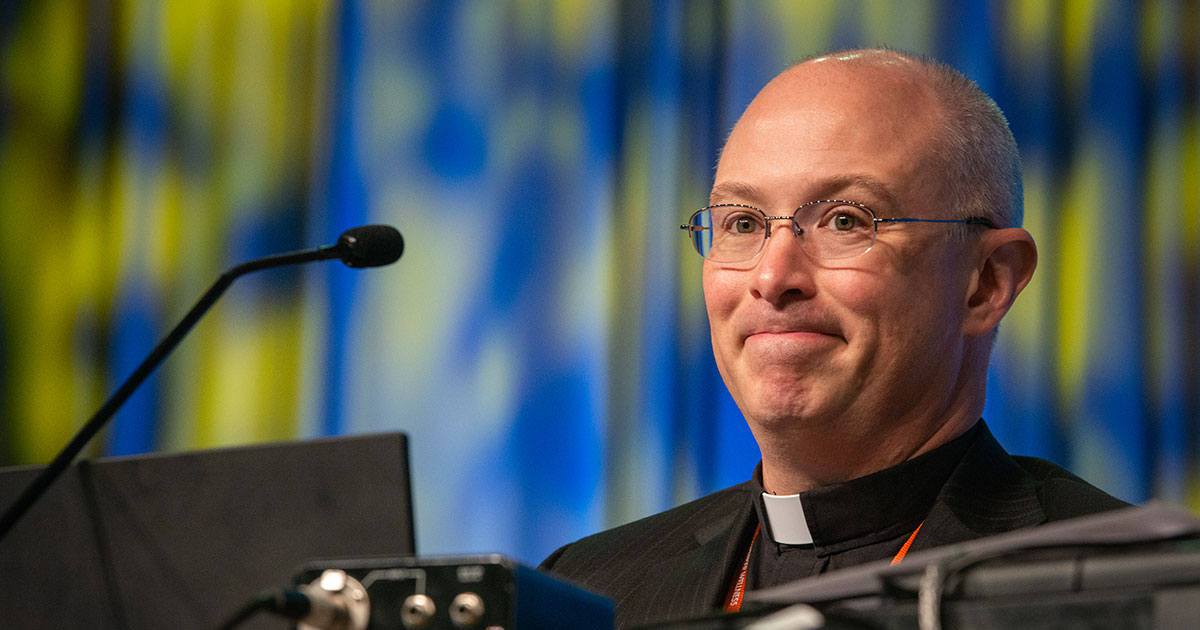 By David Strand and Stacey Egger
TAMPA, Fla. — As voting continued on July 22, the second full day of the 67th Regular Convention of The Lutheran Church—Missouri Synod (LCMS), delegates re-elected the Rev. Dr. John W. Sias to his second three-year term as secretary of the Synod.
The tally was 685 (72.3 percent) for Sias and 263 (27.7 percent) for the Rev. Dr. Jon M. Braunersreuther, a mission and ministry facilitator in the LCMS Texas District.
Prior to assuming the role of secretary in 2016, Sias served as pastor of a three-point parish in Montana: Concordia Lutheran Church in Forsyth, Trinity Lutheran Church in Hysham and Mount Calvary Lutheran Church in Colstrip. He also served for three years on the Synod's Commission on Constitutional Matters.
Braunersreuther, meanwhile, served as senior assistant to former Synod President Rev. Dr. Gerald B. Kieschnick from 2001 to 2010.
Following the balloting for secretary, delegates turned their attention to filling the following four seats on the Synod's Board of Directors:
LCMS Board of Directors (at-large): Commissioned — Dr. Jan W. Lohmeyer of Waveland, Miss., was elected with 511 votes (or 54.4 percent); Layperson — Christian A. Preus of Plymouth, Minn., was elected with 586 votes (or 61.1 percent).
LCMS Board of Directors (regional)
Central Region: Andrew N. Grams of Franklin, Tenn., was elected with 610 votes (or 64.8 percent).
West-Southwest Region: Jesse L. Yow of Livermore, Calif., was elected with 650 votes (or 68.3 percent).
Posted July 22, 2019
---
The 67th Regular Convention of The Lutheran Church—Missouri Synod met July 20–25 in Tampa, Fla., at the Tampa Convention Center under the theme "Joy:fully Lutheran." For more convention news:
Watch archives
• lcms.org/convention/livestream
Read
Listen
• kfuo.org
Receive email updates