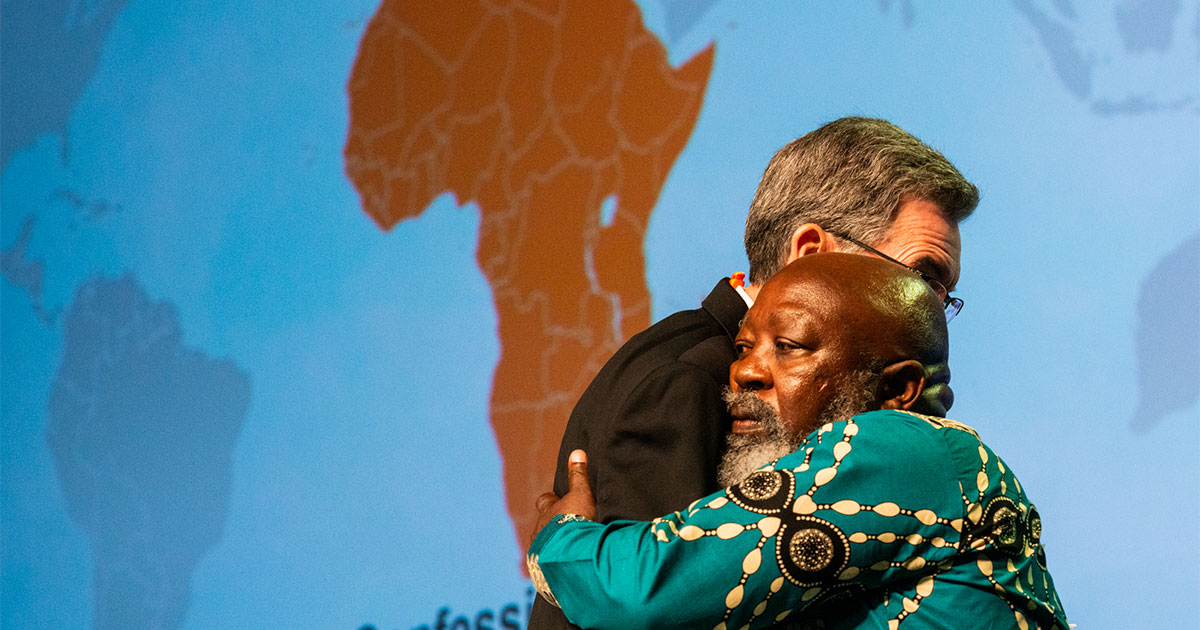 By Roy S. Askins
TAMPA, Fla. — "Thank you, Missouri, for allowing me to come home," said the Rev. Bp. Mandla Khumalo of the Confessional Lutheran Church of South Africa (CLCSA), after delegates to the 67th Regular Convention of The Lutheran Church—Missouri Synod (LCMS) recognized fellowship between the two church bodies on Wednesday, July 24.
Khumalo thanked the LCMS for the ongoing relationship he has shared with LCMS congregations and pastors. "We are Lutheran Missouri from the top of our heads to the bottom of our feet," he said.
"It was a delight today that we were able to declare fellowship with the Confessional Lutheran Church of South Africa," said the Rev. Dr. Scott R. Murray, second vice-president of the LCMS and chairman of Floor Committee 5 on Theology and Church Relations.
"There was lively discussion on the floor," Murray said, "a very good one I thought, where concerns were expressed."
The LCMS has already recognized fellowship with two other church bodies in South Africa: the Free Evangelical Lutheran Synod in South Africa and the Lutheran Church in Southern Africa. Even though these two bodies have recognized fellowship between each other, they have not recognized fellowship with the CLCSA.
Some delegates sought to refer Res. 5-03 to the LCMS Office of the President to review the relationships between the three South African church bodies. The delegates feared declaring fellowship might hinder the ability of the three church bodies to work together toward unity.
The Rev. Dr. Lawrence R. Rast Jr., president of Concordia Theological Seminary, Fort Wayne, and chairman of the LCMS Commission on Theology and Church Relations (CTCR), reminded the delegates that the resolution does not create fellowship: "We do not create church fellowship by virtue of the votes we take," he said. "We recognize fellowship in doctrine and in practice."
The CTCR, prior to the convention, interviewed Khumalo and spoke with the president's office. These conversations revealed agreement in doctrine and practice between the LCMS and the CLCSA, and so the CTCR and Floor Committee 5 recommended the resolution for adoption.
As with the fellowships recognized earlier in the convention, the delegates recognized fellowship with a hearty, "Yea, yea! It shall be so."
Floor Committee 5 also passed two other resolutions.
Resolution 5-10 (passed by 90.8 percent) commends the Lutheran Church—Canada CTCR report on Cremation and the Christian for further study by pastors and congregations of the LCMS.
Resolution 5-11 (passed by unanimous vocal vote) directs the CTCR to study and report to the 2022 convention on "the relationship between unity in doctrine and uniformity and variety in practice." The resolution asks the CTCR to develop a Bible study on the same topic for congregational use.
Posted July 25, 2019
---
The 67th Regular Convention of The Lutheran Church—Missouri Synod met July 20–25 in Tampa, Fla., at the Tampa Convention Center under the theme "Joy:fully Lutheran." For more convention news:
Watch archives
• lcms.org/convention/livestream
Read
Listen
• kfuo.org
Receive email updates