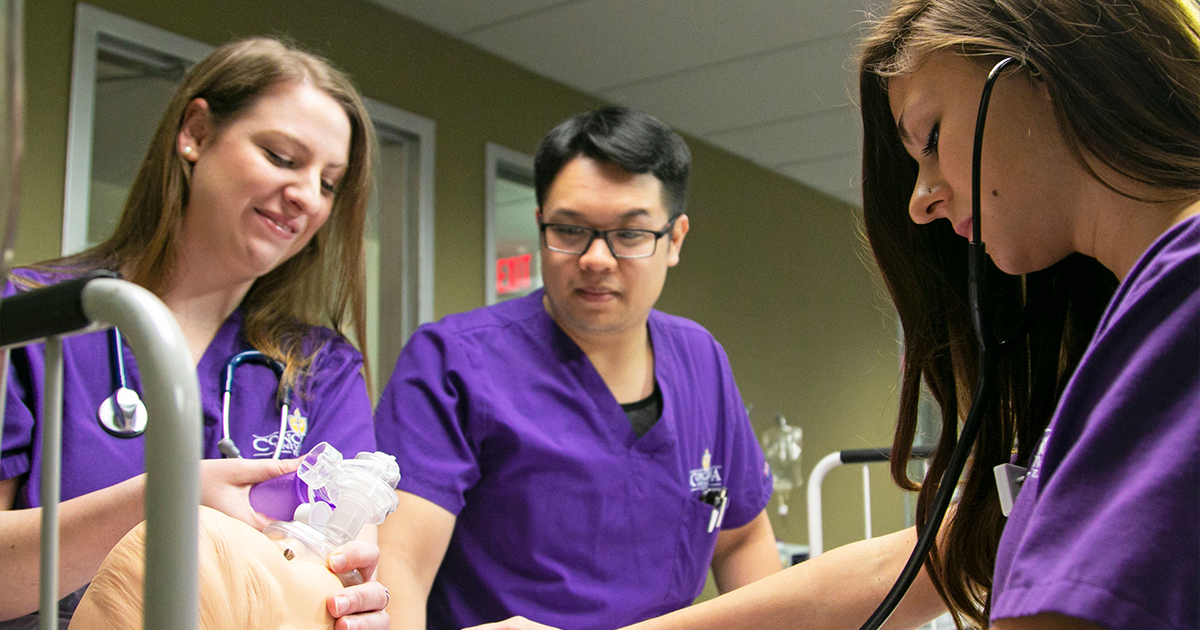 By Sue Ellen Jackson
Concordia University Texas (CTX), Austin, Texas, is responding to the realities of COVID-19 with two, new fully-online degree programs.
The Master of Public Health (MPH) is a competency-based graduate program to help meet the demand for public health knowledge and leadership. 
The Bachelor of Science in Respiratory Care (BSRC) is a degree advancement program for registered respiratory therapists who already hold an associate's degree.  
"Concordia's new degree programs align with our value of caring for people," said Dr. Donald Christian, CTX president and CEO. "Anchored in our faith tradition as a Christ-centered institution, we will continue to educate and prepare leaders in health care. 
"With the critical health care challenges our communities face, the Concordia graduates of our new programs will be prepared to serve." 
Public health
CTX's new online MPH program provides training in eight core competencies, then encourages students to apply them to their own passions, interests and career paths. 
The 16-month curriculum imparts leadership-level knowledge and skills to teach students how to become policy makers, advocates and change agents. Students can complete a capstone course to gain real-world, hands-on experience in their own specialization or focus. 
"Public health is both an art and a science," explained MPH Program Director and Associate Professor Dr. Glendene Lemard-Marlow. "At Concordia, we are always learning together, thinking globally and acting locally."
Heather Hollister recently enrolled in the new MPH program. "I never thought I would live through a pandemic, and it's been an eye-opening experience. I understand a lot more about what's going on." 
The MPH program's design allows Hollister to take only two courses at a time while continuing to work.
The first MPH cohort began in August; a second group can enroll for January 2021. For more information on the program and application requirements, visit concordia.edu/mph.
Respiratory care
Many health care workers call respiratory therapists the true "heroes of the frontlines" right now, as they provide ventilator support to a high percentage of COVID-19 patients. Respiratory therapists also treat any patient with breathing difficulty, often serving those with asthma, respiratory viruses, chronic lung diseases, and in neonatal and intensive care.
Respiratory therapists with a two-year degree can now earn a bachelor's degree entirely online through CTX's degree advancement program. Upcoming cohorts will begin in October 2020 and January 2021. 
Respiratory Care Manager David Garza, a 20-year veteran in Austin's health care system, said, "The demand during the pandemic has overwhelmed all of us, but the need won't diminish when COVID-19 does. The profession must focus on a higher level of education and skill set in order to deliver quality care. 
"A bachelor's level program like the new one at Concordia can provide higher-order thinking skills beyond clinical competency, such as quality and safety management, stewardship, superior experience, as well as access and affordability."
Jennifer Simpson, manager of respiratory care services for Dell Children's Medical Center of Central Texas, agreed. "With the evolution of health care, the respiratory therapy role is expanding to include new areas, including home care, outpatient clinics, research and patient navigation. Advanced education and specialty skills are essential to meeting the community's needs."
According to the most recent data from the Bureau of Labor Statistics, employment of respiratory therapists is projected to grow 21% nationwide between 2018 and 2028 and 35% in the state of Texas. The growth projection for respiratory therapists is much faster than the 5% average for all occupations in the U.S. economy, including all health diagnosing and treating practitioners, which is projected at 13%.
For more information on the respiratory care degree advancement program, visit concordia.edu/respiratory.
New health science college
With the addition of the MPH and BSRC programs to its nursing programs, CTX has formed an all-new College of Health Sciences. "We are committed to collaborating with regional and statewide health care partners, intentionally aligning curriculum and program outcomes to ensure local health care systems have the personnel they need," said the college's dean, Dr. Jason Shuffitt. 
"Concordia is proud to help prepare both health policy and care professionals to be better leaders and managers in the face of the changing landscape of medical care."
Sue Ellen Jackson (sue.ellen.jackson1@gmail.com) is a freelance writer who frequently covers higher education news.
Posted Sept. 7, 2020