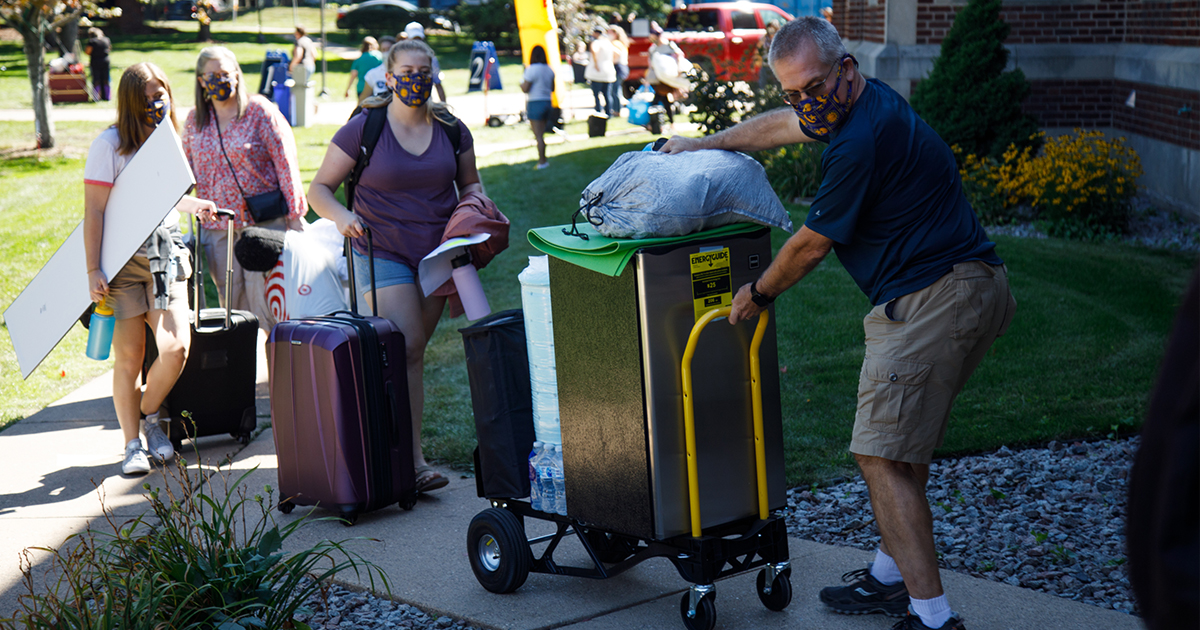 Interactive nursing site
Concordia University Texas (CTX), Austin, Texas, has opened a 17,000-square-foot interactive learning site for its nursing program, complete with a cutting-edge simulation lab, 10-bed clinical skills lab and simulation debriefing rooms. 
With a total of 165 new students, CTX's fall enrollment in both the accelerated bachelor's and traditional tracks is the largest since the program began in 2011. The program features an accredited curriculum on an e-learning platform, along with hands-on training and clinical rotations at the area's top hospitals. 
For more information, visit concordia.edu/admissions.
Largest incoming class
Concordia University, St. Paul (CSP), St. Paul, Minn., welcomed the largest incoming class in its history on Sept. 2. Classes for all CSP students began on Sept. 8.
"I am so proud of the students and families that helped make our move-in day a success," said Jason Rahn, CSP associate vice-president for Student Life. "They arrived at their designated times and were able to get situated in their rooms, all while following the COVID mitigation guidance we have in place."
Expanded health care access
Undergraduate students at Concordia University, Ann Arbor (CUAA), Mich., now have access to free, 24/7 physical, mental and emotional health care. "CUAA Health" will support CUAA's existing Counseling and Psychological Services (CAPS) with virtual mental and emotional support resources. Learn more at blog.cuaa.edu/cuaa-health-launch.
Grant to fight opioid disorders
The federal Health Resources & Services Administration has awarded Concordia University Wisconsin (CUW), Mequon, Wis., a $2.2 million grant to expand access to behavioral health services for families affected by opioids and other substance use disorders. Led by social work faculty on both campuses, CUW will use the funds to launch an Opioid and Substance Use Disorders Certificate Training Program. Learn more at blog.cuw.edu/HRSA-grant. 
Best for the money
Concordia University Chicago (CUC), River Forest, Ill., was recently named in Money magazine's "Best Colleges for Your Money" list. CUC was also named in the annual U.S. News & World Report rankings as a Best Regional University — Midwest and listed for Best Value, Best Ethnic Diversity, Most Economic Diversity and as a Top Performer on Social Mobility among regional universities in the Midwest. In addition, CUC was nationally recognized by LendEDU for having one of the lowest student loan debt figures in the country for the class of 2019.  
Students keep 'Quarantine Diaries'
Although students are back on the Concordia College New York (CCNY), Bronxville, N.Y., campus, the large cultural events that typically fill the fall calendar have been moved to virtual formats. The first installment of the 2020–21 Sluberski Film Series included a digital premiere and Zoom discussion of "Quarantine Diaries."
The work is an omnibus film of over 30 of CCNY's new media students, who kept a weekly video diary when the pandemic sent them to homes around the globe — from the U.S. to India, Denmark, Germany, Spain, Brazil, Mexico and Columbia. Edited by new media senior Tobias Lentz, the global snapshot of CCNY students' experience of COVID-19 will endure in the college's archives as a contemporary history of a generation-defining time. 
Dual-degree nursing program
Concordia University, Nebraska (CUNE), Seward, Neb., has partnered with Bryan College of Health Sciences to provide a dual-degree program in which students will earn both a Bachelor of Arts in Biology and a Bachelor of Science in Nursing in nine semesters.
"This partnership with Bryan College of Health Sciences will provide Concordia's students with access to a well-established, high quality nursing program," said Dr. Tim Preuss, Concordia provost. "Nursing is already Concordia's principal pre-health program. This partnership will streamline that process for our students, providing them with flexibility to pursue vocations in nursing or vocations in natural sciences as they receive a degree from each institution."
For more information, visit cune.edu/nursing.
Hispanic student conference
Concordia University, Irvine (CUI), Calif., is marking the fifth anniversary of its Hispanic leadership conference on Oct. 24 with two firsts. For the first time, boys are invited as well as girls. Also, for the first time, the conference will be virtual. Established in 2016 to demonstrate CUI's commitment to its first-generation Hispanic student initiative, the conference is designed to help high school and community college students, along with their parents, navigate the road to college. 
Seminary news
Concordia Theological Seminary, Fort Wayne (CTSFW), is celebrating 175 years of forming servants in Jesus Christ who teach the faithful, reach the lost and care for all. Inspired by Psalm 105:1, the seminary is thankful for the continued ability to "Make Known His Deeds!" — a theme that will be woven throughout the conferences and events of this academic year. The opening service on Sept. 8 featured contest-winner Katie Schuermann's hymn, "Open Wide the Chapel Door," as well as the installation of Admission Counselor Rev. Tyrel Bramwell. All chapel services are streamed at facebook.com/ctsfw, as well as ctsfw.edu/dailychapel. The hymn is available to view at ctsfw.edu/175thhymn.
Concordia Seminary, St. Louis (CSL), and Concordia University Wisconsin (CUW) kicked off a new partnership with the start of one of two online Continuing Education courses being offered this year. The module-based course "Scripture in Counseling," which began Sept. 8, is taught by the Rev. Dr. Richard Marrs, associate professor of Practical Theology and director of the Master of Divinity (M.Div.) and Residential Alternate Route (RAR) programs at CSL, and the Rev. Dr. Daniel Paavola, professor of theology at CUW. Six modules combine video lectures, readings, assignments and peer discussions. A second course, "Change Management in the Church," begins April 5, 2021.
Posted Oct. 14, 2020