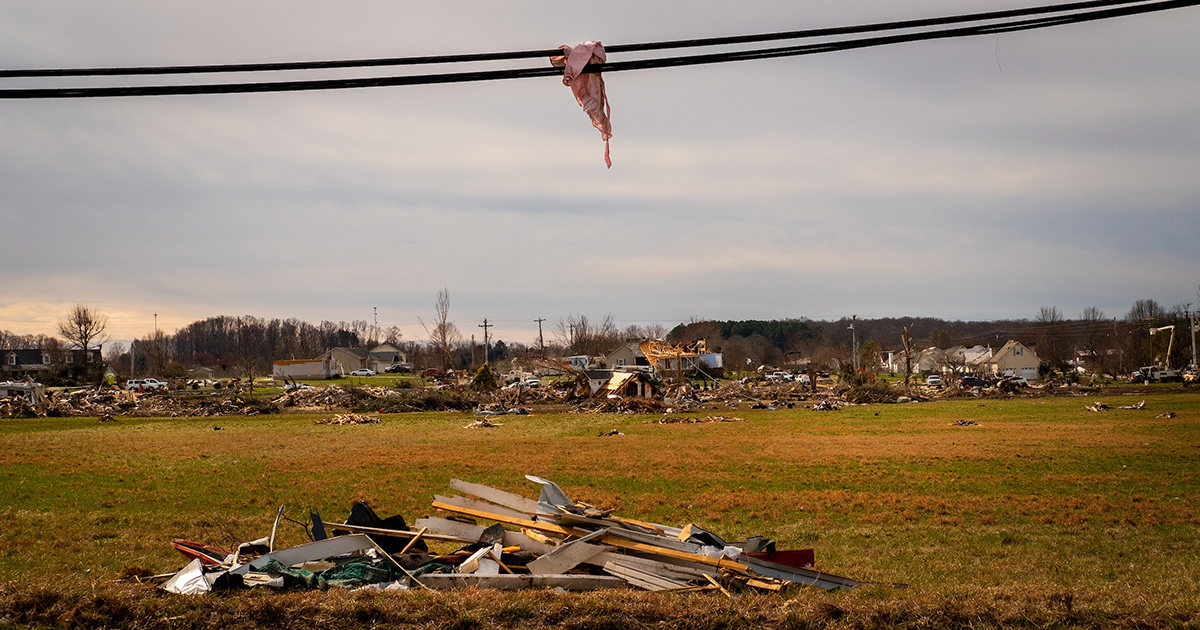 By Kevin Armbrust
Two tornadoes, one an EF-4 and the other an EF-3, touched ground in Tennessee during the night and morning hours of March 2 and 3. At least 24 people were killed in four counties from Nashville to Cookeville. Officials estimate that the storm damaged nearly 500 structures and almost totally destroyed another 200. A week later, the recovery continues.
The Lutheran Church—Missouri Synod's (LCMS) World Relief and Human Care Disaster Response team arrived in Tennessee the day after the storms hit. The Rev. Michael Meyer, director of disaster training, and the Rev. Robert Wurst Jr., volunteer manager for Lutheran Early Response Team (LERT), visited LCMS congregations in Cookeville and Hermitage (East Nashville), both of which were affected by the storm.
Meyer and Wurst organized chainsaw crews and other LERT-trained volunteers, who arrived within days. The Rev. Keith Enko, pastor of Emmanuel Lutheran Church, Hermitage, Tenn., checked on his congregation in the immediate aftermath of the storm and reported that, while the church was not hit, some families have been affected.
Heavenly Host Lutheran Church in Cookeville, Tenn., also stood undamaged. But several individuals connected to Heavenly Host Lutheran School were affected. The morning following the storm, teacher Amy Underwood called her principal, Dr. Zachary Murphy, to report that she wouldn't be making it to work because all her walls were gone, her roof was missing and only studs and some furniture remained. The son of another teacher at the school also had his home destroyed.
"Pray for the workers, the volunteers, the people affected," asked the Rev. Andrew Smith, pastor of Heavenly Host. "Please continue to keep us in your prayers."
The church held its normal midweek Lenten service following the storm, and Pastor Smith pointed people to the Word, telling his congregation that, at a time like this, "We cry out to God. … He is in His Word of care and mercy for us."
Smith encouraged his congregation to trust in God and His promises. "The Word of God shapes our prayers and broadens our prayers. … The question is not, why do bad things happen to good people, but how should we pray in the midst of this?" In light of God's promises in Christ, Smith said, "we pray as sinners who are in need of deliverance."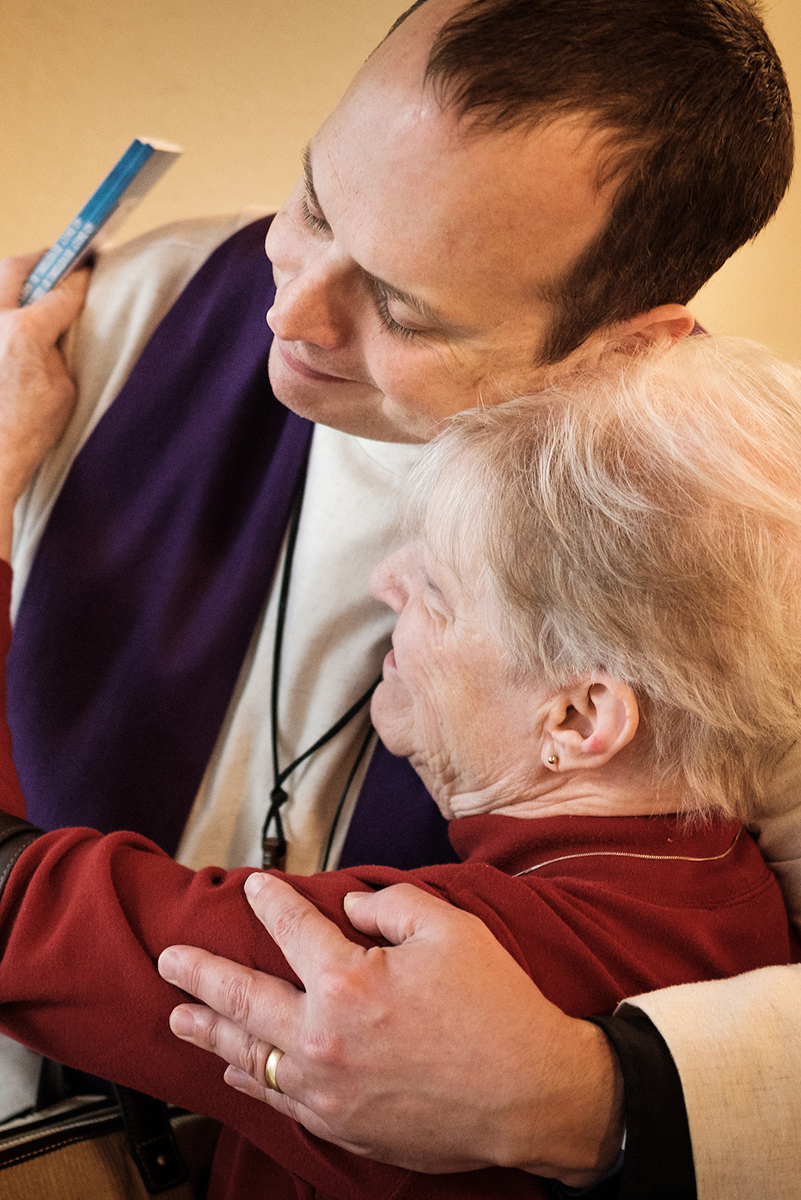 The following Sunday, March 7, Smith preached on the Gospel, especially John 3:17, "For God did not send his Son into the world to condemn the world, but in order that the world might be saved through him." Smith reminded his congregation that "God is in the midst of us. He works through us to bear each other's burdens."
John Caddell, owner of John Boy's BBQ, and a member of St. Paul's Lutheran Church in Wartburg, Tenn., exemplifies many who immediately headed to the affected area to help in any way possible. "We figured we would come and repay this church. They helped us when we had a tragedy."
John brought food and supplies to feed the first responders and anyone who needed help. "My first thought was that we need to help these people. They need food and everyday supplies. … These people need our prayers."
Due to the immense response to the storms, the local officials have shut off the area to volunteers. Instead, they are working with Samaritan's Purse, the Southern Baptist Convention Disaster Relief and Team Rubicon. Two LCMS Recognized Service Organizations (RSO) — Shepherd's Heart and Lutheran Church Charities — are working with these three organizations. Currently, there is no need for more volunteers, but there is an ongoing need for prayers.
Meyer noted that the tornadoes were "a surprise for the people living here. … They went to bed thinking it was going to be a normal night. They woke to the sounds of the tornado."  
Now, said Meyer, "the community is left trying to pick up the pieces." Disaster Response is partnering with the RSOs presently working on site and with LERT volunteers nearby. But the work is not merely dealing with immediate needs. Meyer explained, "We are looking for ways to help people spiritually and emotionally. Once this initial response phase concludes, we'll return to revisit the churches and help them put together plans for their long-term response to these tornadoes."
As they think about the coming months, the congregations affected are considering using LCMS Disaster Response's vacation Bible school curriculum, Camp Courage. According to Meyer, Camp Courage is "designed to help children who face this kind of situation."
Smith has met with local Christian leaders and government officials to ascertain how best to serve the community. He was also invited to participate in a radio program that addressed questions about God's role in disasters. There, he was able to proclaim God's mercy and love.
But most of all, Smith and Enko have worked to provide pastoral care to their flocks, continuing to shepherd the sheep as they face the challenges ahead. Smith said this experience has taught him that "everybody should have someone in their congregation trained in LERT. Just having someone who knows a little about these situations helps when something happens in your community."
The Rev. Dr. Roger Paavola, president of the LCMS Mid-South District said, "As the bleak aftermath of this disaster unfolds, our first and most significant response is with prayer. Please pray for those who are still missing, those who are part of the difficult search effort, and those who are mourning victims of this devastating storm."
To support the continued work of LCMS Disaster Response, please consider donating:
Charitable gifts can also be directed to the Mid-South District. Click here. 
Watch a video with more information about the tornadoes in Tennessee. 
Posted March 12, 2020