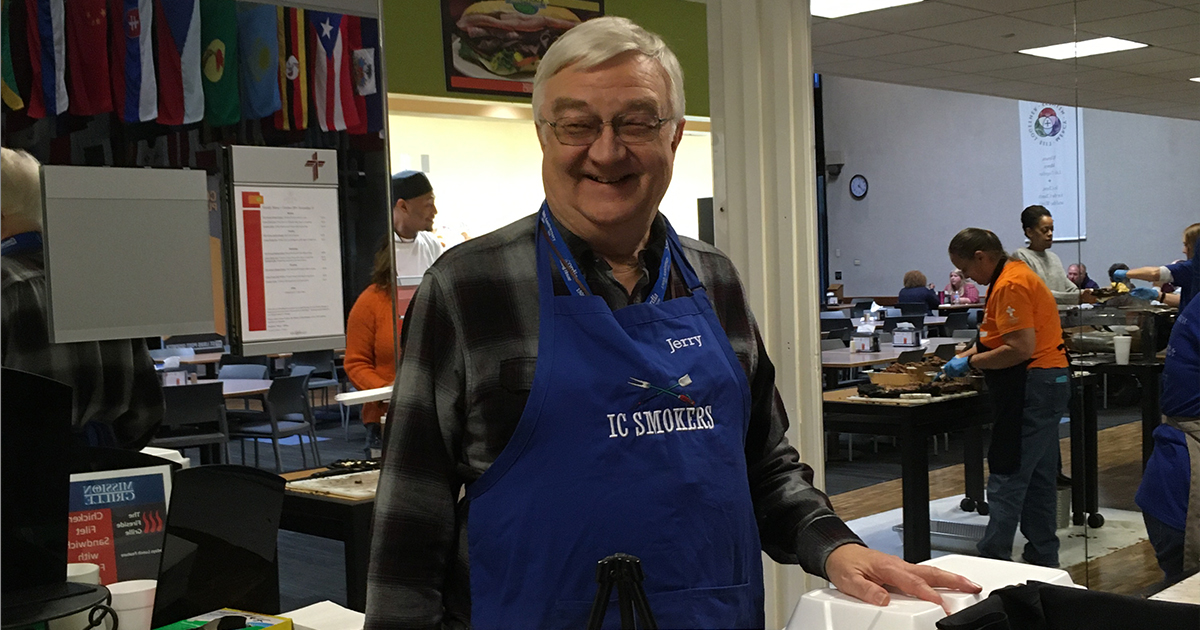 Jerald C. (Jerry) Wulf, chief financial officer (CFO) of The Lutheran Church—Missouri Synod (LCMS) since 2011, will retire Jan. 31.
During his three three-year terms as CFO, Wulf helped to more clearly define fiscal processes and procedures and bring them into better alignment with Generally Accepted Accounting Principles and changing regulations. He improved the church's accounting systems, assisted LCMS Mission Advancement in its work, and supported employee-centered operations to engage and motivate staff.
Wulf is affectionately known as the "Chief IC Smoker," a title he earned for his skill in cooking meat for employees and for thousands of others in the St. Louis community.
Wulf said he and two co-workers began preparing the meals "to show every employee at the International Center that their work is truly appreciated … [and] to encourage fellowship and interaction among workers who might not otherwise get to know one another." The event has also served as a fundraiser for the Community Chest, a means by which IC employees can assist one another during challenging life situations.
Before his appointment as CFO, Wulf served with the South Dakota Department of Legislative Audit and as district treasurer for the LCMS South Dakota District. He has held numerous church-related positions, including congregational president, Lutheran Laymen's League district governor, Bible study leader and LCMS convention delegate. He's also been a member of several congregational boards, including Board of Early Childhood Education, Board of Elders and Board of Education.
Wulf is a 1976 graduate of the University of South Dakota's School of Business, Vermillion, S.D.
The Rev. Dr. Michael L. Kumm, chairman of the LCMS Board of Directors, said: "It has been a great pleasure to have Jerry as part of the leadership team at the International Center. I can unequivocally say that there is no one more dedicated to the work of the church than Jerry Wulf. He has participated in a multitude of Synod programs as CFO to ensure that funding was properly provided, and accounting principles were followed.
"Jerry's love for the church and the people who serve her," Kumm continued, "has been clearly evident in his day-to-day attitude. I am confident that his retirement in no way means he's done serving the church. We wish Jerry every blessing and Godspeed in his retirement and return to South Dakota."
Regarding his tenure as CFO, Wulf said, "I am truly thankful for having had the privilege to serve … . I pray that my service has been a blessing to those I work with and whose work I direct. … I can't express enough the deep appreciation I have developed for all those who serve at the International Center. … I will truly miss those … whose lives I have touched and who have touched mine."
Wulf and his wife, Corinne, plan to return to Pierre, S.D., to live near family and friends.
Posted Jan. 6, 2020