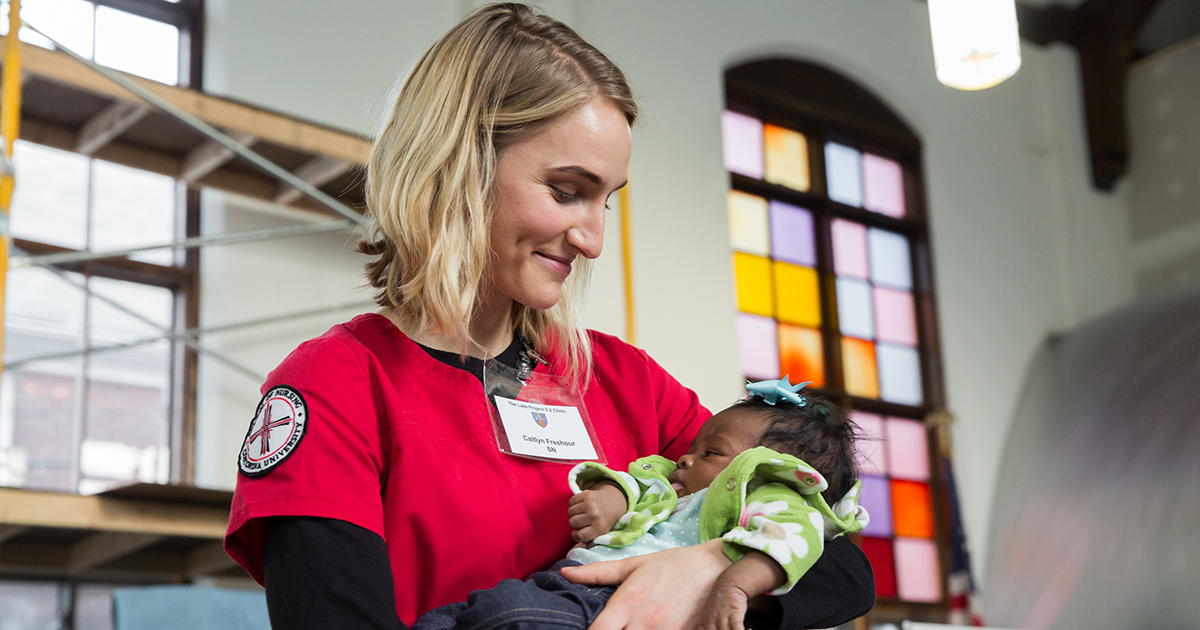 Promoting prenatal health 
The Michigan Department of Health and Human Services reports that Detroit's infant mortality rate is 2.5 times higher than the national average, putting it on par with a developing nation. Three alumni and one current student at Concordia University, Ann Arbor (CUAA), Mich., are attempting to reduce that mortality rate by working with The Luke Project 52 Clinic, which provides personalized prenatal and infant care at no cost to any family who needs it. The clinic was started in 2016 by the Rev. Brad Garrison, a Lutheran pastor and pharmacist, and his wife, Sherie, who has over 40 years' experience as a nurse. Learn more about their efforts at blog.cuaa.edu/luke-project.
Pandemic blessing
Occupational Therapy (OT) students at Concordia University Wisconsin (CUW), Mequon, Wis., went the extra mile to fulfill their requisite clinical experience during the pandemic and, in the process, benefited parishioners at two partner congregations, St. Paul Lutheran Church in Grafton, Wis., and St. Paul's Lutheran Church in West Allis, Wis. With oversight from OT professors Stacey Kukor and Stephanie Bonk, the students hosted ongoing wellness initiatives such as an outdoor exercise group, an inspirational book club and a stress relief/emotional wellness group. 
Student Alyssa Kagay said the experience was unexpected but proved to be a blessing. "I think this fieldwork experience has widened my perspective of the role of an occupational therapist, as many of the parishioners we are serving do not have formal, clinical diagnoses we are treating. Even so, many have benefited physically and emotionally from the groups and assessments we have offered. Our professors have walked alongside us throughout the process and given us new perspectives on how we can innovatively meet the different needs of the populations while still incorporating traditional roles and treatment models we have learned in classes."
Read more at blog.cuw.edu/OT-parish-clinical. 
Christmas broadcast
Concordia University, Irvine (CUI), Calif., partnered with the local PBS station for "All Is Bright: A Concordia Christmas," which aired multiple times the week of Christmas on PBS SoCal and partner station KCET. The special featured footage from CUI's 2018 Christmas concerts, as well as new solo and small ensemble performances.
Vocational guidance
Callings for Life, a book by the Rev. Dr. Jeffrey Leininger, campus pastor at Concordia University Chicago (CUC), River Forest, Ill., guides the curriculum for CUC's freshman seminar, "Vocation and College Success." In the book, Leininger writes, "There are many and various vocations we're asked to fulfill in this world — relationships, tasks, responsibilities, occupations — for the glory of God and for the love of our neighbor." Callings for Life takes Martin Luther's theology of vocation and applies it practically to the day-to-day journey of a Christian.
Five simple chapters are interspersed with Scripture, inspirational quotes and narrative examples to bring this timeless teaching to life. "I hope that congregations, college students, educators and professionals alike will be edified by a renewed understanding that God is already at work through them in sacred and significant ways," writes Leininger.
Changing roles
Dr. Kevin Hall (B.A., '83) will transition into the position of vice-president of Academic Affairs at Concordia University, St. Paul (CSP), St. Paul, Minn., this spring as the current vice-president, Dr. Marilyn Reineck, transitions into a new role as assistant to the provost for Special Projects. Reineck's primary responsibility will be preparing CSP for its Higher Learning Commission four-year review submission. 
Reineck intends to retire from CSP at the conclusion of the Spring 2021 semester. During her tenure, she was instrumental in helping expand degree offerings at CSP, updating the faculty handbook, revising and solidifying faculty tenure and advancement in rank, implementing program review, and helping assure continued accreditation in all CSP's accrediting agencies. 
Focus on communication
The Bipartisan Policy Center (BPC) has named Concordia College New York (CCNY), Bronxville, N.Y., President Rev. Dr. John A. Nunes to its newly launched Academic Leaders Task Force on Campus Free Expression. The group is tasked with identifying practices, programs and policies that foster robust campus cultures. 
CCNY's newest degree program is a Bachelor of Science in New Media Communications/Digital Production. The new degree focuses on current trends and new uses for technology integrated in marketing and filmmaking. Students get hands-on experience from their first year. Proximity to New York City and an industry-connected faculty have secured students internships at HBO, Comedy Central, MTV and ABC.
Students secure grant for school
Concordia University, Nebraska (CUNE), Seward, Neb., Professor Ryan Burger's auditing class continued its tradition of obtaining a grant for a Lutheran organization this year. The class raised $4,250 that was awarded to Lincoln Lutheran Middle and High School in Lincoln, Neb., on Nov. 19. Logan Ryan, a 2019 CUNE graduate who teaches business classes at Lincoln Lutheran, wrote the application for the grant, which will be used to purchase new textbooks for Lincoln Lutheran's business and finance classes. 
"New textbooks in our business classes will be a breath of fresh air for our business students, as our current ones are far outdated," Ryan said. "Without these funds … we would be unable to improve our curriculum, which begins with the resources that we have in the classroom."
Students had full control over the entire process, Burger said, from writing the grant, to contacting donors and selecting the recipient. Two committees were formed to distribute the workload — one for fundraising and one for the application and selection process.
"I believe this grant project was meaningful to everybody in the class," student Christian Van Cleave said. "We saw it as a way to invest in future generations to help them on their journey of education."
Seminary news
Pre-Lenten workshop
Pastors are invited to join the Rev. Dr. Thomas Egger, Gustav and Sophie Butterbach Professor of Exegetical Theology at Concordia Seminary, St. Louis, for an online 2021 Pre-Lenten Workshop on Jan. 22. This year's theme, "O Love, How Deep, How Broad, How High," examines God's enormous mercy. The workshop is designed to help pastors develop worship resources for Lent. Registration is $40 per person and includes access to the Lenten Sermon Series. Learn more and register at csl.edu/pre-lenten-workshop.
Prof, alumni recognized
Concordia Theological Seminary, Fort Wayne (CTSFW), is pleased to announce the advancement of the Rev. Dr. Roland Ziegler, Robert D. Preus Professor of Systematic Theology and Confessional Lutheran Studies, to full professor. CTSFW hosted its annual Luther Hostel and Good Shepherd Institute in November. CTSFW graduate Rev. Dr. Denis Rakotozafy was elected president of the Malagasy Lutheran Church in Madagascar. 
The Rev. Peter Bender, pastor of Peace Lutheran Church in Sussex, Wis., and director of Concordia Catechetical Academy (CCA), was honored with the 2020 CTSFW Alumnus of the Year Award. Find out more about CCA at lutherancatechesis.org/resource.
Posted Jan. 21, 2021