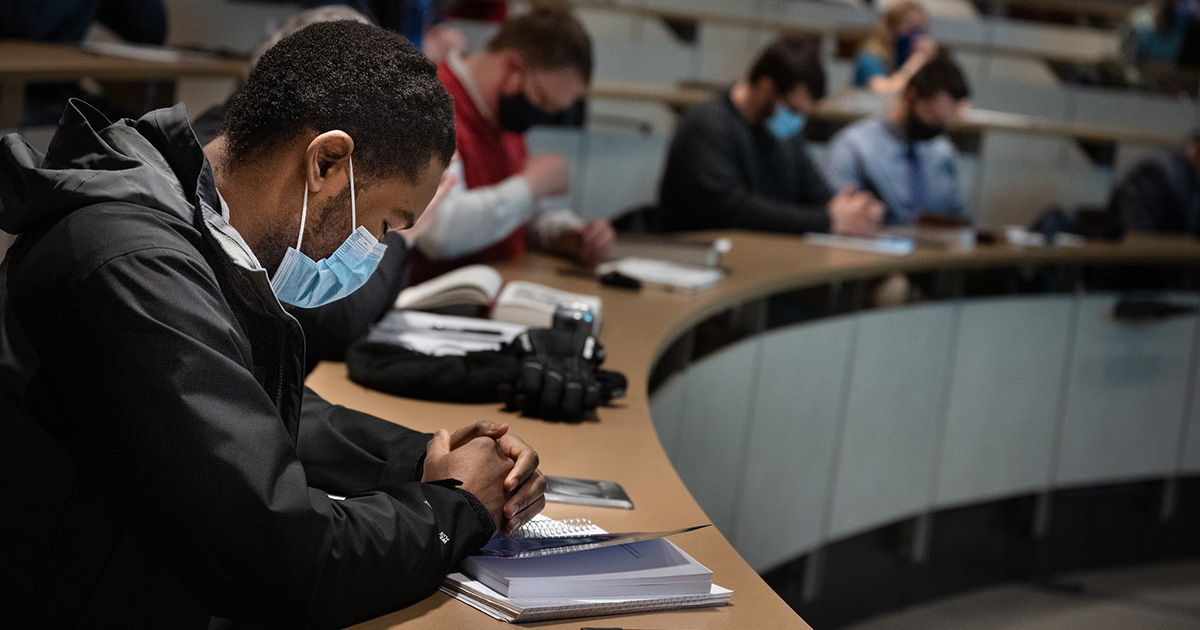 By Stacey Egger
On Feb. 16, Concordia Theological Seminary, Fort Wayne (CTSFW), one of the two seminaries of The Lutheran Church—Missouri Synod (LCMS), announced that it has received a 10-year renewal of its accreditation from the Association of Theological Schools (ATS) and the Higher Learning Commission (HLC).
CTSFW has been accredited by ATS since 1968 and by HLC since 1981, but its 2010 accreditation process was the first time the institution received the distinction of a 10-year accreditation, the longest term that these accrediting agencies can approve. Now, CTSFW is receiving this affirmation for a second time.
"This ten-year reaffirmation of accreditation builds upon the strength of the ten-year reaffirmation achieved in 2010," said CTSFW President Rev. Dr. Lawrence R. Rast Jr. "Both commissions recognized CTSFW's strong sense of mission and identity."
In their assessment of the seminary, the accreditors noted that the "mission and [Lutheran] identity" of the school "permeate, animate, and guide the school and are supported by a strong sense of community." They also commended CSTFW's financial stewardship and generous constituency that enable its students to graduate with manageable debt.
"What a joy to hear that Concordia Theological Seminary was granted the maximum 10 years accreditation," said the Rev. Dr. Matthew C. Harrison, LCMS president. "I know something about what an ordeal accreditation can be and am delighted that the outside team was so very pleased. Kudos to the regents, faculty, staff and President Rast. We are thankful for you!"
CTSFW receives the distinction of this 10-year reaffirmation as it celebrates its 175th year of operation.
"Both visitation teams commended the culture of assessment that informs integrated planning," said the Rev. Robert Roethemeyer, CTSFW professor and vice-president of Strategic Planning and Mission Execution. "These are great characteristics to celebrate in this 175th year of forming pastors, deaconesses and other servants of Jesus Christ for the congregations and service organizations of the LCMS and beyond."
Roethemeyer served as the chair for the institutional self-study that CTSFW prepared as a part of the accreditation process, following in-person visits by the accreditation teams. The results of this self-study, conducted during the 2018–2019 academic year, will be useful to the seminary not only as a stage in the accreditation process, but also as a tool to guide the school in building on its strengths and identifying potential areas of growth.  
"The [self-study] provides a foundation for our next deep dive into strategic planning," said Rast. "This cycle of planning and assessment frees CTSFW to embrace new opportunities and challenges and build on what it means to be distinctively Lutheran, community oriented and committed to excellence."
"In spite of the challenges we have all experienced this past year, there is much to celebrate," said the Rev. Dr. Charles A. Gieschen, CTSFW's academic dean. "The reports that we have received from ATS and HLC are great affirmations, from widely-respected accreditors, of the excellence and integrity of all that God is doing through CTSFW … to form more servants in Jesus Christ who teach the faithful, reach the lost and care for all."
Concordia Seminary, St. Louis, is also accredited by both agencies, and received its most recent ten-year renewal in 2014.
Posted Feb. 23, 2021