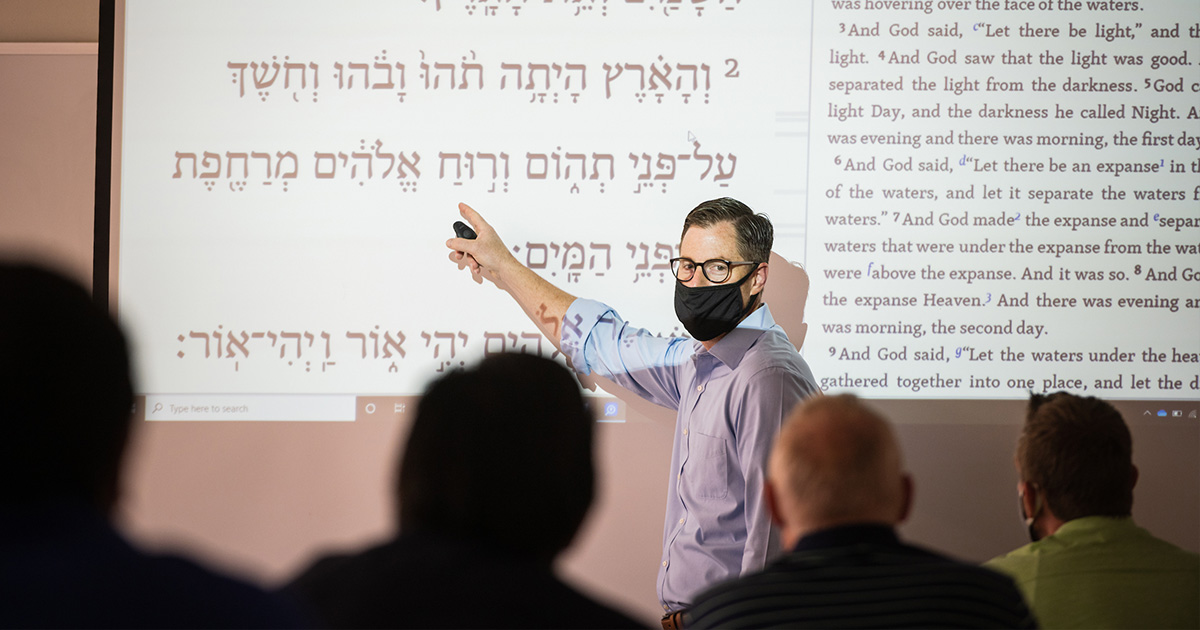 The Rev. Dr. Thomas J. Egger, Gustav and Sophie Butterbach Professor of Exegetical Theology and chairman of the Department of Exegetical Theology at Concordia Seminary, St. Louis (CSL), has accepted the call to serve as the 11th president in CSL's 182-year history. The call was extended on Saturday, Feb. 6, and Egger announced his formal acceptance during CSL's chapel service on Feb. 15.
"It is with a lot of joy and anticipation, and also with some trembling and prayers to God for grace and wisdom, that I announce today the acceptance of this call," Egger said. "The Lord has been so kind to me, in calling a poor, miserable sinner to speak in His name, and to serve His bride, His dear church, first as a parish pastor at Zion Lutheran Church in Storm Lake, Iowa — those were wonderful years that I will never forget — [and] for the last 16 years as an Old Testament professor here, studying the sacred Scriptures with many of you — also wonderful years that I will never forget.
"And now, He has called me to serve His dear church as seminary president and to lead this renowned seminary into the heart of the 21st century."
Egger will transition to his new role in mid-March and be formally installed in August, succeeding President Emeritus Rev. Dr. Dale A. Meyer, who retired in 2020 after 15 years as president. The Rev. Dr. Daniel Preus has been serving as interim president since July 1, 2020.
"What a joyful day for Concordia Seminary," said CSL Board of Regents Chairman Rev. Todd A. Peperkorn. "God is good and gracious, and continues to provide for His church, and for Concordia Seminary. The Board of Regents is thrilled to begin this new chapter of Concordia Seminary with Dr. Egger. He brings academic rigor, biblical and confessional fidelity, and a pastoral heart together in a way that reflects who we are as a community. Christ our Lord will bless both him and us in the years to come."
LCMS President Rev. Dr. Matthew C. Harrison said, "'O give thanks unto the Lord, for He is good, and His mercy endures forever.' The Lord has graciously answered our prayers in the person of Dr. Egger. We request that congregations throughout the Synod add a special prayer for Concordia Seminary and its new president for steadfastness and zeal for the Gospel at this crucial time in the history of the school and the church."
Read a previous Reporter story about Egger.
Watch a video of Egger's acceptance and read more about the presidential search.
Posted March 10, 2021