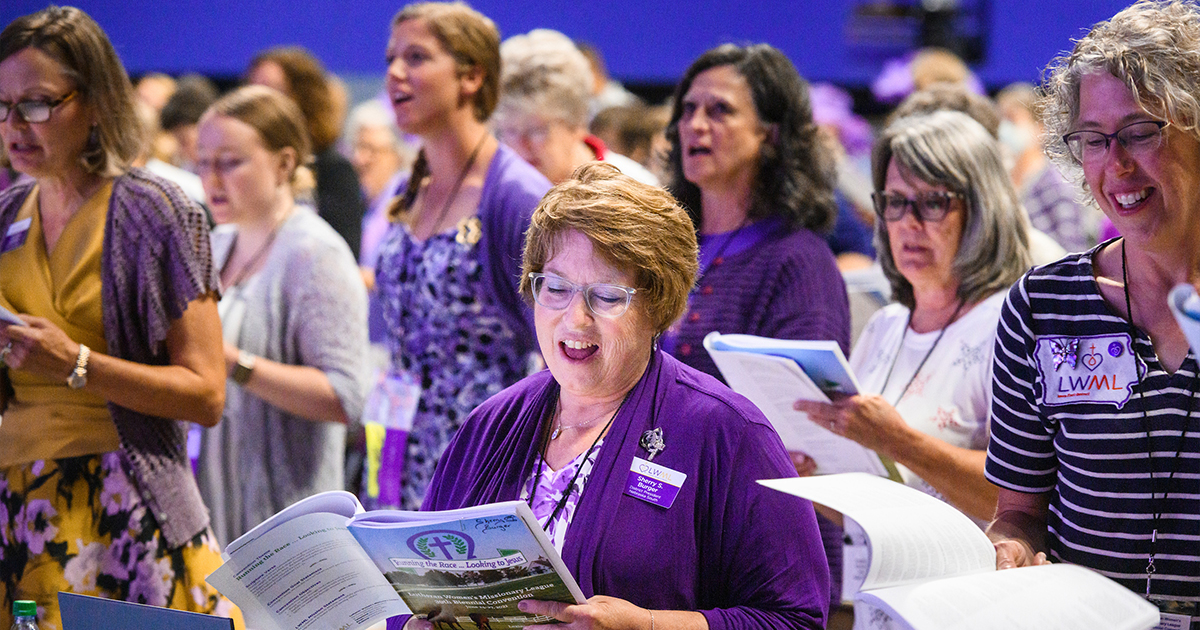 By Cheryl Magness
As she opened the 39th Biennial Convention of the Lutheran Women's Missionary League (LWML) in Lexington, Ky., on June 25, LWML President Debbie Larson acknowledged the challenge of planning — and holding — a national convention during a pandemic: "By the grace of God, we are here in Lexington. Our theme is 'Running the Race; Looking to Jesus,' and we certainly have been running a race during this past biennium. Looking to Jesus continues to be our stronghold."
Given the restrictions on large gatherings over the past year, there was some question whether this convention could be held as planned. Registration was closed early to abide by capacity limits, and registrants were told that masks would be mandatory.
A few days before the convention, however, the capacity and mask restrictions were lifted, and a look around Lexington's Rupp Arena during the opening worship gave little indication that they had ever existed. The joy — evident in several thousand smiling, singing faces — culminated with a celebration of the Sacrament of Holy Communion. Liz Roberts, a member of St. John's Lutheran Church in Victor, Iowa, said the convention worship is one reason she keeps coming.
"I asked my friend [during the service] if this is what heaven will be like," Roberts said. "Worshiping with thousands of fellow Christians, communing together in the name of the Triune God, [hearing] the beauty of the message, the music and the voices singing familiar hymns, I imagine how pleased God must be to see His children gathered together."
Asked how many conventions she has attended, Roberts counted quickly on her fingers. "Five" she said, "or maybe six," she added, laughing. In the past, she has served as a delegate for LCMS Iowa District East, but this time she came simply for the fun, learning and fellowship. She especially loves hearing about the mission work that is being done through the LWML: "It's amazing how God … uses our mites [financial gifts] to make sure His people are taken care of." She wishes all women could attend an LWML convention. "You just can't take that fellowship, joy and love and give it a proper explanation."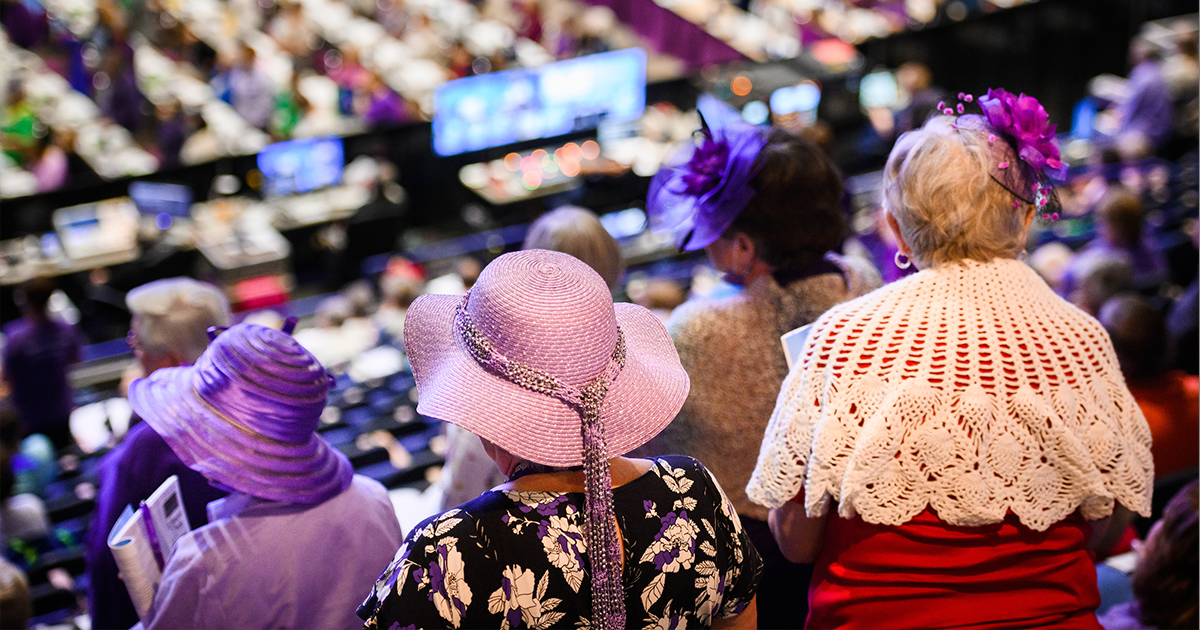 'How's your race going?'
The city of Lexington, known as the "Horse Capital of the World," was a fitting backdrop for the convention theme, "Running the Race; Looking to Jesus." Deaconess Heidi Goehmann, a licensed clinical social worker and mental health provider, led convention attendees in a Bible study based on the theme verse: "Therefore, since we are surrounded by so great a cloud of witnesses, let us also lay aside every weight, and sin which clings so closely, and let us run with endurance the race that is set before us, looking to Jesus, the founder and perfecter of our faith, who for the joy that was set before him endured the cross, despising the shame, and is seated at the right hand of the throne of God" (Heb. 12:1–2).
Comparing life to the running of a race, Goehmann asked attendees, "How's your race going?" and gave examples of those things — most notably, the devil, the world and our sinful nature — that can weigh a "runner" down. But she encouraged listeners with the Good News that, as Christians, they run on the solid ground of Jesus, who is also the designer of the track, the coach and trainer, the first runner and the first finisher. As Christians run the race of life, God builds resilience in them by calling them to repentance and giving them the hope found in His Word. "God does not leave us to run alone," Goehmann said. "We run our race for Christ with one another."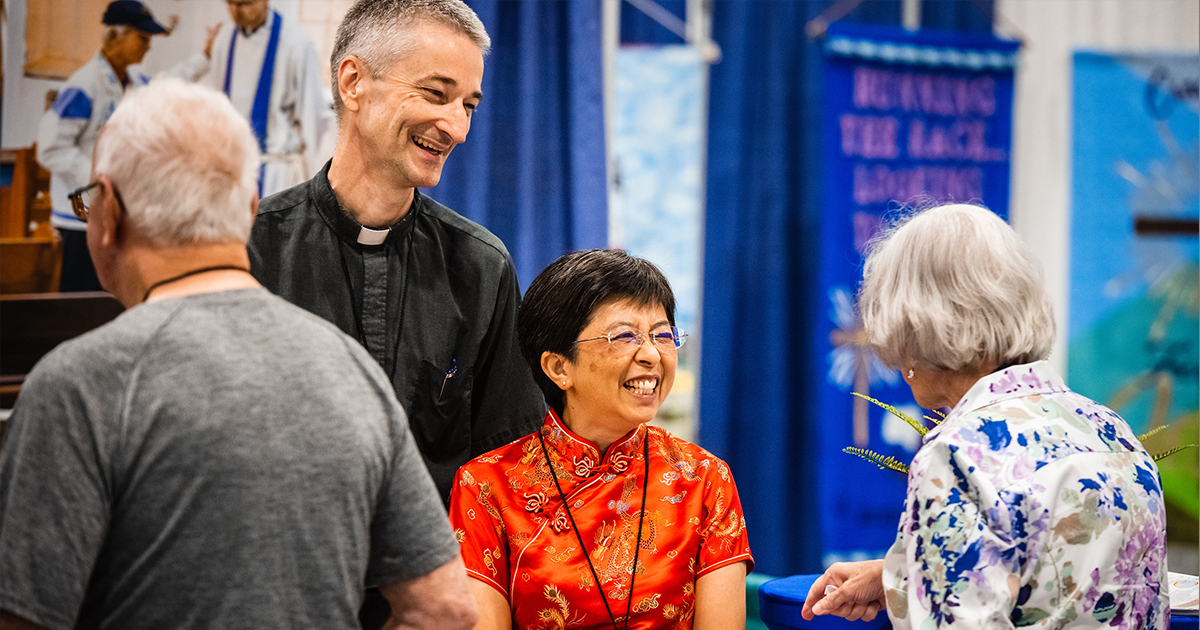 'We do not lose heart'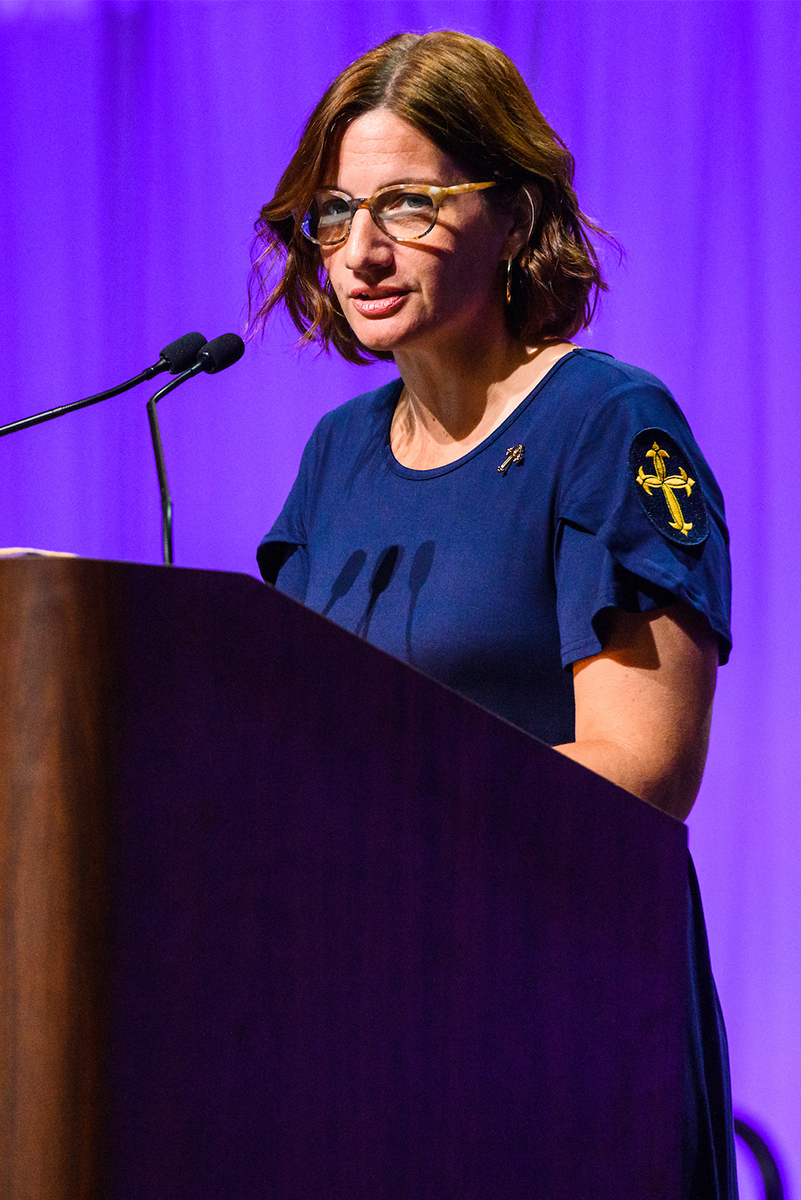 In convention business, delegates elected officers, approved 28 mission grants, adopted a mission goal of $2.15 million, and heard reports about LWML-funded work around the world. (Read detailed reports here.) On June 25, LCMS Chief Mission Officer Rev. Kevin D. Robson introduced two LCMS international missionaries, saying, "You sent these women. They are you in faraway places."
Deaconess Danelle Putnam Schumann, who began her missionary service 22 years ago in Panama and now serves in the Dominican Republic (DR) with her husband, the Rev. Carlos Schumann, spoke of the church's growth in the DR from no LCMS presence to what exists there today: five congregations; one seminary; two DR pastors; four DR deaconesses; one preschool; one elementary school; one group home for orphans with developmental disabilities; and 15 missionary pastors, deaconesses, lay workers and their families. "Thank you," Schumann said to the convention, "for cheering us on in this race with your prayers and your mites. … Despite the setbacks we may have … we do not lose heart … because we know by faith that [Jesus] has already won the race for us."
Irene Paul, who serves in Taiwan with her husband, the Rev. Dr. Michael Paul, said that as the resident of a country that is only 4% Christian, "When I look at the people around me, I can assume they are not Christian." She seeks opportunities to talk to people, especially women, and invite them to Bible study and church. Paul told the story of one woman who accepted her invitation, was baptized and joined the church. Another woman who has been coming to a weekly moms-and-tots group would like to attend church, but her husband won't let her. "I continue to pray for her and her family," Paul said.
Young Woman Representatives
A high point of the convention was the humorous "interruptions" of comedian Jan Struck. Struck — a beloved fixture at LWML conventions — was joined by Abby Goehring, a Young Woman Representative (YWR) from the LCMS Texas District. In a series of five skits, Struck and Goehring played the roles of Gertie and Marcy, a veteran LWML member and her much younger companion, who belong to age-segregated LWML groups within the same congregation. Gertie and Marcy sometimes struggle to understand each other, but as they navigate the convention together, they discover common ground and ways to learn from one other.
The YWR program — an effort to encourage more young women to become involved in the LWML — was born in 1973 when eight LCMS districts brought the first youth representatives to that year's convention in Mobile, Ala. YWRs are selected by their home districts to attend the district, state and/or national LWML conventions. In 2021, 62 YWRs attended the national convention, representing 32 of the 40 LWML districts.
Ashley Figur, a wife and mother of two from Austin, Texas, and a second-time YWR, credits the LWML for inspiring her to greater service in her community as an advocate for those affected by human trafficking. "We are the hands and feet of Jesus," Figur said. "Very small steps combine to have a huge impact. That hope for the future is the heart of LWML."
Courtney Fowlkes, a YWR who will be a sophomore at Northeast Community College in Norfolk, Neb., this fall, said her favorite part of the convention was the people.
"I think I exchanged life stories with about 30 people," she laughed. "My social butterfly came out. It's amazing to know I'm talking to people who share my faith and with whom I have so much common ground. Everybody wants to know who you are and where you're from. They're friendly and very passionate about the LWML."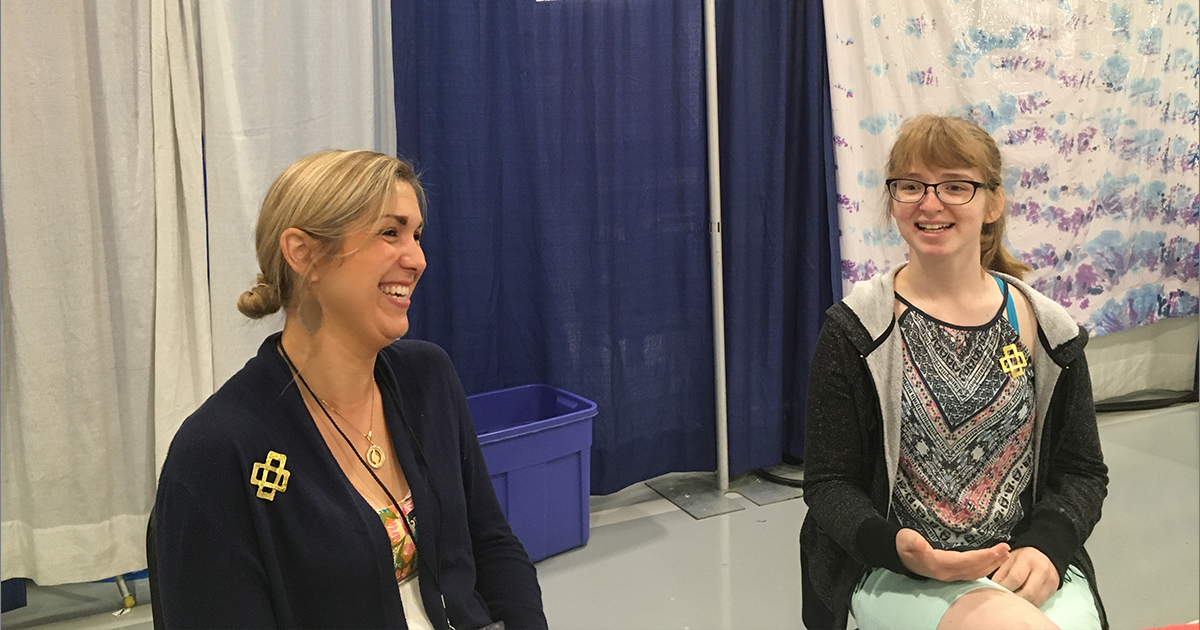 St. Louis goes to Lexington
Attending the convention on behalf of the LCMS International Center (IC) were over two dozen individuals representing the Offices of National and International Mission (ONM and OIM), Pastoral Education, School Ministry, Youth Ministry, Disaster Response, Urban & Inner-City Mission, Ministry to the Armed Forces (MAF), Witness & Outreach, Life Ministry and Recognized Service Organizations. At the Friday night "Winner's Circle" in the convention exhibit hall, exhibitors and attendees donned Kentucky-Derby-themed apparel and enjoyed the opportunity to interact via exhibitor-planned activities. The LCMS exhibit featured a singalong of African hymns with missionary Phillip Magness and a drawing for a new iPad, won by Esther Killham of Marion, Iowa. Killham said she planned to use the iPad for Bible study. Her daughter, Cheryl Killham, said, "She is very excited. She has been telling everyone she won!" 
On Saturday, June 26, convention-goers were able to choose from an array of luncheons with featured speakers, including several from the IC: CMO Robson, OIM Executive Director Rev. Daniel F. McMiller, ONM Executive Director Rev. Robert Zagore and MAF Director Rev. Craig Muehler.
"It is impossible to overstate the joy and gratitude with which the Synod embraces the fellowship and fearless work of our beloved auxiliary," said Robson. "LWML conventions are all about bold mission intentionality; they make possible the movement of the Gospel of Christ into people's lives the world over, and the result is the salvation of souls into eternity."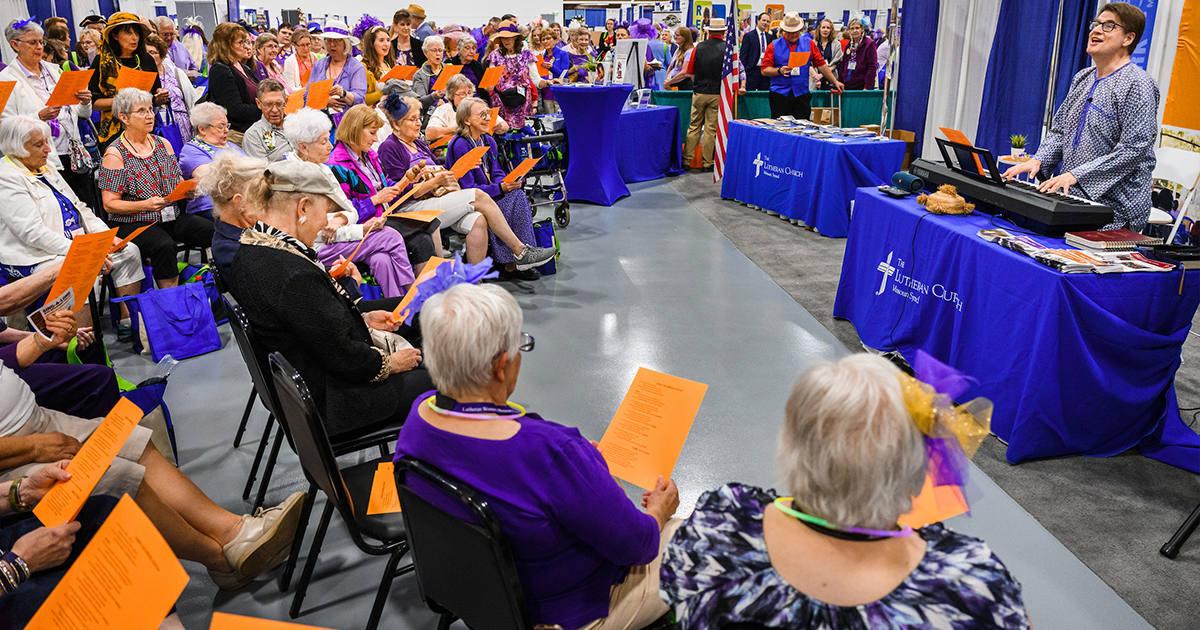 Thank you, LWML
The 2021 LWML convention was the first large conference to be hosted in Lexington following the pandemic. On the convention's final day, attendees viewed a video from city and hospitality leaders expressing their appreciation to the convention with comments such as:      
"It's been a pleasure working with a group of such kind and considerate ladies." — Todd Garvin, Hyatt Regency director of sales & marketing
"You are the reason I am back at work and the reason … Lexington is coming back alive." — Sidney Hayden, Central Bank Center event manager
"There's no doubt the sun has been shining brighter in our old Kentucky home thanks to the Lutheran Women's Missionary League." — Steve Barnett, VisitLEX destination sales manager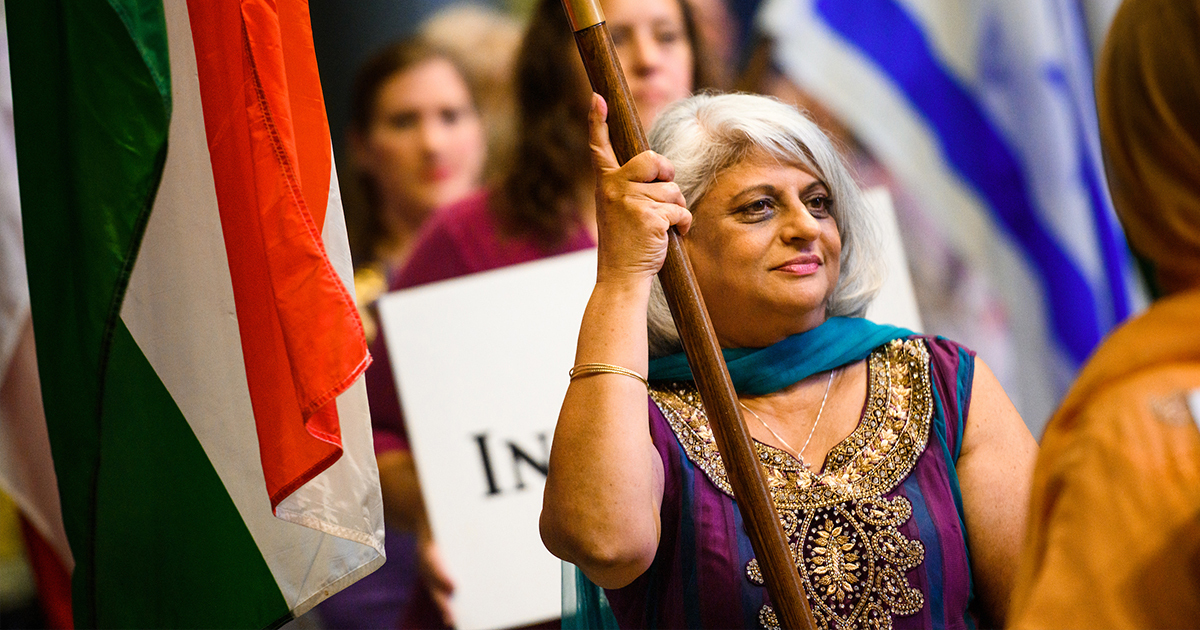 In an interview with Reporter, LWML President Debbie Larson summed up not only the convention but the mission of the LWML: "Our women are shining Jesus through what they are saying and doing in this community, and that is exactly what we do as Lutheran women in mission. We build each other up, but we do that so that we can share Him with the world, and that's exactly what's happening. What a wonderful privilege to be able to work and serve in this organization."
Learn more about the LWML at lwml.org. 
See additional photos here and in the video montage below.
Posted July 22, 2021