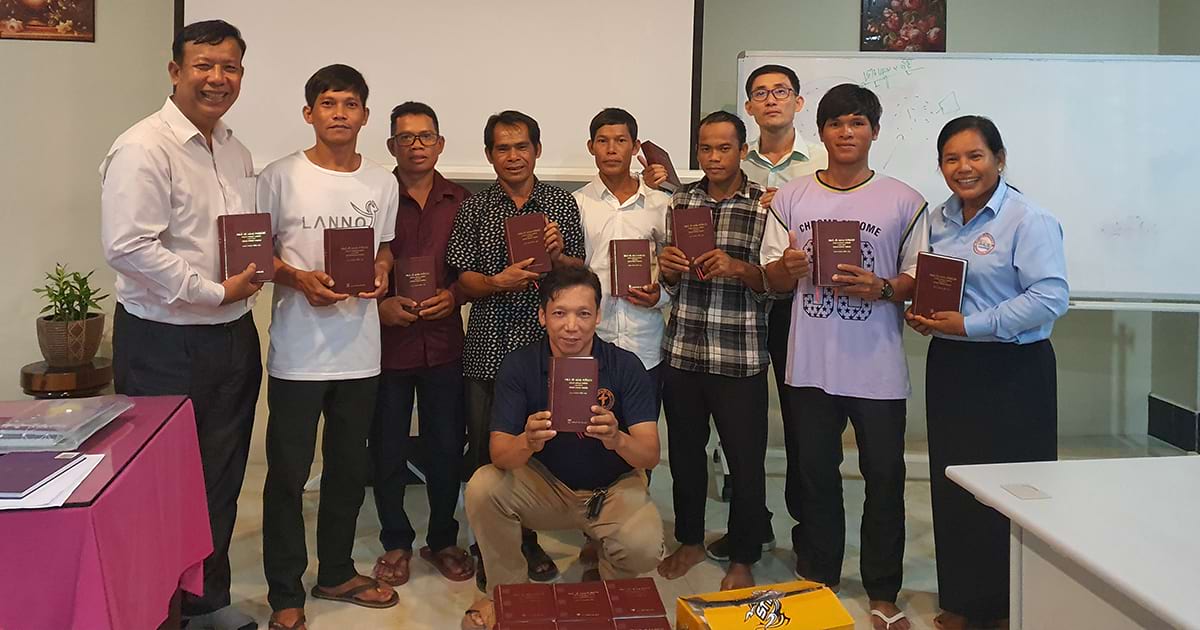 The Rev. J.P. and Aimee Cima and their family have served the LCMS as missionaries to southeast Asia for more than 15 years. They currently serve in Phnom Penh, Cambodia, where J.P. teaches and mentors leaders in the Cambodia Lutheran Church and Aimee serves as mercy manager for the LCMS Asia region.
In April, J.P. traveled to Ratanakiri province in northeastern Cambodia to visit with ethnic Jarai church leaders. (Jarai, a Malayo-Polynesian language, is spoken by fewer than 300,000 people in southeast Asia.) 
The Jarai pastors shared that one challenge they face in ministry is a lack of Bibles in the Jarai language. Many speakers of Jarai do not have a Bible, and if they do, it might only be a flimsy photocopy of the New Testament. 
After asking the pastors a few more questions, Cima learned that there were no Jarai Bibles available in Cambodia. Because the language is spoken by so few people, written materials in Jarai are limited even under the best circumstances. 
Through a contact in the region, Cima arranged to ship Jarai-language Bibles to Phnom Penh. In late July, while in Phnom Penh for a training seminar, the Jarai pastors received 100 new, high-quality Jarai Bibles that included both the Old and New Testaments. The Bibles were funded by a grant from the LCMS.
Cima said, "The pastors were overjoyed to receive this precious gift. Providing the Jarai pastors and their people with Bibles in their own language enables God's Word to reach even more homes and hearts, so that all may know that 'the grass withers, the flower fades, but the word of our God will stand forever' " (Isaiah 40:8).
Posted Oct. 17, 2022