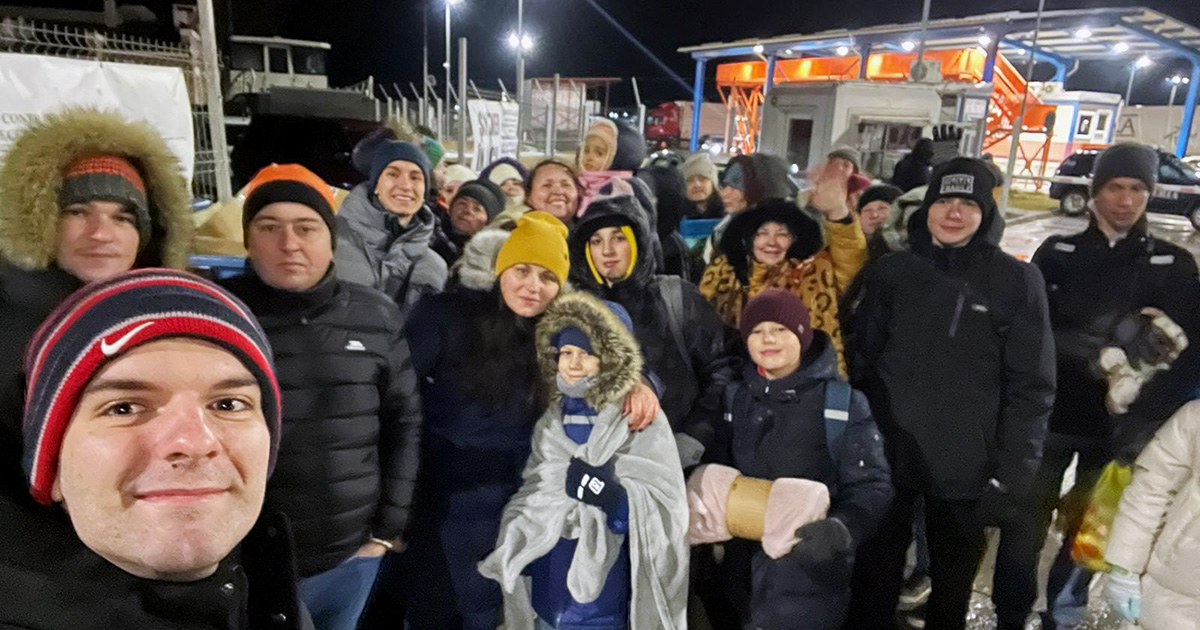 By Kevin Armbrust
News of war often remains opaque and generic. Countries and leaders dominate the headlines. War's effects, however, are counted by each person and family. Individuals get lost in the largesse and the incomprehensible nature of national and international relations.
Yet people love people. And the actions of one person in Romania bear witness to the love of God in Christ Jesus. Sergiu Trifa, son of the Rev. Sorin-Horia Trifa — a Romanian pastor who works with the LCMS — is standing in the midst of the Ukrainian situation to welcome those he can to a foreign land, give them a warm meal and offer a place to stay.
On the evening of March 3, Sergiu was waiting when Ukrainian Lutheran refugees arrived in Romania at the Isaccea Border Point. He had been at the Border Point since Monday, waiting for this group of Lutherans while helping other Ukrainian refugees.
The Ukrainian refugees had to navigate difficult border procedures to enter Romania. Once they arrived, Sergiu took them to Constanța, where they were registered and given a hot meal. From Constanța they are traveling for Brașov by bus. The refugees will stay with Rev. Trifa and in another home offered for this cause.
"All thanks to the effort of Sergiu Trifa! Sergiu is our hero because he only slept for a few hours these nights," said Rev. Trifa. "He spent hours in the cold waiting for this group of people. In this night he is back at the Isaccea Border Point because the second group will arrive soon, and they will follow the same procedure."
The Rev. James A. Krikava, associate executive director of the LCMS Office of International Mission, Eurasia and Asia Operations, said, "I am so proud of Sergiu, a young man who really has no stake in a mess he had no part in making. Yet, in this context of horror, he leaps into action to do something. Sorin must be an admirable father in addition to being such a faithful father to his flock."
Romans 12:9 teaches those baptized into Christ, "Let love be genuine." We continue to pray for those affected by the violence in Ukraine and thank God for those able to help.
Read more and learn about how you can help those affected by the situation in Ukraine.
Posted March 4, 2022/Updated May 3, 2022/Updated April 19, 2023