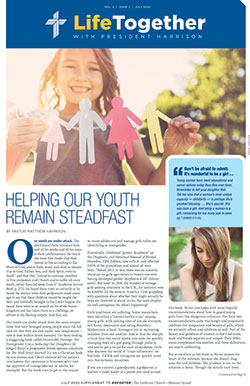 This supplement to the July 2022 Reporter is the third of a series titled "Life Together with President Harrison."
This month's featured topics include:
An article from President Harrison about the dangers facing young people today;
Research from LCMS Youth Ministry about how to retain youth in the church and help them thrive as they go through life's transitions;
A reminder from the Rev. Harrison Goodman to take a Gospel-centered approach to youth ministry and just "give them Jesus"; and
Information about a pilot project from the LCMS Mid-South District on how best to support parents and families in their role in the faith formation of the next generation.
If you have a question or topic you would like President Harrison to consider addressing in a future issue, send it to lifetogether@lcms.org.
Read Life Together supplement