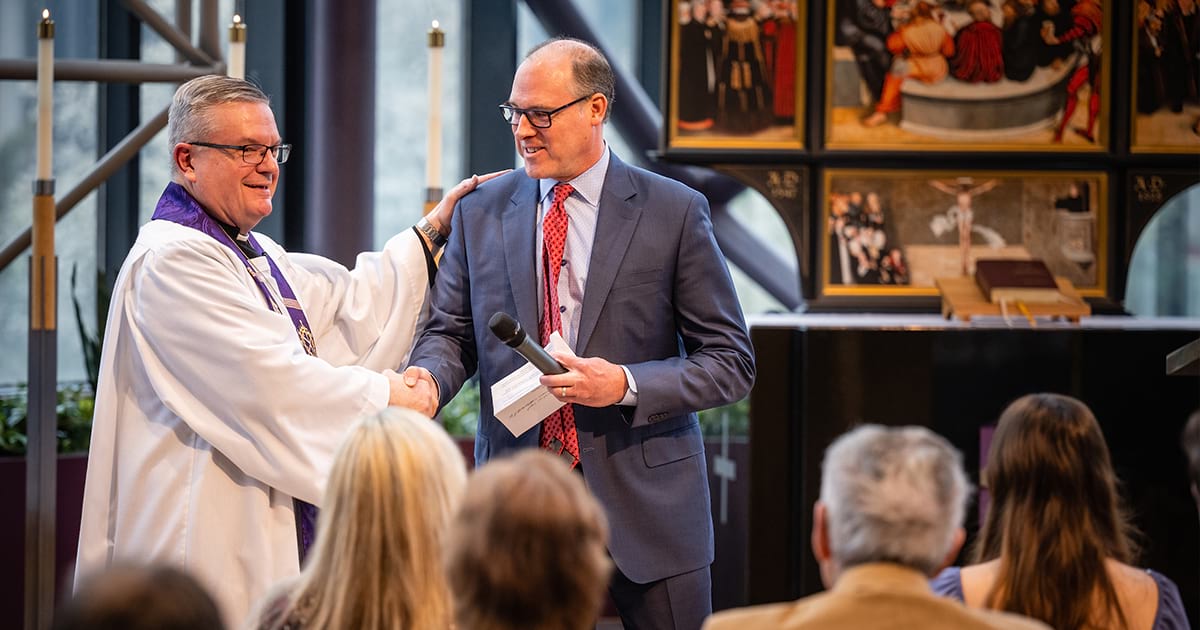 On March 24, The Lutheran Church—Missouri Synod (LCMS) officially welcomed Mike Behr as its new executive director of Communications during an installation service at the LCMS International Center in St. Louis. He began serving in the role in January.
As executive director, Behr will lead the production, editorial, design, web, social media, video and photography teams of LCMS Communications. The unit is responsible for the Synod's primary publications: Reporter, The Lutheran Witness and Lutherans Engage the World. It also manages the Synod's web presence; staffs the Church Information Center; and works with the offices of National Mission, International Mission, Pastoral Education, Mission Advancement and the LCMS Office of the President on a wide variety of communication initiatives and projects. 
Preaching for the service on John 11:1–45, the raising of Lazarus, LCMS Chief Mission Officer Rev. Kevin D. Robson said, "There seemed to be a bit of miscommunication going on" among the people in the story. "Something wasn't quite clicking." 
Robson reviewed other examples of times when, in the church, "misfires" in communication may occur due to "sinful human flesh." In the story of Lazarus, however, Jesus Christ "communicated with perfect clarity — first to the disciples … then to a grieving sister." He does the same to the whole church: "When God speaks, He gives life."
Turning to Behr, Robson said, "To come and work with this team of fellow sinners, Mike, is just another step on the road to which each of us has been called out of a fallen creation. … Together we suffer for the sake of boldly confessing Christ's name and clearly communicating His Gospel — His mercy — in everything we could ever say or do. … It is not possible to be with Jesus — to live with Him — except to take up His cross, follow closely and, ultimately, to die with Him."
In remarks following the service, Behr said, "It has been a joyful journey … to the International Center. … There's so much good work that comes out of this building to support our congregations. … That's a story that I look forward to working with our team and all of you to tell. All of you have a role in … helping to tell these stories in a way … that reaches people [with] the Gospel."
Behr comes to the LCMS with over 30 years of experience in business, marketing and communications. He has started and led several marketing and branding agencies. Most recently, he was a senior vice-president for a large, multibillion-dollar company, where he oversaw marketing, branding, ecommerce, internal communication and events management. 
Behr was raised in Buffalo, N.Y., and graduated from the University of Buffalo with a Bachelor of Science in Business and Marketing. He moved to St. Louis in 1994 to work for the May Department Stores Company and met his wife, Cynthia, whom he credits with keeping him in St. Louis ever since. The Behrs are members of Christ Memorial Lutheran Church, St. Louis, and love traveling and watching their two children — Isabel, 17, and Mason, 14 — play a variety of sports.
Posted April 28, 2023