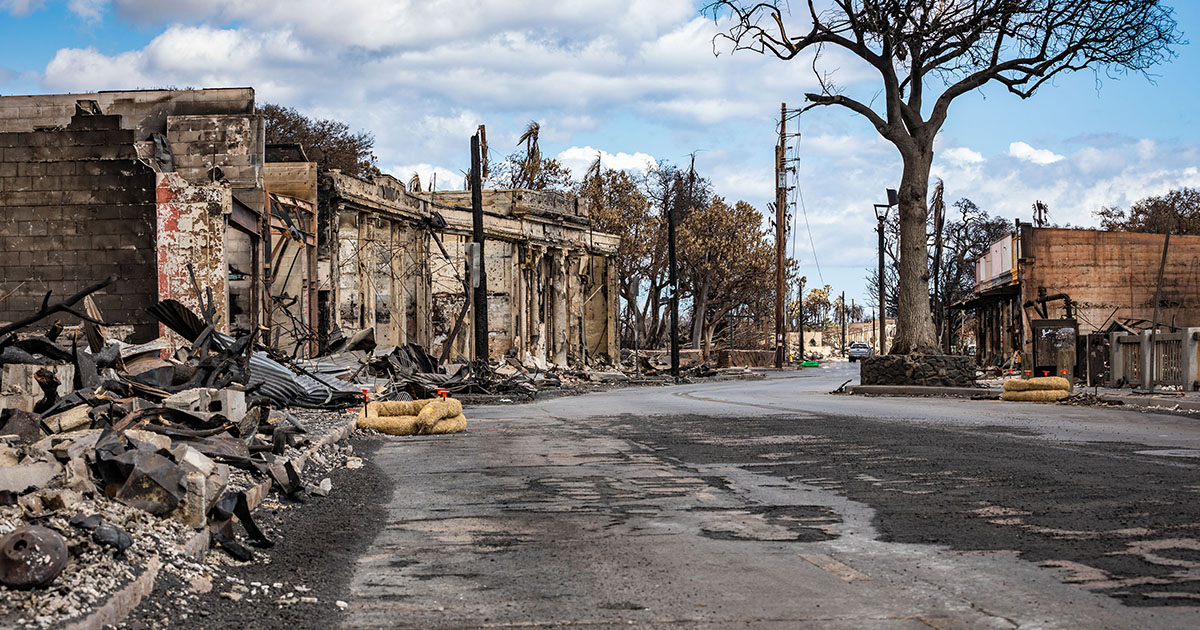 By Cheryl Magness
On Aug. 8, a wildfire near the village of Lāhainā on the island of Maui, Hawaii, rapidly spread out of control, part of a larger series of wildfires plaguing the island. The cause of the fire is under investigation, but like other recent fires on the island, it was fed by extremely dry conditions and high winds. A week later, the lives lost number more than a hundred, with hundreds more still unaccounted for.
On Aug. 15, the Rev. Michael Lange, president of The Lutheran Church—Missouri Synod (LCMS) California-Nevada-Hawaii (CNH) District, sent an email update to the CNH District with the question: "What message do we bring to those so much in need of care and love?"
Lange answered that they need to hear that they have a God "who is Emmanuel (God with us)! He is with you and for you! We are the body of Christ, walking, loving, living, and sharing with those in need."
Lange reported that Emmanuel Lutheran Church and School in Kahului, Maui, was not directly impacted by the fire (one or two families from the school were minimally affected), but that Emmanuel members are serving "as God's hands and feet to the people of Maui. They are Christ's ambassadors and bear the presence of the Savior. Pray for their strength and care as they walk beside many in great need."
 
The congregation of Emmanuel is currently in a pastoral vacancy, but Lange said pastoral presence, care and leadership are being planned for and provided onsite. Emmanuel members are responding to the disaster by helping provide for the immediate needs of those affected and by assisting those who are providing housing for the displaced. In the near future, CNH First Vice-President Rev. Mitch Gowen, who lives on the island of Oahu, will visit Maui to meet with those leading the response and to lead worship at Emmanuel. At this writing, the Rev. Chris Singer, the Rev. Rodney Hall and the Rev. Dr. Mark Hannemann are serving as organizational specialists and spiritual and counseling care providers for Emmanuel members, school families and the community.
In addition, Lutheran Early Response Team (LERT) training will be conducted on both Maui and Oahu in the next two weeks. The Rev. Dr. Ross Johnson, director of LCMS World Relief and Human Care Disaster Response, reported that three boxes of LERT volunteer materials have already arrived at Emmanuel for the training sessions. In addition, $5,000 worth of $100 Visa gift cards, along with a box of devotional materials, have been shipped to Emmanuel for distribution. The devotional materials include 50 copies of the Concordia Publishing House children's book I Will Not Be Afraid.
In addition, the CNH District has applied for a grant from LCMS Disaster Response to fund additional counselors and spiritual care providers in addition to those mentioned above. 
Johnson said, "LCMS Disaster Response is committed to helping not only with the immediate needs of those affected by this fire but also with the long-term needs of the community as the island rebuilds from this historic disaster." Lange added that Emmanuel's presence for over 50 years on the island will serve the congregation well in responding to those in need. School families at Emmanuel have many relationships with those who were personally impacted.
Lange concluded his Aug. 15 email to the CNH District by asking for prayers for "those so horribly affected, those mourning, and strength for caregivers"; by inviting texts, cards and emails to let those in Maui "know you are remembering them and praying for them"; and by encouraging gifts "to support relief work and recovery."
Mark Hofman, executive director of LCMS Mission Advancement, said, "The generosity of God's people over the past two years has empowered — and continues to empower — the LCMS to respond appropriately and effectively in these situations. The gifts of God's people are an outward expression of the faith they place in Jesus Christ and of their desire to share the Gospel with those who are experiencing trauma, loss and tremendous anxiety."
---
Anyone wishing to bolster the disaster-response capacity of the LCMS may send a gift to:
The Lutheran Church—Missouri Synod, PO Box 66861, St. Louis, MO  63166-6861.
Please make checks payable to The Lutheran Church—Missouri Synod. To restrict the use of your gift, write "Wildfire Relief" or "Disaster Response" on the memo line.
To give electronically, visit lcms.org/givenow/wildfires or lcms.org/givenow/disaster, or send the keyword LCMSWILDFIRES or LCMSDISASTERS to 41-444 on your text-enabled device.
To give by phone, or for more information, call 888-930-4438.
To directly strengthen the near-term localized disaster-response capacity of the CNH District, visit cnh-lcms.org. 
Posted Aug. 18, 2023/Updated Aug. 18, 2023