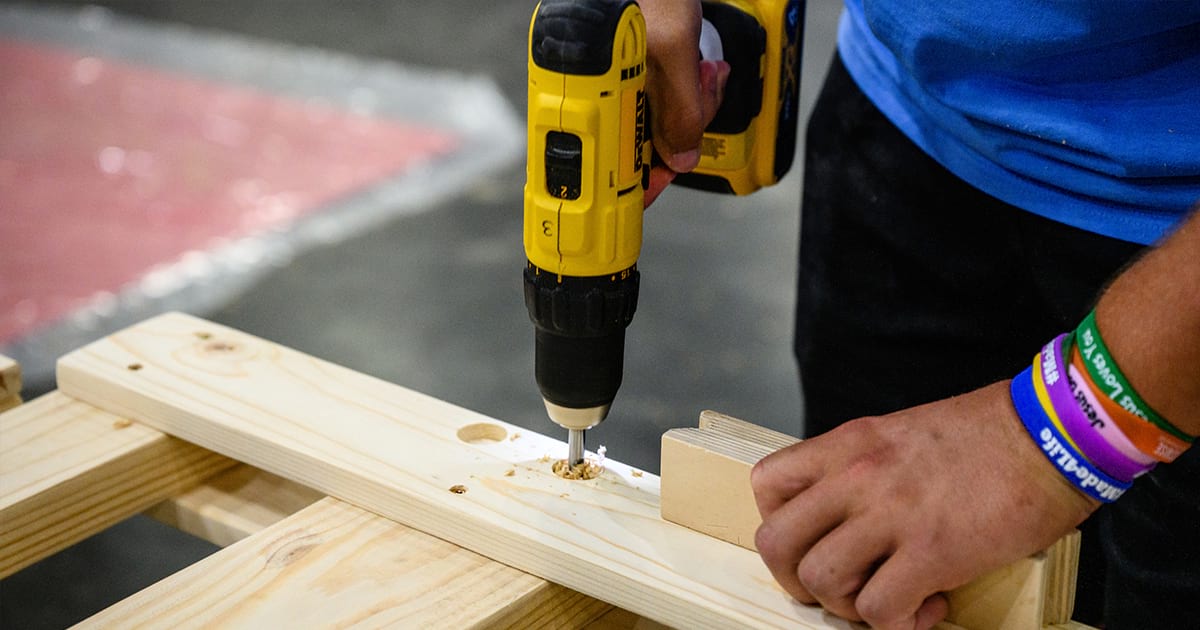 By Sarah Reinsel
"I think kids are really excited to get back to everything, whether that's sports or trips, and that puts us in a great position right now to provide a … great thing for them to come be a part of," said Leah Salick, a committee member for the LCMS Servant Events program.
Registration is now open for a full summer of Servant Events in 2023. After several summers of irregular events and limited scheduling due to the COVID-19 pandemic, Servant Event leaders and youth alike are excited to be back in full swing. 
Servant Event leaders noticed increasing anticipation at last summer's LCMS Youth Gathering and hope to make good use of the momentum. 
"Our tagline while we were in Houston [for the Gathering] was 'serve next summer,' or 'how are you going to serve next summer,'" said DCE Jim Lohman, director of LCMS Servant Events and associate director of LCMS Youth Ministry.
LCMS congregations, summer camps and Recognized Service Organizations across the country will host Servant Events from May through August. Volunteer opportunities — geared toward high-schoolers but open to other ages — range from building trails in Colorado, to doing home maintenance for families in need in Appalachian Ohio, to providing community outreach for refugee children in the Fort Wayne area. 
Servant Event leaders meet for fellowship, training
After a three-year hiatus, Servant Event leaders gathered at the LCMS International Center in St. Louis Nov. 15–17 for conversations, talks and training.
"It has been a few years since most of us have had events going, so [it is exciting] to be able to get back together and talk about finding ways in the community to serve," Salick said. 
Leaders also received training for the new Servant Events website, which will be a hub for advertising events, registering volunteers and connecting youth leaders with ways to serve. 
"I'm excited about the new program they're rolling out. It will help with new people trying to register and find projects to do," said Luke Otten, operations director at Camp Trinity in New Haven, Mo.
'Fingerprints of Christ'
"When you're serving, you're leaving the fingerprints of Christ in that particular setting," said Lohman.
Servant Events encourage youth to be the hands and feet of Christ, which sometimes involves active labor, such as spending 10 days digging new septic tank systems for Appalachian families in need.
"This year was the first year that we didn't have [a septic tank system to dig], which is a good problem to have, and they're getting harder to find. But … we like to dig!" said Nicole Spangler, who leads a Servant Event hosted by Emmanuel Lutheran Church in Asheville, N.C. 
Many Servant Events challenge youth to try something entirely new. Joe Palinkas, the Servant Event leader for Camp Lutherhaven in Albion, Ind., recounted one event where he taught a group of girls how to use chainsaws. Although they had never done anything like that before, by the end of the training they could use the chainsaws safely and confidently. 
Many Servant Events also have a strong focus on human care. At the "Servin' in the Hills" event at Camp Trinity near New Haven, Mo., youth spend time with senior citizens in New Haven in addition to working on construction projects around the camp.
"The kids clean up and put their best Camp Trinity shirt on," said Ruth Rethemeyer, executive director of Camp Trinity. "That's one of those great memories, seeing the kids relate to the senior citizens. … One of our [youth] — he's a pastor now — grew up doing Servant Events, and I remember him sitting there, holding their hands, praying with them, talking to them. That's really awesome to see."
Connecting youth to Christ
At its heart, the Servant Events program provides youth with a way to participate in the work of spreading the Gospel. 
"It's really not about our service," said Lohman. "It's about the opportunity that we have to be a Christ-like servant leader in whatever setting we're in."
Sharing the love of Christ through service to others also allows deep friendships to form among the youth. Events often pull together groups from several different states, but by the end of the week, no one would know it by the strength of the community that is built over the course of volunteering together.
"These groups come from all over, but by the end of the week, they are one big group, and they know that they are connected — no matter where they live — through Christ," said Shelly Carlson, coordinator of the "Heart of a Servant" event at Lord of the Lakes Lutheran Church in Forest Lake, Minn. "That is what Servant Events are really about — connecting kids to Christ, and to each other." 
For a list of upcoming Servant Events and more information on event dates and registration, visit lcms-servantevents.org.
Posted Jan. 4, 2023