Dr. Bjarne Wollan Teigen, former president of Bethany College, Mankato, Minn., and a principa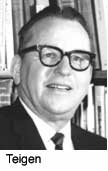 l in doctrinal discussions between the Missouri Synod and his church body — the Evangelical Lutheran Synod (ELS) — died July 10 of congestive heart failure at Hopkins Health Care Center, Hopkins, Minn.
The funeral service for Teigen, 94, was July 16 at Bethany's chapel.

A member of the college faculty from 1945 until 1983, he was its president from 1950 to 1970.

Teigen was a 1935 graduate of Concordia Seminary, St. Louis, and received an honorary doctorate from Concordia Theological Seminary, Fort Wayne, in 1979.

"He had developed an international reputation as a theologian of the Lutheran Confessional writings," said the Bethany news release about his death. "His books and articles are used in many Lutheran theological seminary classrooms."

In the 1970s and 1980s, he represented the ELS in doctrinal discussions with Missouri Synod representatives.

Dr. Samuel H. Nafzger, executive director of the LCMS Commission on Theology and Church Relations, who also participated in those discussions, said Teigen "had a deep love for right teaching and was anxious in keeping his church faithful to his understanding of the Lutheran Confessions."

Survivors include three sons and a daughter. His wife, Elna, died earlier this year.
Posted Aug. 26, 2004