Delegates to the Lutheran Church–Canada's June 5-9 convention in Winnipeg, Manitoba, elected a new president and approved altar and pulpit fellows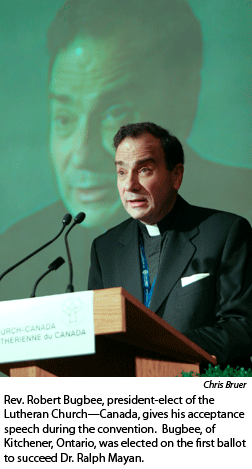 hip with a Lutheran church body in Nicaragua. Theme of the triennial convention was "Give Jesus Glory: His Calling — Our Praise."
Rev. Robert Bugbee, pastor of Holy Cross Lutheran Church in Kitchener, Ontario, for more than 14 years, will begin serving in September his first three-year term as the church body's third president. Bugbee, 52, was elected on the first ballot.
He succeeds Dr. Ralph Mayan, 64, who did not seek re-election. Mayan is retiring after serving in the post since 1996.
Re-elected to new three-year terms were all three of the LCC's vice presidents:
Rev. Nolan Astley of Lloydminster, Alberta, first vice president;
Rev. Daryl Solie of Regina, Saskatchewan, second vice president; and
Rev. Robert Krestick of Waterloo, Ontario, third vice president.
Also re-elected, to new six-year terms on the LCC Board of Directors, were:
Dr. Karl Keller of Walnut Grove, British Columbia; and
Dorothea Korcok of Niagara-on-the-Lake, Ontario.
Newly elected board members are:
Anne Taylor of Ottawa, Ontario; and
Lorne Wirth of Regina, Saskatchewan.
Addressing the convention as president-elect, Bugbee said it was both "heartwarming" and "a little frightening"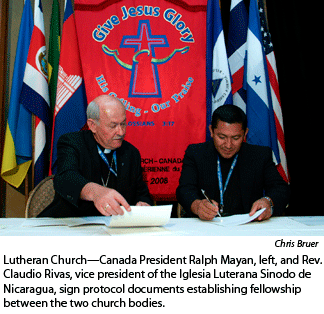 to be elected to the church body's top post — a position he "did not hope for."
He said he was grateful that the election "was not marked by the sort of partisan politics which advances one candidate by discrediting another — something that has become commonplace in many churches these days, including some who are very dear to us."
Bugbee, a 1981 graduate of Concordia Seminary, St. Louis, said he feels "a certain grief" in leaving his life as a full-time pastor and asked for prayers as he faces "a steep learning curve" as LCC president.
He described the LCC as a "small family" in a vast land, charged with the "huge" task of reaching out with the Gospel among Canadians who "are growing more secularized."
But Jesus, Bugbee said, has promised us "an open door that no one can shut" (Rev. 3:8). Jesus knows our failings, he said, but also our "gifts and graces" and our "capacity to show love and to speak the Good News into thirsting hearts."
Bugbee said he would "be leaning very hard on that promise as I take up the work you have asked me to do" and asked his fellow LCC members to "lean hard that way, too."
Convention delegates approved altar and pulpit fellowship with the Iglesia Luterana Sinodo de Nicaragua. The Nicaraguan church body — which was formed as a result of a decade of LCC mission work in that Central American country —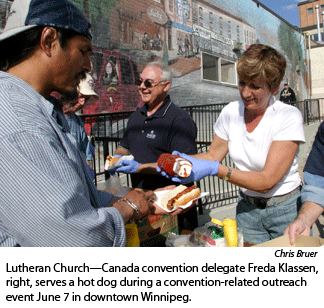 approved fellowship with the LCC in January.
Delegates also voted to:
study and implement a "cost-efficient" seminary program.
assess the current vicarage program.
establish a chaplaincy service "to care for church workers and their families."
provide biblically-based resources on Christian discipleship.
support the training of deacons.
celebrate the 25th anniversary of the LCC in 2013.
"give thanks to God" for the leadership of retiring LCC President Ralph Mayan. An "evening of music and laughter" during the convention included a tribute to Mayan, with performances by his children and grandchildren, LCMS comedian Jan Struck, and The Crew.
Convention essayist was Dr. Gene Veith, executive director of the Cranach Institute at Concordia Theological Seminary, Fort Wayne, and noted author.
About 20 delegates took part in an outreach event during the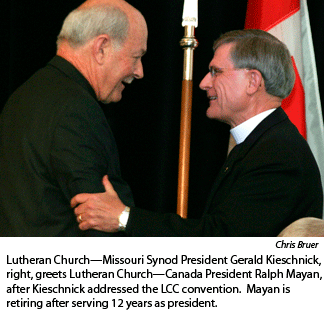 convention, serving a barbecue dinner and talking to homeless people at a downtown shelter.
For more information about the convention, or the Lutheran Church–Canada, visit the Web site www.lutheranchurch.ca/synod2008.
Posted June 12, 2008