LCMS World Relief and Human Care is offering a number of items handm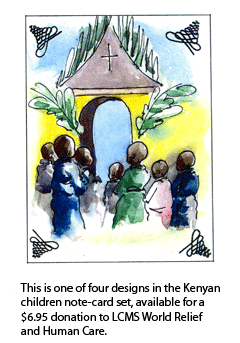 ade by members of the Evangelical Lutheran Church in Kenya (ELCK).
Sales of the necklaces, bookmarks, and cards — which are produced mostly by women — benefit artisans in the East African country even more since the political riots in January, which killed more than 1,000 people and destroyed homes, churches, and businesses.
"Because the economy has suffered and many Kenyans lost their homes and possessions, it's more important than ever to help these women earn a living so they can feed their children," said Sally Henrickson, medical/material resource coordinator with LCMS World Relief and Human Care.
More than 400 women — most of them widowed by HIV/AIDS — have benefited from the project, which is sponsored by the ELCK and LCMS World Relief and Human Care. Women involved in the project learn skills such as jewelry-making and sewing, and take part in business-management classes. They receive loans that they pay back with proceeds from their small businesses, and also meet regularly to learn about managing life with HIV.
"It's a great program," said Henrickson, who leads Mercy Medical Teams to Kenya and coordinates the art goods project. "Every dollar people pay for the art goods goes to help these women."
Sales of the products so far have raised $15,994.29 to help Kenyan women help themselves.
The items may be ordered for a suggested minimum donation. Available are:
necklaces with crosses made of wood, hematite, and brown or white cattle horn ($14 each).
"Noah's Ark" bookmarks featuring hand-painted lions, leopards, elephants, zebras, giraffes, and African scenes ($4.50 each).
note card sets featuring Kenyan children, African scenes, and Luther's seal (three to four cards per $6.95 set).
"Touch of Mercy" note cards in various set combinations ($8.95 for seven-card set, or $14 for 14-card set).
Photos of the items and an order form are featured in the Spring 2008 issue of Caring, a publication produced by LCMS World Relief and Human Care for its donors.
For more information or to order, call (800) 248-1930, Ext. 1380. Suggested donations above include shipping. Quantities are limited.
Posted June 19, 2008