Concordia Publishing House has released a Lenten resource for congregations based on the hymn "O Sacred Head, Now Wounded." The series draws its themes fro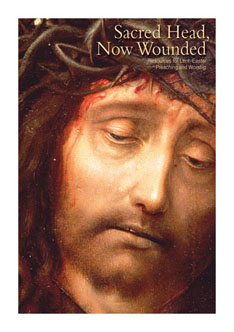 m the wounds of Jesus Christ and applies them to today's Christian life.
"For many Christians, Lent and Holy Week lead to reflections on the suffering Jesus endured to win our salvation," said Rev. Scot Kinnaman, CPH senior editor. "His crucifixion most easily comes to mind. But the wounds that cut the deepest were not so readily seen: the wound of mockery, the wound of apathy, the wound of abandonment and denial. Jesus bore all these wounds so that sinners could receive eternal life in His resurrection."
The complete kit offers a book and CD-ROM of nine customizable sermons, seven Bible studies, nine children's messages, and worship orders for pastoral planning and preparation. A 64-page devotional booklet for individuals provides a daily reinforcement of the themes. A coordinating bulletin also is available.
The congregational kit (item no. 15-5113WEB, $26.99) and the devotional booklet for individuals (item no. 124309WEB, $1.99) are available through CPH's Web site, www.cph.org, or by calling 800-325-3040.
Posted Feb. 12, 2009