Concordia Publishing House is offering through Oct. 1 a selection of new Christmas books at 35 percent off during its "Christmas in July" sale: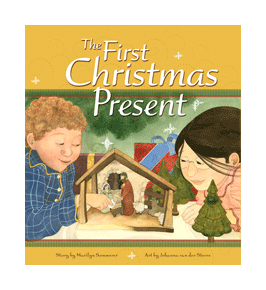 The First Christmas Present, written by Marilyn Sommerer, encourages children ages 4 to 6 to focus their Christmas celebration on Christ and His gifts to us. Regularly priced at $14.99, the book is now available for $9.74 (item no. 56-2459YRM).
Silent Night, by Vicki Howie, tells children ages 4 to 7 the legend of the writing of the carol "Silent Night" for guitar in 1818. According to the story, mice chewed through the bellows of the old organ in St. Nicholas Church in Oberndorf, Austria. With the organ broken, father Joseph Mohr wrote the lyrics and asked his friend Franz Gruber to set the words to guitar. The book, regularly priced at $13.49, is now available for $8.77 (item no. 56-2465YRM).
Christmas Around the World, by Brenda Trunkhill, shows children ages 5 to 12 how people of different cultures prepare for Christ's birth — what they sing, how they say "merry Christmas," and what they do to celebrate Christmas, including their traditions with decorations, festivities, and food. Regularly priced at $6.99, it is now available for $4.54 (item no. 56-2464YRM).
Savior of the Nations: Born on Christmas Morn, written by Melinda Kay Busch for children ages 4 to 9, is based on the hymn "Savior of the Nations, Come." The book examines the miracle of the two natures of Christ — human and divine — through "child-friendly" illustrations and text. It also coordinates with the "Savior of the Nations" children's Christmas service. Regularly $2.29, the book is now available for $1.29 (item no. 56-2463YRM).
For more information, or to order, call CPH at 800-325-3040 or visit its Web site at www.cph.org.
Posted July 23, 2009