Iowa East
June 26-27
Cedar Rapids
Elected:
Rev. Brian S. Saunders, 50, Muscatine, Iowa, president, first term, thir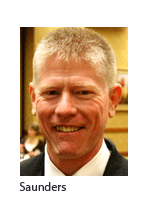 d ballot. Saunders, pastor of Our Savior Lutheran Church, Muscatine, Iowa, since 1992, previously was the district's second vice president. He succeeds Dr. Gary Arp, the district president since 2000, who announced prior to this year's convention that he was retiring from the post.
Dr. Matthew W. Rueger, Hubbard, Iowa, first vice president.
Rev. Daniel L. Krueger, Cedar Rapids, Iowa, second vice president.
Saunders and other officers were installed during the convention.
With the theme of "Proclaiming Jesus Christ in your fields of opportunity," based on Luke 24:46-47, delegates to the 37th convention of the district voted to:
encourage all Iowa District East congregations to "adopt a needed project" so that a ministry center in Palanga, Lithuania — which is being built with funds from the district and LCMS World Relief and Human Care — "will be completed to the point where it can be inspected and opened for use to the praise and honor of God … ." Retiring District President Arp helped break ground in 2005 for the center that will house a diaconal (social ministry) center and parish church building for the congregation there — a member of the Synod's partner church in that country.
urge LCMS district presidents to visit districts other than their own and "share their insights" at a meeting of the Council of Presidents concerning "what is happening in other district institutional ministries." The hoped-for result is that "all district presidents will … see the wonderful district-supported ministries of our Synod and rejoice in our walking together."
reaffirm support and thank God for several ministries in the district, including outreach to youth at Camp IoDIS-E-Ca; campus and international student ministry in Iowa City and Waverly, Iowa; and ministry to the deaf in several locations throughout the district.
Posted July 1, 2009