This summer, the Lutheran Heritage Foundation (LHF) released its 500th publication: the Latvian edition of Eyes, Ears and All My Senses — a catechism workbook for teenagers first published by Concordia Publishing House in 2000.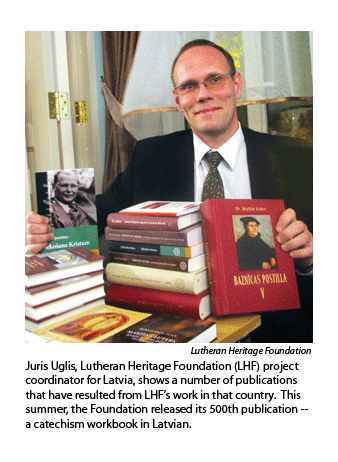 Based in Macomb, Mich., LHF is an LCMS Recognized Service Organization that translates, publishes, distributes, and introduces Bible-based, Christ-centered, Reformation-driven materials. LHF began such work in 1993 with the publication of God's No and God's Yes in the Russian language.
Latvia was one of the first countries where LHF started working — at a time when Christianity was beginning to revive after years of repression under the atheist Communist government.
Today in Latvia, there are more than 300 congregations in three Lutheran church bodies.
"It is fitting that this LHF milestone was reached with a book for the Latvian people," said LHF Executive Director Rev. James Fandrey. "When LHF first began its work there so many years ago, we of course had no idea how powerfully the Holy Spirit would work in Latvia. It's been a blessing to be a part of that exciting growth."
"There are no other organizations in Latvia which do the kind of work LHF does, meaning the translating, publishing, and distribution of Lutheran literature among parishioners and public Christian bookstores," said Juris Uglis, LHF project coordinator for Latvia. "We are the only source from which people can learn about a Lutheran worldview."
Posted Oct. 15, 2009