Iowa West
June 21-24
Milford, Iowa
Elected: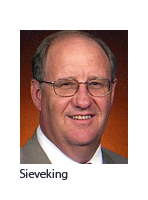 Rev. Paul Sieveking, Fort Dodge, Iowa, president, fourth term, first ballot.
Rev. Steven Turner, Algona, Iowa, first vice president.
Rev. Steven Schulz, Storm Lake, Iowa, second vice president.
Under the theme "Joy in Serving," based on Phil. 2:2, delegates to the district's 37th convention adopted resolutions to:
promote a "mission-outpost attitude" throughout the district by encouraging its professional church workers to accept responsibility for encouraging and equipping [all laypeople] with the Word of God and the Lutheran Confessions, to be missionaries and witnesses sent out by that mission outpost (i.e., their congregations, schools, and other ministries); that each one of those outposts "develop at least one new mission outreach objective concentrating on connecting to the unchurched of its own community"; and that the district provide resources to help develop and sustain that attitude.
encourage increased financial support for missions, including that each Iowa West congregation "strive to work toward the tithe (10 percent) and beyond in giving for 'work at-large.' "
provide increased financial support "through the District Endowment Fund and the flexibility that is present in our district budget" for congregations' representatives to participate in rural ministry conferences and training events, recognizing that the majority of district congregations are "rural and small-town churches."
re-affirm the sanctity of marriage as "a God-given institution between a man and a woman." The resolution rejects "homosexual unions as contrary to the Word of God," "living together outside of marriage because it does not give glory to God" and "dishonor[s] marriage," and "all practices which would not keep the marriage bed pure."
encourage district congregations "to support and participate in the ministry of Lutherans For Life, locally and nationally." The pan-Lutheran pro-life organization's national office is in Nevada, Iowa — which is geographically within the LCMS Iowa District West.
Re-posted Sept. 8, 2009